STORY HIGHLIGHTS
NEW: Tom Tancredo gave "fantastic speech," convention organizer says
Tea Party's three-day convention is under way
Tancredo says Obama is a "committed socialist ideologue"
Tancredo's speech "doesn't further the dialogue," says a Tea Party Nation spokesman
Nashville, Tennessee (CNN) -- The organizer of the Tea Party Convention says he agrees with Tom Tancredo's description of President Obama as a socialist.
The former congressman from Colorado and 2008 Republican presidential candidate blasted Obama, saying "people who could not even spell the word 'vote', or say it in English, put a committed socialist ideologue in the White House. His name is Barack Hussein Obama."
Tancredo made his comments Thursday night as he gave the kickoff speech for the convention, which is being held at the Gaylord Opryland Hotel and Convention Center in Nashville.
Judson Phillips, a Tennessee lawyer who formed Tea Party Nation and who organized what's being billed as the first national Tea Party Convention, told reporters Friday that "Tom Tancredo gave a fantastic speech last night. I think he is an amazing politician."
Asked if he agrees with Tancredo's description of Obama, Phillips said, "The word 'socialist' is a word you don't want to be labeled with in the American political system. It's got a lot of negative connotations, but it also has a very specific political meaning. It refers to a specific political ideology. I think it is very clear that that is the political ideology of Barack Obama."
Phillips added that he thinks "Tancredo doesn't feel like a lot of people who supported Barack Obama understand the basics of this country."
A spokesman for the Tea Party Nation, the group that organized the convention, said Tancredo's speech may have provided some red meat but termed it problematic.
Are you at the Tea Party convention? Share your photos, video
"It doesn't further the dialogue," said Mark Skoda, a businessman and founder of the Memphis Tea Party, who is also serving as spokesman for the convention.

Video: Tea Party's big night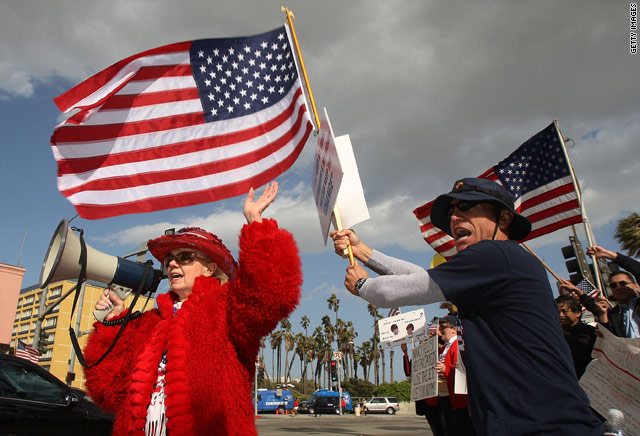 What is the Tea Party?

Video: Tea Party: An inside view

Video: Inside Tea Party movement
In his speech, Tancredo also slammed the 2008 Republican presidential nominee, saying "thank God John McCain lost the election.
Phillips agreed, adding, "I think a McCain presidency would have been far worse than Bush one or Bush two. I think it would have been a total disaster. I think we would have gotten the worst of what we are getting in the Obama administration and really nothing positive from what would have been allegedly be a conservative party, or allegedly be a conservative leader."
Phillips also announced that he will hold another Tea Party convention in July. He declined to name a location for the event.
The other major news to come out of Friday's news conference: some of the organizers are forming a tax-exempt, nonprofit corporation called the Ensuring Liberty Corporation and a soon-to-be-established affiliated political action committee.
Skoda says the formation of the corporation and the PAC is a way that the Tea Party movement can participate in politics and termed it "a conservative effort in support of candidates."
Skoda predicted this would be an outlet for people who took part in Tea Party protests to get involved in campaign politics. He listed six congressional races in the Southeast where endorsements may be made.
Along with the corporation and PAC, Skoda announced that candidates seeking backing would need to agree with a list of "first principles" consisting of fiscal responsibility, lower taxes, less government, states' rights and national security. He said he did not consider those principles a litmus test for candidates.
Skoda also said he does not support a third-party movement.
Contrary to Tancredo's remarks, the Tea Party is not about "name-calling," said Rand Paul, whose campaign for a U.S. Senate seat in Kentucky is supported by the Tea Party.
"There are politicians who have gone into the movement and tried to become part of the movement," he said on CNN's American Morning."But really the movement is about individual people."
The activists are mostly concerned about the "fiscal insolvency of our nation," he said. "We have to do something, and it's not going to come from the career politicians."
Speeches are not the focus of the convention. Panels, sessions and workshops are the bread and butter of this event. Among the sessions scheduled for Friday are ones on how to conduct voter registration drives and where to find conservative votes, women in politics, how to organize a Tea Party group, how to involve youth in the conservative movement, grass roots "on the ground," how to unite state Tea Party groups, technology in the Tea Party movement and why Christians must engage.
"This convention is a way to galvanize the conservative movement in a way that the general rallies do not," said Skoda, leading a panel on technology in the movement.
Organizers hope the three-day event will help strengthen the anti-big-government movement. On its Web site, Tea Party Nation says the event is "aimed at bringing the Tea Party Movement leaders together from around the nation for the purpose of networking and supporting the movement's multiple organizations' principal goals."
There has been pushback against the convention and its organizers from both outsiders and some in the movement because of the Tea Party Nation's for-profit status and because the price of entry attendees have paid for access to the workshops and seminars being held through Saturday.
Red State blogger Erick Erickson wrote that while he has good things to say about some groups within the Tea Party, "this national Tea Party convention smells scammy."
Mark Meckler said he and Jenny Beth Martin, co-founders of the Tea Party Patriots, aren't participating in the convention because "it wasn't the kind of grass-roots organization that we are, so we declined to participate."
Organizers say some 600 people have paid $549 each to attend the convention and that the event is sold out. But they add that tickets costing $349 are still available for Saturday night's banquet, where former Alaska governor and 2008 GOP vice presidential nominee Sarah Palin will give the convention's keynote address.
Neither convention organizers nor a spokeswoman for Palin would confirm reports that she's getting paid around $100,000 for her keynote appearance.
"I will not benefit financially from speaking at this event," Palin said in a statement this week. "Any compensation for my appearance will go right back to the cause."
Sherry Phillips, who along with her husband, Nashville attorney Judson Phillips, founded Tea Party Nation, said earlier this week in a message to supporters that "we fully expect to break even at this event. We may even make a few thousand dollars to cover local operating costs of TPN."
Phillips also fired back at her critics, saying, "We never did this to make us rich or famous. Quite the contrary, we are patriots who love our country, our members and the people who are coming to Nashville to attend this great event."
As controversy surrounds the convention, tensions have been rising among Tea Party activists. Rival factions are battling over who will carry the Tea Party banner, and others worry that powerful groups are "Astroturfing" what they think should remain a grass-roots group.
Last week two major speakers scheduled for the convention dropped out of the lineup. Rep. Marsha Blackburn of Tennessee and Rep. Michele Bachmann of Minnesota announced that they would not attend the convention, which is being held at the Gaylord Opryland Hotel and Convention Center in Nashville.
Blackburn was scheduled to serve as a featured speaker and introduce Palin. Bachman was scheduled to serve as one of the convention's kickoff speakers. Both are strong supporters of the Tea Party movement.
Both said the House Committee on Standards of Official Conduct advised them not to participate because of the convention's for-profit status. And both said the canceling of their speeches is not a sign that their commitment to the Tea Party movement is fading.
CNN's Kristi Keck and Mary Snow contributed to this report.