Murtha hospitalized after gallbladder surgery complications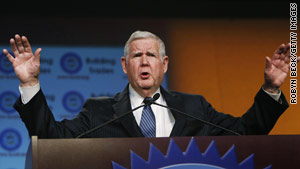 Rep. John Murtha, a Pennsylvania Democrat, is in the hospital after complications from gallbladder surgery.
STORY HIGHLIGHTS
Complications arose after Murtha underwent gall bladder surgery
Pennsylvania Democrat is in intensive care, source says.
Murtha top Democrat on committee that oversees Pentagon spending
Washington (CNN) -- Complications arose after Rep. John Murtha of Pennsylvania underwent gallbladder surgery, and he remains in a hospital, his spokesman confirmed Tuesday.
A source close to Murtha told CNN he is in the intensive care unit of the hospital. The source asked not to be identified, saying the matter is sensitive in nature.
The 77-year-old Democrat underwent scheduled laparoscopic surgery to remove his gallbladder last week, said spokesman Matthew Mazonkey. "Complications did arise from the surgery, and he is currently at the Virginia Hospital Center in Arlington," he said.
The news about Murtha's condition was first reported by Politico.
Murtha is the top Democrat on the committee that oversees Pentagon spending. He was hospitalized in December for a gallbladder issue and had to postpone a hearing with Defense Secretary Gates on the administration's strategy in Afghanistan. Murtha returned to work after a few days in the hospital and helped oversee final passage of the Defense appropriations bill.
Murtha has served in the House as a representative of Pennsylvania's 12th congressional district since 1974. He is currently in his 19th term, making him the eighth most senior member.
He's considered one of "the kings of pork" on Capitol Hill by taxpayer watchdog groups for requesting tens of millions of dollars in earmarks.
Murtha, a former Marine and Vietnam War veteran, has also earned a reputation as one of Congress's loudest anti-war voices. He initially supported the 2003 invasion of Iraq, but he stunned much of Washington when he called for a swift U.S. pullout in November 2005.
Murtha currently chairs the House Appropriations Subcommittee on Defense, overseeing appropriations for the Department of Defense. He was the first Vietnam War combat veteran elected to Congress, according to his House bio.
Prior to joining the House of Representatives, he served in the Pennsylvania state legislature. He also served 37 years in the Marines and Marine Corps Reserves. He retired from the Reserves in 1990 and received the Navy Distinguished Service Medal.