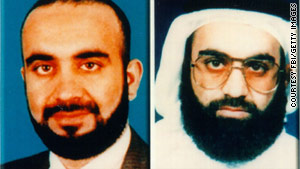 Alleged 9/11 mastermind Khalid Sheikh Mohammed is among those suspects set to face a trial in a civilian criminal court.
STORY HIGHLIGHTS
Decision to hold the the September 11 trial in a civilian court has been criticized
Khalid Sheikh Mohammed, others should be tried in a military court, senators say
"We're not fighting a crime, we're fighting a war," Sen. Lindsey Graham says
Attorney General Eric Holder will seek death penalty in the case
Washington (CNN) -- Several senators announced legislation Tuesday that would cut off funding for the federal trial of alleged 9/11 mastermind Khalid Sheikh Mohammed and four accused accomplices, saying the five should be tried in a military court.
"We believe we're at war," said Sen. Lindsey Graham, R-South Carolina, who stood with a number of senators that included Democrats and Sen. Joe Lieberman of Connecticut, an independent.
"The law enforcement model being used by the Obama administration should be rejected," Graham said. "We're not fighting a crime, we're fighting a war."
The bill would withhold funding from the Department of Justice to prosecute the five in civilian court, a plan that has recently been criticized.
"Our military justice system is best able to protect the American people," Graham said.
President Obama believes the trial should take place in a criminal court instead of before a military commission, which is planned for some terrorism suspects, David Axelrod, senior adviser to Obama, and White House press secretary Robert Gibbs said earlier this week.
However, Axelrod and Gibbs acknowledged that Obama and the Justice Department were considering moving the trial out of New York City.
"The fact is, we should not try these people in New York, we shouldn't try them in Illinois, we shouldn't try them in Phoenix," said Sen. John McCain, R-Arizona.
"We should try them in the courtroom in Guantanamo Bay, and we should try them according to the Military Commissions Act," he said, referring to the law that governs military trials for terror suspects, put in place under President George W. Bush in 2006.
Gibbs and Axelrod criticized Republican opposition to the plan to hold the trial in a criminal court, saying no one complained when the Republican Bush administration put suspected terrorists, such as "shoe bomber" Richard Reid, on trial in U.S. criminal courts.
"Now we have a Democratic president, and suddenly we hear these protests," Axelrod said Sunday. "What has changed between now and then that would cause people to reverse positions?"
But several senators, including Sen. Jim Webb, D-Virginia, said Tuesday that the opposition to the plan is bipartisan.
"This is not an appropriate type of crime to be tried in an American criminal court," he said.
The senators also said a civilian trial would give Mohammed and his alleged accomplices a platform on which they could recruit new people for al Qaeda.
"Putting Khalid Sheikh Mohammed in a public courtroom in full view of the public gives him a better platform than any member of al Qaeda has been given to recruit new members," Lieberman said.
"To try them as common criminals, giving them the constitutional rights of American citizens in our courts, is justice according to Alice in Wonderland," he said.
Attorney General Eric Holder has said that the decision to try the five in civilian court represents the best chance for a successful outcome.
"I have every confidence that the nation and the world will see him for the coward that he is," Holder said in November, referring to Mohammed.
The attorney general has promised to seek the death penalty for all five suspects, who have been held in the U.S. detention facility at Guantanamo Bay, Cuba.