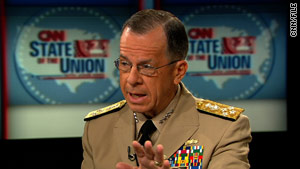 Adm. Mike Mullen will discuss with a Senate panel Tuesday how the repeal of the policy might be implemented.
STORY HIGHLIGHTS
Chiefs are said to be concerned that changing policy would be too disruptive to military
Policy bans openly gay men, women from military, authorities from asking about orientation
Conservatives, including Sen. John McCain, largely oppose repeal of controversial policy
But former Joint Chiefs chairman says it's time for repeal
Washington (CNN) -- Joint Chiefs of Staff Chairman Mike Mullen will meet with other members of the Joint Chiefs on Monday to discuss President Obama's plan to repeal the military's "Don't Ask, Don't Tell" policy for gay and lesbian service members, according to two U.S. military officials.
The closed-door meeting is considered exceptionally sensitive, the sources say, because the chiefs -- each of whom heads a military service -- are said to be concerned that changing the policy would be too disruptive to military forces.
The policy, which has been in effect since 1993, prohibits openly gay men and women from serving in the U.S. armed forces. The policy bans military recruiters or authorities from asking about an individual's sexual orientation, but also prohibits a service member from revealing that he or she is gay.
Obama announced his intention to repeal the policy during last week's State of the Union address.
"This year, I will work with Congress and our military to finally repeal the law that denies gay Americans the right to serve the country they love because of who they are," he said.
The Senate Armed Services Committee is scheduled to hear from Adm. Mullen and Defense Secretary Robert Gates on Tuesday on how the Obama plan to repeal the policy might be implemented.
Conservatives, however, still largely oppose a repeal.
Arizona Sen. John McCain, whom Obama beat in the 2008 presidential election, recently said that such a repeal "would be a mistake."
"This successful policy has been in effect for over 15 years, and it is well understood and predominantly supported by our military at all levels," said McCain, a former Navy pilot.
"We have the best-trained, best-equipped and most professional force in the history of our country, and the men and women in uniform are performing heroically in two wars. At a time when our armed forces are fighting and sacrificing on the battlefield, now is not the time to abandon the policy."
But in a message to Pentagon leadership, Gen. John Shalikashvili, former chairman of the Joint Chiefs of Staff, said it's time to repeal the policy.
"As a nation built on the principle of equality, we should recognize and welcome change that will build a stronger more cohesive military," he said. His letter was sent out by Sen. Kirsten Gillibrand, D-New York, who supports repealing the policy.
The Servicemembers Legal Defense Network, an organization that works with those affected by the "Don't Ask, Don't Tell" policy, has praised Obama's call for repeal.
"We very much need a sense of urgency to get this done in 2010," the group recently said. "We call on the president to repeal the archaic 1993 law in his defense budget currently being drafted, that is probably the only and best moving bill where DADT can be killed this year. ... The American public, including conservatives, is overwhelmingly with the commander in chief on this one."
Obama campaigned on the promise that he would repeal the policy in his first year of office. Speaking to the gay rights group Human Rights Campaign in October, Obama admitted that "our progress may be taking longer than we like," but he insisted that his administration was still on track to overturn the policy.
"Do not doubt the direction we are heading and the destination we will reach," he said.
CNN's Barbara Starr and Laurie Ure contributed to this report.