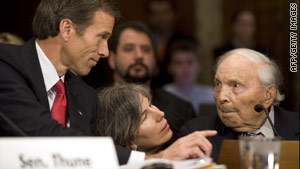 Sen. John Thune of South Dakota helps Frank Buckles, right, speak before a Senate subcommittee in December.
STORY HIGHLIGHTS
Frank Buckles, 109 on Monday, is the last living U.S. veteran of WWI
Buckles wants lawmakers to make D.C. monument a national WWI memorial
Monument currently honors only D.C. veterans of the war
Congress has not yet decided on the legislation
Charles Town, West Virginia (CNN) -- The last surviving U.S. veteran of World War I, former Cpl. Frank Buckles, turned 109 on Monday and is still hoping for a national memorial to his comrades in Washington.
More than a dozen friends and relatives gathered Monday afternoon at the West Virginia farmhouse where Buckles lives to wish the old soldier well. One friend included U.S. Army Sgt. Gustavo Rodriguez, who was Buckles' escort in 2008 during a trip to Washington when he met with then-President George W. Bush.
Rodriguez recently returned from a tour of duty in Iraq, and he presented Buckles with a folded American flag that had flown over an Army camp on the Fourth of July.
Buckles accepted the flag and then reflected on what he feels is his responsibility to represent the soldiers who fought in World War I.
"I could see years ago that I was going to be among the last," he said in an interview.

Video: Oldest vet on WWI memorial
The old "Doughboy," as World War I American infantry troops were called, has been outspoken in recent years, urging congressional lawmakers to give federal recognition and a face-lift to a run-down District of Columbia memorial in an overgrown, wooded area along the National Mall.
In December, at 108, Buckles testified on Capitol Hill as lawmakers considered whether to fund renovation and give the site national monument status. But rival legislation seeks the national designation for a 1920s-era memorial in Kansas City, Missouri.
Congress has not yet decided on the legislation.
In 2008, the soldier of nearly a century ago went to Washington and visited the 1930s memorial. In his wheelchair, helped along by Rodriguez, he slowly crossed the cracks in the flagstone walkway, and saw the cracks in the marble gazebo.
Still sharp at only 107, he noted during that visit that the names engraved along the gazebo's marble walls are only of those who hailed from the District of Columbia.
Buckles that day also met with Bush at the White House and Defense Secretary Robert Gates at the Pentagon.
Later in 2008, Buckles was the guest of honor at Veterans Day ceremonies at Arlington National Cemetery. He said he considers it his duty to represent his fellow soldiers.
"I have to," he said, "because I'm the last living member of Americans" who fought in what was called The Great War.
As a soldier in the Army, Buckles was an ambulance driver for U.S. forces in Europe, and once met commanding Gen. John Pershing, near whose grave the more recent Veterans Day ceremony was held.
On Monday, as his birthday was celebrated, he offered some thoughts on how he has managed to reach 109. "The important thing is the desire to live, and a purpose for living," he said.
Buckles even tried speaking in Spanish, one of several languages he learned in addition to his native English. He noted that people in South America reportedly sometimes live to 110 and 120.