Polls: Stimulus unpopular, but its uses have broad support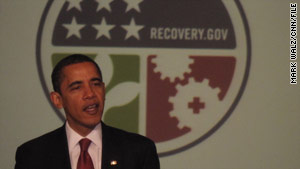 President Obama's economic stimulus plan has lost support, polls indicate.
STORY HIGHLIGHTS
Eight in 10 favor government spending on roads and bridges, survey finds
Help for jobless also favored in CNN/Opinion Research Corp. survey
Many Americans believe stimulus benefited "fat cats," different survey says
People may be confusing stimulus with bailout bills, polling director says
(CNN) -- Though the federal stimulus plan is unpopular, many Americans overwhelmingly support the basic provisions within the bill, a new national poll suggests.
Offered a range of options, about eight in ten people polled in a CNN/Opinion Research Corp. survey favored government spending on roads and bridges. A similar number favored using stimulus money to aid unemployed workers.
Seventy percent in the survey, released Friday, approved of spending some of the stimulus money on tax cuts, and sixty percent favored using the money to increase spending on mass transit projects.
While these options have support, another CNN/Opinion Research Corp. survey suggests respondents are displeased with who they believe the stimulus plan helped.
Fifty-four percent of Americans polled think the plan has helped bankers and investors, and only one-quarter think the stimulus plan has helped the middle class, according to the survey, released Wednesday.

Video: The first stimulus project

Video: Program pushes for innovation
"Opinions on the economic stimulus bill are colored by the perception that it has helped fat cats, but not ordinary Americans," said CNN polling director Keating Holland. "It's possible that the belief that the stimulus bill helped bankers and CEOs is due to the public confusing the stimulus bill with the various bailout bills that were passed at roughly the same time last year."
According to another CNN poll released Sunday, 56 percent of the public opposes the stimulus, with 42 percent supportive of the plan. Last March, just weeks after President Obama signed the stimulus bill into law, a CNN survey indicated that 54 percent supported the program, with 44 percent opposed.
The poll released Friday was conducted January 8-10, with 1,021 adult Americans questioned by telephone. The survey's sampling error is plus or minus 3 percentage points.