Comment: Obama's second year message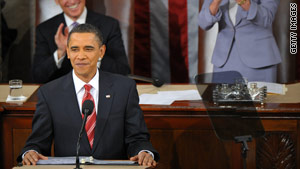 Blair's State of the Union address included a pledge to listen to the American people.
STORY HIGHLIGHTS
Obama uses State of the Union address to begin bid to regain lost support
Obama personally liked by Americans but his performance ratings have slipped
Obama admits Americans no longer sure if he can deliver change he promised
President's new message is that he is listening to the American people
(CNN) -- Barack Obama has been president of the United States for just one year but this week he seemed to start campaigning all over again.
He delivered the "State of the Union" address to the Congress, an annual ritual for every American head of state, and for Obama the start of an effort to recover lost support and momentum.
"I campaigned on the promise of change - change we can believe in," he said. "And right now, I know there are many Americans who aren't sure if they still believe we can change - or at least, that I can deliver it."
Since he took office, unemployment has risen to 10 percent. His signature initiative, reforming healthcare, has been pushed forward in Congress but faces enormous opposition across the country.
Earlier this month, he lost his already thin vote margin in the Senate, a surprise setback that startled many in the president's Democratic Party and raised doubts about all of its legislative plans.
According to our latest CNN/Opinion Research Corporation survey, most Americans like Obama personally but only 49 percent approve of his performance. Compare that with the extraordinary expectations just before he entered the Oval Office, when 84 percent approved of his efforts.
Millions of Americans are disappointed. They've seen him do everything from rescue the banking industry to refocus the fight in Afghanistan, but many feel he hasn't paid enough attention to them and their problems.
"He's got to make the American people feel that Main Street and job creation are at the center of his priority," said presidential historian Doris Kearns Goodwin.
Obama doesn't have to worry about his own job; he still has three more years in office. But. Americans go to the polls in November to choose lawmakers in the House of Representatives and Senate. The Democrats are in trouble and expecting significant losses.
So the president has started spreading a different kind of message: that he's listening to the American people, that he's going to help them and they can still hold out hope for change.