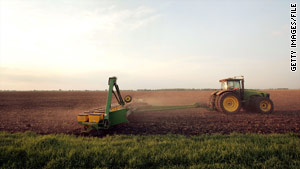 Farmers could be among the groups affected by a proposed freeze on discretionary spending.
STORY HIGHLIGHTS
President expected to call for three-year freeze on discretionary spending
Defense, national security, programs like Medicare and Social Security would be exempt
Agriculture, education, law enforcement, housing could be among those feeling the pinch
Agencies could boost spending on some programs if they made it up by cutting others
Washington (CNN) -- Be honest: Stories about the federal budget make your eyes glaze over, right?
Unless you're a budget analyst or die-hard political junkie, you probably have no idea what the White House means when it refers to President Obama's plan to freeze non-security federal discretionary spending over the next three years.
So what is the president proposing? And who would be affected if Congress adopts his plan?
Start with the numbers.
When the White House talks about non-security discretionary spending, it's referring to spending on an array of domestic programs -- everything from agriculture to energy -- that add up to $447 billion of roughly $3.5 trillion in the federal budget.
It does not include Social Security, Medicare, and Medicaid. Obama's plan to freeze spending would not apply to those or other entitlement programs.
And the federal government does not plan to stop paying interest on the federal debt, a move which would have dire economic consequences. You can remove that from the equation as well.
Obama also would exempt programs tied to defense, veterans or national security from the freeze on spending.
Yet his plan could put the squeeze on agencies such as the Departments of Agriculture or Interior. It could require those and other agencies to spend the same amount for the next three years that they spent this year.
"Instead of wielding an across-the-board axe, the president will cut programs that are duplicative or that he believes serve no important purpose," White House press secretary Robert Gibbs said Tuesday.
"We are investing in what we believe is important to invest in. We are cutting programs we think have outlived their usefulness and need to be cut."
CNN iReport: Share your thoughts on the State of the Union
So what could be hit?
More precise information won't be available until the White House releases its proposed 2011 budget on February 1, but the plan to freeze certain spending could affect federal housing and transportation programs. The freeze could include the Department of Agriculture, so farmers could feel the pinch.
Law-enforcement initiatives at the Justice Department and programs from the Energy Department could be scaled back. If the budget for the Interior Department is frozen, spending on the nation's parks could be reduced.
The freeze on spending also would affect American diplomats. Secretary of State Hillary Clinton warned State Department employees Tuesday the freeze may have an impact on their pay and the way they do their jobs.
Federal education programs might also be affected, though the administration has repeatedly said education is at the top of Obama's priority list.

Video: 3-year spending freeze
The freeze would not affect Federal Pell Grants, said Rob Nabors, deputy director of the Office of Management and Budget. He declined to provide many other details.
Administration officials have stressed that while a specific agency may be affected by the freeze, agency heads would retain significant power to give some programs increases while cutting money elsewhere.
So what does the president hope to achieve with the freeze?
The White House says it hopes to save $250 billion over the next decade -- a first step in reducing the spiraling federal deficit.
"If we can't make these steps, how are we going to go after stuff that we know is politically hard?" Gibbs asked reporters Tuesday.
iReporter: Spending freeze "economic suicide"
Critics point out, however, that the same programs subject to the freeze today were given an increase of more than 7 percent last year.
"Frankly, the government has to make better choices and better plans than throwing things into a big pot [for an economic stimulus plan] in one year and then freezing across the board the next year," said Dr. Jeffrey Sachs, a Columbia University economist.
"We have areas in that so-called 'discretionary spending' that urgently need more funding. And to freeze across the board, I think, would be kind of a dereliction of duty."
CNN's Tom Cohen, Ed Henry, Elise Labott and Alan Silverleib contributed to this report.