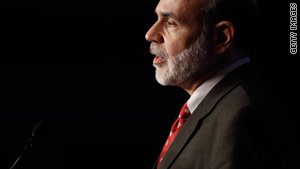 Ben Bernanke was approved by the Senate Banking Committee last month.
STORY HIGHLIGHTS
Senators told president that Fed chief will get second term, source says
Some top Democrats say they are undecided or will vote against him
Other senators release statements backing Bernanke
Fed chairman's term ends January 31
Washington (CNN) -- President Obama called an unknown number of senators Saturday to "check in" on Federal Reserve Chairman Ben Bernanke's confirmation for a second term, a senior administration official said.
Obama reappointed him to the position in August, but the Senate needs to confirm him before his term, which began in 2006, ends January 31.
The official, who wished to remain anonymous because he was not authorized to discuss the private phone calls, said the senators told the president that Bernanke will win another confirmation.
Obama remains "confident" that the Senate will confirm Bernanke for a second term, the official said.
On Friday, both Sens. Barbara Boxer, D-California, and Russell Feingold, D-Wisconsin, said they plan to vote against Bernanke, a Republican.
"Dr. Bernanke played a lead role in crafting the Bush administration's economic policies, which led to the current economic crisis," Boxer said. "Our next Federal Reserve chairman must represent a clean break from the failed policies of the past."
Several other Democratic senators have said they're undecided. Senate Majority Leader Harry Reid issued a statement late Friday saying he would support Bernanke, but "my support is not unconditional."
It remains unclear whether Bernanke's confirmation is in jeopardy, because he is likely to garner some Republican support. A senior Democratic source said Saturday that Republican Sen. Judd Gregg, a member of the Senate Banking Committee, has told Democrats that he believes that, at this point, 10 to 12 Republicans will vote for Bernanke.

Video: Obama calls for banking reform
The Senate needs 60 votes to approve Bernanke to overcome opposition from several members, including Vermont independent Bernie Sanders, who is leading the charge against him.
On Saturday, a number of senators released statements in support of Bernanke.
Senate Banking Committee Chairman Chris Dodd, D-Connecticut, and Gregg, of New Hampshire, issued a joint statement saying Bernanke has "done an excellent job responding to one of the most significant financial crises our country has ever encountered."
They added, "Based on our discussions with our colleagues, we are very confident that Chairman Bernanke will win confirmation by the Senate for a second term."
Sen. John Kerry, D-Massachusetts, said it was "understandable" why there has been "debate, questioning and even anger" over Bernanke's nomination.
"Still, out of this near calamity, I believe Chairman Bernanke provided leadership that was urgent, nimble, strong, and vital in staving off greater disaster," he said in a written statement.
"He has worked effectively to bring stability back to the market place. It is with that in mind that I will vote to reconfirm Ben Bernanke."
Sen. Dick Durbin, D-Illinois, said he plans to soon meet with Bernanke.
"We need his steady hand as we build our economy and create new jobs across America," he said in a written statement.
"But as I meet with Chairman Bernanke before the vote, I will continue to demand that the Federal Reserve make a commitment to transparency and accountability in its policies."
When Bernanke was confirmed for his first term in 2006 under President George W. Bush, there was no opposition. The Senate approved his nomination by unanimous consent.
Federal Reserve chairmen serve four-year terms.
CNN's Dana Bash contributed to this report.