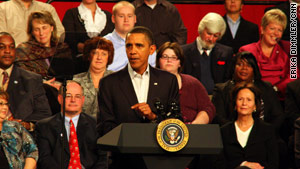 "There will be more fights in the days ahead," President Obama said Friday in Elyria, Ohio.
STORY HIGHLIGHTS
At town hall meeting, Obama acknowledges "frenzy" over Senate election
He promises to keep pushing for economic stimulus, health care reform
President says his actions helped stave off economic cataclysm
He is expected to push for new recovery package in State of the Union speech
Elyria, Ohio (CNN) -- Offering his most extensive public comments about the election debacle in Massachusetts, President Obama acknowledged that he's taking some lumps but also trying to cast himself as a populist who will "never stop fighting" to bring health care reform and jobs to communities like this hard-hit manufacturing area outside Cleveland.
"Let me tell you, so long as I have the privilege of serving as your president, I'll never stop fighting for you," Obama said at the beginning of a town hall meeting with voters Friday. "I'll take my lumps, too. I'll never stop fighting to bring jobs back to Elyria. I'll never stop fighting for an economy where hard work is rewarded, where responsibility is honored, where accountability is upheld, where we're creating the jobs of tomorrow."
Obama said, "folks in Washington are in a little bit of a frenzy" over Republican Scott Brown's election to the seat held by the late Sen. Edward Kennedy, D-Massachusetts, which has ended the president's 60-seat supermajority in the chamber. But the president vowed to keep battling for health care reform, even as he bluntly conceded that he's facing major roadblocks.
"Now, we've gotten pretty far down the road, but I have to admit, we've run into a bit of a buzzsaw along the way," Obama said. "The long process of getting things done runs headlong into the special interests, their armies of lobbyists and partisan politics aimed at exploiting fears instead of getting things done."
Obama added, "I am not going to walk away just because it's hard. We're going to keep on working to get this done with Democrats, Republicans, anyone who is willing to step up. Because I am not going to watch more people get crushed by costs or denied the care they need by insurance company bureaucrats or partisan politics or special-interest power in Washington."
But Obama was not specific about what kind of health legislation he will now be backing.
"I'm going to keep up the fight for real, meaningful health insurance reforms," he said. "That's why we expanded the children's health insurance program to include 4 million more kids. And that's why I'll continue fighting for reform that will hold the insurance industry accountable and bring more stability and security to folks in our health care system."
The president is facing competing pressures from liberal Democrats who are demanding that he not abandon the push for a major overhaul of health care in favor of a scaled-back bill and conservative Democrats who have said the Massachusetts special election was a wake-up call that should force Obama to put a much heavier focus on job creation.
The economic problems are especially acute in Ohio. Obama was greeted Friday with new statistic showing that unemployment in the state has gotten worse, rising from 10.6 percent to 10.9 percent, which is worse than the national average.
That led House Minority Leader John Boehner, who hails from the Buckeye State, to release a statement declaring that the president's $787 billion stimulus has not worked.
"Ohio's unemployment report released this morning marks nine straight months of double-digit unemployment in our state," Boehner said. "Tens of thousands have lost their jobs since the 'stimulus' was enacted. Ohioans fed up with Washington Democrats' job-killing agenda are asking, 'where are the jobs?' "
Obama fired back in his remarks, saying that he entered office a year ago "in the middle of a raging economic storm" and that his actions have staved off a much worse cataclysm.
"If the financial system had gone down, it would have taken the entire economy and millions more families and businesses with it," he said. "We would have been looking at a second Great Depression."
Nevertheless, Obama acknowledged that communities like Elyria are still not feeling a recovery and renewed his call for Congress to pass a second economic recovery package, which aides say he will push hard for in his State of the Union address on Wednesday.
The proposal includes more infrastructure spending, the "cash-for-caulkers" program to make homes more energy efficient, and small-business tax breaks. But advisers to the president have privately acknowledged that the package will probably need to be sweetened with more tax cuts to win over Republican votes, given the new reality in the Senate.
Obama also mentioned in Ohio what will be another key part of his State of the Union address, pushing for major reform of the financial regulatory system, repeating some of the same populist rhetoric he used Thursday in Washington to unveil plans to crack down on the risk that banks take on. Last week, he proposed a tax on banks to recoup taxpayer bailout funds.
"These are some of the fights we've had," Obama said. "And I can promise you, there will be more fights in the days ahead. We're having one of them right now, because I want to charge Wall Street a modest fee to repay taxpayers in full for saving their skin in a time of need. You can rest assured, we're going to get that money -- your money -- back, each and every dime."
Obama concluded, "I didn't run for president to turn away from these challenges. I didn't run for president to kick them down the road. I ran for president to confront them, once and for all."