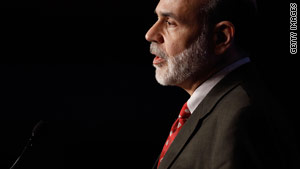 Ben Bernanke was approved by the Senate Banking Committee last month.
STORY HIGHLIGHTS
Ben Bernanke's term as Federal Reserve chairman expires January 31
He was approved by Senate Banking Committee last month
Top Senate Democrats say they will not support Bernanke for second term
Obama spokesman says president is standing behind Bernanke
Washington (CNN) -- A second term for Federal Reserve Chairman Ben Bernanke became more uncertain Friday as two leading liberal senators announced that they will vote no, and many other Senate Democrats said they are undecided.
Sens. Russ Feingold, D-Wisconsin, and Barbara Boxer, D-California, issued statements announcing their opposition to Bernanke.
"Under the watch of Ben Bernanke, the Federal Reserve permitted grossly irresponsible financial activities that led to the worst financial crisis since the Great Depression," Feingold said. "Under Chairman Bernanke's watch, predatory mortgage lending flourished, and 'too big to fail' financial giants were permitted to engage in activities that put our nation's economy at risk."
Boxer said she's voting no because Bernanke "played a lead role in crafting the Bush administration's economic policies, which led to the current economic crisis."
"Our next Federal Reserve chairman must represent a clean break from the failed policies of the past," she said.
Democratic concern about Bernanke boiled over in an all-Democrat private lunch Wednesday, the day after the party lost a Massachusetts Senate seat.
A senior Democratic source familiar with meeting said it got "raucous" as several senators stood and voiced opposition to confirming Bernanke for another term.
The party's Senate vote counter, Dick Durbin of Illinois, said that enough Democrats have stated either outright opposition or deep concern to indicate that heavy reliance on GOP votes will be needed to approve Bernanke again.
"I just think there is some uncertainty here, and we don't know from the Republican side whether they can provide votes," Durbin said.

Video: Obama calls for banking reform
Bernanke does have some bipartisan support. Four Republicans joined Democrats in voting yes in the Senate Banking Committee last month.
The Senate would need 60 votes to approve Bernanke to overcome opposition from several members, including Vermont independent Bernie Sanders, who is leading the charge against him.
When Bernanke was confirmed for his first term in 2006 under President George W. Bush, there was no opposition. The Senate approved his nomination by unanimous consent.
Senate Finance Chairman Max Baucus of Montana, who said he will vote for Bernanke, said he believes that the anti-Wall Street fervor that senators are hearing from constituents -- and that played a role in the Massachusetts vote this week -- is having an effect.
"The Tuesday election results have caused a little angst," Baucus said.
Durbin tried to downplay the effect the Massachusetts loss is having on Bernanke's fate.
"We have a number of Democrats who have already said they are not going to support him," he said.
Sen. Amy Klobuchar, D-Minnesota, said she has not decided how she will vote.
"Like everyone else, I have serious concerns about what happened in the past. On the other hand, he's had to basically steer us through this crisis, and I have found him to be honest in hearings, so I am going to look at the whole record," Klobuchar said.
Sen. Tom Harkin, D-Iowa, said he is undecided about Bernanke, too.
"I am cogitating on it right now," he said.
Harkin said he has deep concerns about Bernanke's performance "during the period of time when these investment banks were running amok."
"I just have some uneasy feelings that his mindset is not where we need to be in terms of the Federal Reserve right now," Harkin said. "He has a lot of baggage he carries."
Asked whether he has gotten any calls from the White House pressuring him to vote in favor of Bernanke, Harkin said no and then joked, "After this interview, I will."
The White House is up against a tight timetable. Bernanke's term runs out January 31.
Aboard Air Force One en route to Ohio, where Obama appeared at a town hall meeting, White House Press Secretary Robert Gibbs emphasized that the president is standing by his decision to renominate the Bush-era Fed chief.
"He has a great deal in confidence in what Chairman Bernanke did to bring our economy back from the brink. And he continues to think that he's the best person for the job and will be confirmed by the United States Senate," Gibbs said.