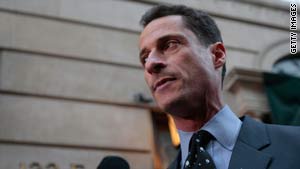 Rep. Anthony Weiner, D-New York, says he doesn't believe there would be enough House votes to pass the Senate's health care bill.
STORY HIGHLIGHTS
Senate Democrats will lose filibuster-proof majority after GOP upset in Massachusetts
House Dems across political spectrum largely reject idea of passing Senate health bill
Rep. Bart Stupak, D-Michigan: "The Senate bill is a nonstarter for most members"
Some House Democrats have left door open to passing Senate's version on health care
Washington (CNN) -- Despite knowing Senate Democrats will lose their filibuster-proof majority after Tuesday night's political upset in Massachusetts, House Democrats across the political spectrum largely rejected the idea of passing the Senate health care bill.
Liberal New York Democrat Anthony Weiner predicted the Senate bill wouldn't have the votes to pass the House.
Weiner ridiculed House Democratic leaders for holding a meeting to brief House Democrats on negotiations with the White House on a health care bill, telling reporters, "They're talking as if, 'What our deal is, what our negotiators are at the White House' -- yeah, and then the last line is, 'Pigs fly out of my ass' ... it's just, we've got to recognize we are in an entirely different scenario."
This scrambling has come about because Republican Scott Brown won a major upset victory in the special election for the U.S. Senate seat formerly held by liberal Democrat Ted Kennedy.
With 89 percent of the results counted, Brown had 52 percent of the vote to 47 percent for Massachusetts Attorney General Martha Coakley, the Democratic candidate.
Several rank-and-file Democratic lawmakers on the right and the left suggested it may be best now to scrap their big overhaul bill and pass a smaller measure with provisions they can all agree on, such as barring rejection by insurers for those Americans who have pre-existing conditions and closing the doughnut hole to bring down prescription drug costs.
If it comes down to that Senate bill or nothing, I think we're going to end up with nothing.
--Massachusetts Democrat Stephen Lynch
But it's unclear if that option, like other contingency plans Democrats are considering, is doable now.
Weiner argued the Massachusetts results demonstrated Democrats have to change their strategy on health care.
"Large numbers of independent voters saying they're upset about health care, that's not just their fault, that's our fault, too. And we have to think about what we're doing wrong here and to have a conversation as if nothing happened, whether you're in Massachusetts or not, is being tone deaf," he said.
Michigan Democrat Bart Stupak, who led the charge for language to restrict abortion coverage in the House bill, flatly rejected the Senate's version of health care reform.
"The Senate bill is a nonstarter for most members," he said.
Conservative Indiana Democrat Brad Ellsworth, like Weiner, predicted the Senate bill couldn't pass. He told reporters he opposed it mainly because he objected to the inclusion of a special deal for Nebraska Sen. Ben Nelson to cover all of that state's costs for expanding Medicaid coverage.
Some Democrats suggested the prospect of no health care bill passing was more likely than rushing to pass the Senate's bill.
"If it comes down to that Senate bill or nothing, I think we're going to end up with nothing. I don't hear a lot of support on our side for that bill," Massachusetts Democrat Stephen Lynch said.
Lynch shot down the notion that Democrats could first pass the Senate bill, then pass a second bill that would add some of the changes congressional leaders have negotiated with the White House.
"I don't think that's going to happen ... we keep sending bills to the Senate, and they just never come back, so I guess I've lost my faith in anything happening quickly that requires Senate action," he said.
Several other Democrats echoed Lynch's concerns, telling CNN even if there was firm commitment to pass a second bill with changes negotiated between House and Senate leaders and the White House, they wouldn't vote yes.
But some House Democrats, notably Rep. Patrick Kennedy of Rhode Island, did leave the door open to considering the Senate passed bill.
"I think we could pass the Senate bill and come back later and fix the parts that are most egregious," Kennedy said.
"Health care needs to go forward. If it's a message on anything, it's that we got the message messed up, not that we got the package messed up."
Blue Dog Democrat Rep. Baron Hill of Indiana said the idea of passing the Senate bill is "the talk of the town."
Hill said he still needs to look at details of Senate bill but is open to taking it up, saying "if that's the only option in town then maybe that's what we ought to do."