Comment: America's conversation about color continues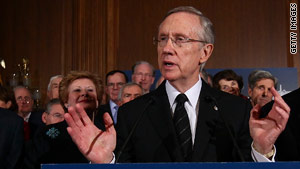 The remarks by Senate Majority Leader Harry Reid about Obama have caused controversy.
STORY HIGHLIGHTS
Attention on key Obama ally, Senate Democratic Majority Leader Harry Reid

Book: Reid made comments on how race helped Obama's presidential candidacy

This week is the first anniversary of Obama's presidential inauguration

Comment: Conversation about color, and occasional discomfort, yet to end
(CNN) -- U.S. President Barack Obama is still black and Americans are still getting used to it.
On Monday the nation marks its Martin Luther King holiday and, coincidentally, Obama's first anniversary in office, with the president still trying to convince people that his race doesn't matter.
"How are we going to move the country forward?" he said this week. "That's where we need to direct our attention."
But a lot of attention is being directed to a key Obama ally, Senate Democratic Majority Leader Harry Reid.
A new book is making headlines with its revelation that in 2008, at the start of Obama's candidacy for the White House, Reid said Obama's prospects were helped by his "light-skinned" appearance and speaking style "with no Negro dialect."
The quote made a lot of people wince.
In 21st century America, the word "Negro" is generally considered an ugly reminder of historic racism, off-limits for White use in polite conversation.
But the most sympathetic readers said Reid's remarks, though tone-deaf, rang true. There is a real and abiding prejudice in the U.S. against African Americans with particularly dark skin or distinctively ethnic ways of expressing themselves.

Video: iReporters react to Reid's remarks

Video: Obama hesitant on race, some say

Video: Reid on Obama: Is it much ado?
As a black candidate for national office, Obama was undoubtedly helped by his success at making voters of all colors feel comfortable about his candidacy.
Still, other American political careers have been ended by comparable comments and Republicans called on Reid to resign.
Some in the opposition may have been offended by Reid's gaffe, but there was also potential partisan interest in robbing the president of Reid's valuable help, moving the administration's agenda through Congress.
Reid turned-down the Republicans and apologized to the president, who said it was all overblown.
"This is a good man who's always been on the right side of history," Obama said in an interview with CNN Contributor Roland Martin.
"For him to have used some inartful language in trying to praise me, and for people to try to make hay out of that, makes absolutely no sense."
But one year into the term of the first African-American president, America's conversation about color, and its occasional discomfort, hasn't quite ended.