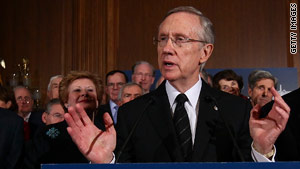 Senate Majority Leader Harry Reid says prominent African-American officials have called him to offer support.
STORY HIGHLIGHTS
GOP critics point to treatment of then-Senate Majority Leader Trent Lott over 2002 incident
Sen. John McCain sees "double standard" for Senate Majority Leader Harry Reid
Reid has apologized to President Obama for 2008 remarks revealed in new book
Reid set to hold meeting with African-American leaders later this week in Las Vegas
Washington (CNN) -- The GOP's 2008 presidential candidate decried Tuesday what he called a "stunning double standard" between the treatment of a top Democrat and Republican leader caught making racially insensitive remarks.
Sen. John McCain of Arizona ripped the decision among most leading Democrats largely to dismiss the recent revelation that Senate Majority Leader Harry Reid, D-Nevada, said in 2008 that Barack Obama could succeed as a black presidential candidate partly because of his "light-skinned" appearance and speaking patterns "with no Negro dialect, unless he wanted to have one."
Reid has apologized to the president, and Obama said he considers the issue closed. Reid noted that numerous prominent African-American officials, including NAACP Chairman Julian Bond and Attorney General Eric Holder, have called him to offer their support.
Reid's comment on Obama was revealed in the newly released book "Game Change" by Mark Halperin and John Heilemann.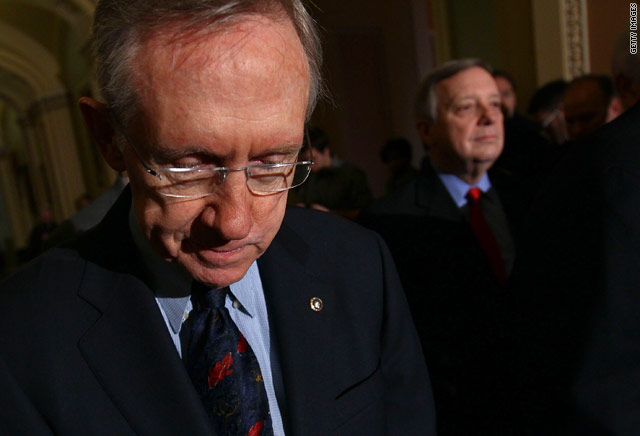 Words failed them

Video: iReporters react to Reid's remarks

Video: Obama hesitant on race, some say

Video: Reid on Obama: Is it much ado?
GOP critics have noted that former Sen. Trent Lott, R-Mississippi, lost his post as Senate majority leader in 2002 after saying that the nation would have been better off if Strom Thurmond had been elected president in 1948 when he ran on a pro-segregation platform as a Dixiecrat.
There has been a "stunning double standard as far as the treatment of Sen. Lott, who also made unfortunate and inopportune remarks, and the treatment of Harry Reid by the liberal left," McCain said on NBC's "Today" show.
Two leading Republicans have called for Reid to resign as majority leader: Republican National Committee Chairman Michael Steele and Sen. John Cornyn of Texas, who heads the National Republican Senatorial Committee. McCain, however, did not say Reid should step down.
The Senate's top Republican refused to comment on the controversy Tuesday.
"I think that's an issue for the Democratic conference," Senate Minority Leader Mitch McConnell, R-Kentucky, told reporters asking if Reid should resign.
Republican leadership aides, speaking on condition of anonymity, suggested McConnell knows it's unlikely Reid will step down as majority leader, and the two have a good working relationship he wants to maintain.
A fellow Nevadan, Sen. John Ensign, a Republican, defended Reid on Monday, noting in a radio interview that the majority leader had apologized.
Ensign said Lott had been treated unfairly and urged Republicans not to act toward Reid that way.
The GOP senator who now holds Lott's Mississippi seat also declined to call for Reid's ouster, saying he believes it's up to the people of Nevada to decide the Democrat's political fate.
"There is a particular interest in our state because of what Sen. Lott went through," said Sen. Roger Wicker. But he said that "the voters of Nevada will make a judgment about that."
Reid, who is facing a tough re-election campaign this year, is slated to host a political meeting with African-American leaders Thursday in Las Vegas. The event has been scheduled for weeks.
CNN's Dana Bash, Peter Hamby and Alex Mooney contributed to this report.