Secret Service reports third White House party crasher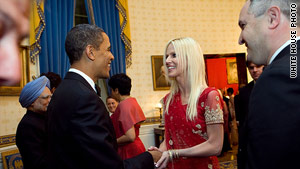 The Secret Service reports a third uninvited guest at a White House state dinner crashed by Tareq and Michaele Salahi.
STORY HIGHLIGHTS
Uninvited guest entered with delegation from India, Secret Service says
Indian delegation was responsibility of State Department
Tareq and Michaele Salahi also crashed the November 24 event
Washington (CNN) -- The Salahis weren't the only unauthorized guests at President Obama's first White House state dinner.
The Secret Service announced Monday that a third person who wasn't on the official guest list made it into the dinner by entering with the delegation of Indian Prime Minister Manmohan Singh.
The unidentified person traveled from a local hotel with the Indian delegation, which was under the responsibility of the State Department, a Secret Service statement said
A senior State Department official identified the individual as an American man, but declined to provide further information. The man showed up at the hotel where the State Department was helping transport -- at the request of the Indian Embassy -- a group of Indian businessmen to the dinner, the official said.
"This individual went through all required security measures along with the rest of the official delegation at the hotel, and boarded a bus/van with the delegation guests en route to the White House," the Secret Service statement said.
The State Department official said it is unusual for the department to escort a group of private foreign nationals around Washington, but the embassy made a special request to facilitate their travel because the group "was very important" to the Indian delegation.
"At present, there is nothing to indicate that this individual went through the receiving line or had contact with the President or first lady," the statement said.
The Secret Service statement said the person's name had not been entered into the WAVES computer system for White House visitors; the rest of the names in the Indian delegation were in the system.
"Procedural changes have already been implemented to address foreign delegations under the responsibility of Department of State who are entering facilities secured by the Secret Service," the statement said.
A northern Virginia couple, Tareq and Michaele Salahi, made international headlines by crashing the November 24 event and having their photo taken with Obama, Vice President Joe Biden and other dignitaries.
CNN's Elise Labott contributed to this report.