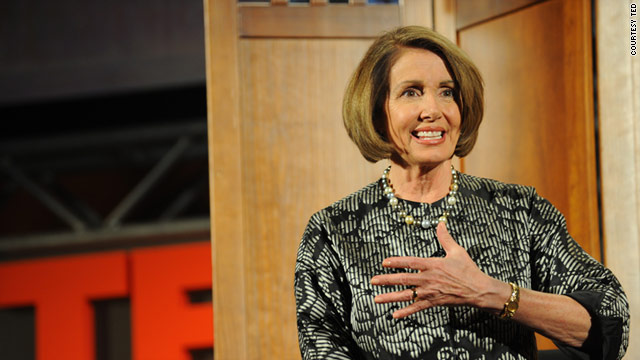 STORY HIGHLIGHTS
Nancy Pelosi at TED Women conference: It's not about power but about getting a job done
Facebook COO Sheryl Sandberg: Women need to claim a seat at the table
Ted Turner suggested world would be better off if women ran it
A Call to Men co-founder: "My liberation as a man is tied to your liberation as a woman."
Washington (CNN) -- When Nancy Pelosi was given the gavel as speaker of the House for the first time, she broke with precedent by posing for pictures at the podium surrounded by her grandchildren and children and grandchildren of other House members.
But when she was told that the House rules might not allow such a scene, she asked, "Who's in charge of the rules?" The answer -- the speaker of the House.
Pelosi recounted the anecdote to an admiring audience Tuesday evening at the first TED Women conference in Washington. The crowd gave her two standing ovations, a sign of support at a time when she's preparing to give up that gavel due to the Democrats' steep losses in the midterm elections. (TED is a nonprofit organization that spreads ideas through its conferences and its website; it has a partnership with CNN.com to publish some of its talks.)
Pelosi, who is the first woman speaker and will become minority leader of the House in January, stressed the idea that women need to be leaders in their own way, not necessarily following in men's footsteps. "We're not there for the power," she said. "We're there to get a job done."
She acknowledged that women are sometimes uncomfortable with the tactics required to get things accomplished. "That doesn't bother me," she said, to laughter, during an onstage interview with Pat Mitchell, president and CEO of the Paley Center for Media.
"Men have been in charge for a very long time," Pelosi added. "I think there's room for other ideas." She recalled her first visit as a minority leader to the White House during the George W. Bush administration. She said she felt she was sitting in a chair crowded by the spirits of women pioneers such as Susan B. Anthony, Sojourner Truth and Elizabeth Cady Stanton. "I could hear them say, at last we have a seat at the table," Pelosi said.
A seat at the table also figured prominently in a talk at the TED Women conference by Sheryl Sandberg, chief operating officer of Facebook, who lamented the small minority of top corporate leadership and governmental posts held by women.
Sandberg said women have to share the blame for that situation. "Women systematically underestimate their own abilities," she said. By and large, she said, women do not negotiate for themselves.
"The men are reaching for opportunities more than women. We've got to get women to sit at the table," Sandberg said.
The men are reaching for opportunities more than women. We've got to get women to sit at the table.
--Sheryl Sandberg, Facebook chief operating officer
Her talk provided a bookend to the conference's opening talk, the first of 70 presentations during the two-day conference, by journalist and author Hanna Rosin. Her article in The Atlantic, "The End of Men," stirred discussion this summer.
The world is at "an unprecedented moment when the power dynamics between men and women are shifting," Rosin said. This year, women became the majority of the American work force and they're beginning to dominate professions such as medicine, the law and accounting, according to Rosin.
The image of American manhood, the Marlboro man, has been replaced by the Old Spice guy, whom Rosen called a parody of manhood. She said 75 percent of couples in American fertility clinics are requesting to have girls rather than boys -- and some Asian cultures are showing a greater openness to preferring female children.
As America continues to shift from a manufacturing to a service and information economy, Rosin noted, women are better positioned to thrive, since jobs require skills other than physical strength.
Visiting a college in Kansas, Rosin spoke to a female student, who summed up her view of changing gender dynamics this way: "Men are the new ball and chain."
Yet Rosin, who is married and has a son and a daughter, seemed to want to temper the idea that women's gains inevitably entail losses for men.
Rather than the concept of a glass ceiling that women could shatter on the way to advancement, she preferred the image of a high bridge, a place where women could show their confidence and courage -- but also move forward with their male and female friends, families and co-workers.
CNN founder Ted Turner (who has no connection to the organization TED, which organized the conference with the Paley Center) suggested the world would be far better off if women ran it -- and that they'd find a way to end the threat posed by nuclear weapons.
A talk by another man, Tony Porter, who co-founded A Call to Men, an organization seeking to end violence against women, drew a particularly powerful response. He recalled growing up in a world where men had to be strong, tough, dominating and had to avoid any show of emotions -- except anger.
"There are some absolutely wonderful things about being a man; at the same time, there's some stuff that's straight up twisted," he said. Even as someone who works to end what he called "the man box" that traps men into a restricted vision of their role, he said he found himself showing no tolerance for his son crying -- while thinking nothing of his daughter crying in his arms, for any reason.
One of Porter's goals is to show men that "it's OK to not be dominating, that it's OK to have feelings and emotions, that it's OK to promote equality."
And the ultimate lesson, he said, is: "My liberation as a man is tied to your liberation as a woman."
FOLLOW THIS TOPIC