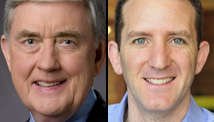 John Seffrin, left, and Doug Ulman
STORY HIGHLIGHTS
John Seffrin, Doug Ulman: 35 million die from noncommunicable diseases a year worldwide
These diseases count for about 60 percent of the global death toll, writers say
But they say these diseases get less than 3 percent of aide devoted to global health
At U.N. summit, U.S. must lead change in approach to global health, writers say
Editor's note: John Seffrin is CEO of the American Cancer Society, and Doug Ulman is CEO of Livestrong, the Lance Armstrong Foundation.
(CNN) -- Every year, according to the World Health Organization, noncommunicable diseases such as cardiovascular disease, cancer, diabetes and chronic obstructive lung disease claim 35 million lives worldwide.
These diseases are the world's leading cause of disability and death, amounting to about 60 percent of the global death toll. Cancer alone kills more than HIV/AIDS, malaria and tuberculosis combined. The vast majority of these largely preventable deaths happen in low- and middle-income countries -- the areas often least prepared to mount a fight against this deadly epidemic.
In addition to their human toll, these diseases wreak havoc on family budgets and national economies. According to a report by the American Cancer Society and Livestrong, just two of these diseases -- cancer and heart disease -- cost more than $1.6 trillion in losses from premature death and disability in 2008. That number may be double when you include direct medical costs.
Despite these alarming facts, programs to address noncommunicable diseases and invest in health system infrastructure receive little funding. According to a report released recently by the Center for Global Development, in 2007, noncommunicable diseases received less than 3 percent of the development assistance devoted to global health.
Next September, before its annual General Assembly, the United Nations will hold a high-level meeting with heads of state to develop a global response to the growing threat of noncommunicable diseases. This meeting, supported by the United States, is only the second meeting the United Nations has held on a global health issue. The first meeting, in 2001, is largely credited with raising the profile of HIV/AIDS and mobilizing the largely successful global response to it.
The meeting next fall offers a similar opportunity to address the world's deadliest diseases and our general approach to investing in global health. Instead of disease-centric, vertical strategies that dilute our investments, we can collaborate on horizontal, comprehensive approaches that address all health needs. The aim is a health system that can support the continuum of care: prevention, screening and early detection, treatment and palliation.
U.N. members are finishing up a draft resolution determining the structure, length and format of the September 2011 meeting.
It is critically important that the United States and all member nations support a two-day meeting to allow meaningful dialogue, planning, commitment and action. U.S. leaders must support the most comprehensive options possible in their negotiations around this meeting. We encourage governments throughout the world to do the same.
We have seen firsthand how even modest investments in health systems on the front end can transform national outcomes. For years the American Cancer Society and Livestrong have devoted themselves to changing perceptions, practices and policy around cancer in the U.S.
Cooperation and collaboration between the public and private sectors have led to undeniable successes: Prevention and early-detection programs are widespread; cure rates are improving for almost every type of cancer and for every age group; and, unlike 20 years ago, there is now a vast network of tools available to survivors. We need to build on the progress we've made in the United States and extend our knowledge and success to other regions of the world.
Over the next 10 months, governments across the globe will be looking to the United States for leadership in the global fight against noncommunicable diseases.
Our federal government must demonstrate U.S. courage and commitment and reaffirm its guiding role in global health by advocating strongly for a meaningful and robust U.N. meeting. We can apply the lessons we've learned here at home to the global fight, but we must make the decision to do so. And we must do it now.
The opinions in this commentary are solely those of the writers.
FOLLOW THIS TOPIC