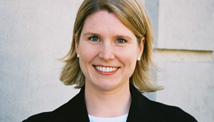 STORY HIGHLIGHTS
Amy Wilkinson: Ugly jobs report shows need for pragmatic policies to create jobs
One way: Extend current tax rates to help small businesses generate jobs, she says
She urges extension of jobless benefits, which keep people afloat and stimulate economy
Wilkinson: Invest in innovation, and welcome immigrants who want to start businesses
Editor's note: Amy M. Wilkinson is a senior fellow at Harvard University Center for Business and Government and a public policy scholar at the Woodrow Wilson Center. She is writing a book on the next generation of leaders.
(CNN) -- Negative surprises are never welcome, yet there is a chance that the bleak November jobs report could be good for the economy. That is, if Washington wakes up to take urgent action.
Friday's report sent a cold chill through widening optimism that the U.S. economy is improving. The report counted just 39,000 new jobs in November, far fewer than the up-to 170,000 jobs that economists had predicted. The unemployment rate increased to 9.8 percent, a seven-month high.
The silver lining to Friday's ugly jobs report is that it could just be the jolt that Washington needs to set partisan bickering aside and focus on pragmatic policies to support job growth.
What to do?
First, support small business by extending current tax rates. Small businesses are America's job generators. According to the Census Bureau, nearly all net new jobs created since 1980 have been generated by firms less than five years old. Increasing taxes on small businesses now will take money out of the hands of individuals who create jobs. A workable bipartisan solution exists: Extend all current tax rates.
The 2001 and 2003 tax cuts are set to expire at the end of the year for individuals making $250,000 and more. This includes small businesses, which have expanded payrolls at the fastest pace in three years. Some 75 percent of small businesses are organized as pass-through entities, meaning they pay taxes according to individual tax rates. According to the IRS, 73 percent of all manufacturers in the country pay income tax at the individual rate.
To bolster small business and support the creation of new jobs, policymakers must act to extend current tax rates for at least a two-year period.
More opinion on topics in the news
Second: Extend unemployment benefits. Across the country, there are 15.1 million people counted as unemployed, 6.3 million of whom have been out of work longer than six months. Restoring extended unemployment benefits that ran out Tuesday for an estimated 2 million people is urgent.
Emergency unemployment benefits provide money for the jobless, and provide capital, which in turn circulates in the economy. Because households tend to spend unemployment insurance payments quickly, the loss of benefits for 2 million people could jeopardize an already fragile recovery.

Not enough jobs

Where are the jobs?

Biden: 'Consequences ... dire'

Not enough recovery?
The administration predicts nearly 600,000 jobs would be lost over the next year by failing to extend unemployment benefits. Congressional Republicans have said they support extending benefits, but they want the cost paid for with decreases in spending elsewhere. They suggest taking funds from unspent stimulus money.
Regardless of how this gets done, consumer spending could suffer if Congress fails to restore extended unemployment benefits. Consumer confidence grew in November to its highest level in five months. Consumers are feeling better and that is usually a positive sign for the economy.
Opinion: Desperate times for millions
Third, invest in innovation. The United States is an innovation nation. Consider a few start-ups from the last century: Disney, Fed-Ex, Colgate, Burger King and Microsoft all started during a period of economic downturn. Today these companies employ tens of thousands of people in the U.S. and abroad.
To help bolster innovation, we need to welcome immigrants who are job generators. One way is to provide visas for entrepreneurs who want to start companies in the United States. In 2008, nearly 40 percent of technology company founders were foreign-born, including the founders of Google, Yahoo and eBay, to name a few.
We must also invest in research and development and build new partnerships between universities, industry and government. To compete in the hyper-competitive global marketplace, the United States must play to its strong suit and invest in innovation.
One of the positives of the jobless recovery is the remarkable increase in U.S. worker productivity. Productivity rose again in the third quarter by 2.3 percent, an impressive gain in per-person, per-hour output. This means U.S. workers are becoming more competitive. And, while higher productivity causes a delay in job creation, many economists agree that U.S. companies have become more efficient.
Despite its ugliness, the November jobs report may just be the kick in the pants the White House and Congress need to begin acting in a more bipartisan fashion on behalf of the American people. We need everyone to help bolster our economic resilience -- politicians and business leaders alike.
The opinions expressed in this commentary are solely those of Amy Wilkinson.
FOLLOW THIS TOPIC