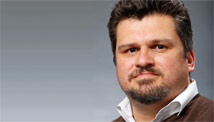 STORY HIGHLIGHTS
Ruben Navarrette says debt reduction panel to vote on controversial recommendations
He says it may be time for serious national discussion on how to cut debt
Panel chairmen propose changes to Social Security, a "third rail" avoided by politicians
Navarrette: Program is a drain, everyone knows it's a problem; chairs' call painful, necessary
Editor's note: Ruben Navarrette Jr. is a nationally syndicated columnist, an NPR commentator and a regular contributor to CNN.com
San Diego, California (CNN) -- As topics go, reducing the national debt, revamping the tax system, and reforming entitlements are awfully dry. So how contentious, emotional and divisive would you expect a national discussion of these items to be?
You might be surprised. Things could get pretty heated. We're about to find out how much. These topics are on the front burner this week, and they're likely to stay there for months to come.
All because a bipartisan presidential commission on debt reduction, which was co-chaired by Democrat Erskine Bowles and Republican Alan Simpson, released its final report Wednesday. The commission's 18 members will vote on the final recommendations on Friday. To formally make those recommendations to Congress, 14 members of the commission will need to vote for the report.
This could be the right time to have a serious national conversation about debt reduction and related issues. A recent USA Today/Gallup Poll found that 39 percent of Americans believe cutting the debt is the best medicine for the ailing U.S. economy. That beat all the other options, such as cutting taxes or undergoing another round of stimulus spending.
Besides offering suggestions for reforming the tax code and cutting domestic and defense spending to remove nearly $4 trillion from deficits over the next 10 years, the most important thing the members of the Bowles/Simpson commission did was to grab hold of the dreaded "third rail" -- Social Security -- and offer specific changes that could keep it solvent for 75 years.

Debt: National security threat?

U.S. debt: How bad could it get?

Obama: 'Government must sacrifice'
To be fair, that's 75 years longer than we've gotten from anyone else in Washington. There is virtually no one in the land of the risk averse, in either party, who wants to go anywhere near the radioactive subject of Social Security. That's because fixing America's most beloved entitlement program means tinkering with it. And the so-called Gray Panthers, and a cadre of other arm-twisting pressure groups for the elderly, have let it be known that they will take out anyone who tinkers with it.
And who taught me this? It was Al Simpson, who happens to have been one of my professors in graduate school. This was 10 years ago, and the former Senate Majority Leader was already speaking freely (Al doesn't know how to speak any other way) about how Congress deliberately avoided fixing Social Security even though it was speeding toward insolvency because lawmakers feared the backlash. Think Tea Party X 10.
Simpson used to tell the class that politics is a contact sport. Indifference is not an option. You either take part, or you get taken apart. For too long, younger workers in America -- that is, those under the age of 50 -- have been taken apart because they don't vote in the percentages they should. So politicians aren't afraid of them in the way that they fear the elderly.
The result is a Social Security system that amounts to a massive inter-generational transfer of wealth. There is no "lock box." Every generation pays for the preceding one. The money goes out as quickly as it comes in.
For the latter part of the 20th Century, more than 70 million baby boomers had no problem paying for the World War II generation because, well, there were more than 70 million of them. But imagine the burden on younger workers of having to keep the children of the 1960's in a comfy retirement -- especially since Americans are living longer.
In 1946, the cost of supporting one retiree was split between 42 workers. Now, we're approaching the point where two workers will support each retiree. The trouble begins in 2016 when, experts say, more funds will be going out in benefits than will be coming in as payroll taxes.
Possible fixes include raising the retirement age, cutting benefits, and means-testing the program so that millionaires forgo their payout. It should all be on the table. Everyone knows there is a problem. But few people in Washington have the guts to even talk about it, let alone actually try to do something about it.
In that respect, Bowles and Simpson have really outdone themselves with this report. Working since April, they have -- in a deliberate and thoughtful way -- proposed what amounts to a complete overhaul of a federal government that is too big, grows too fast, spends too much, and lumbers along too slowly. The report isn't perfect. And not everything they suggest will be popular. In fact, each item on the list comes attached to its own special interest that is likely to fight tooth and nail rather than give up an inch.
In the face of crisis, Americans tend to want a simple diagnosis and pain-free solutions. From this commission, they didn't get either. What they got instead was something politicians are, these days, more and more reluctant to give the people who elect them: the hard and uncomfortable truth.
The opinions expressed in this commentary are solely those of Ruben Navarrette, Jr.
FOLLOW THIS TOPIC