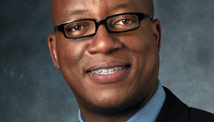 STORY HIGHLIGHTS
Kevin Fenton says new pill that can prevent HIV is big advance; can cut risk by 73 percent
He cautions pill is not vaccine or cure
He says keys to pill working are consistency in taking, engaging in low-risk behavior
Fenton: Hurdles include costs, choices on distribution for prevention, treatment
Editor's note: Dr. Kevin Fenton is the director of the National Center for HIV/AIDS, Viral Hepatitis, STD and TB Prevention at the Centers for Disease Control and Prevention.
(CNN) -- Last week, the National Institutes of Health announced a major advance in HIV prevention. The results of a study showed that a once-daily pill containing drugs used to treat HIV can also help prevent HIV infection -- a new approach called "pre-exposure prophylaxis."
In the international study of gay and bisexual men, the daily pills, when combined with condoms and prevention counseling, were safe and reduced the risk of HIV infection by an average of about 44 percent. Among those who adhered most closely to the daily pill regimen, protection was significantly higher -- about 73 percent.
This is important news in a world in which 2.6 million people still become infected with HIV every year, including 56,000 in the United States. The results come on the heels of other big news: A promising study found that a vaginal gel containing one of the same drugs reduced the risk of HIV infection among women, and an HIV vaccine trial showed the first promising signals.
This growing momentum in HIV prevention research gives us more hope than ever that we can turn back an epidemic that has claimed far too many lives.
But this new approach is not a vaccine, and it is not a cure. This new tool must be implemented with care to have a positive impact on the epidemic globally and here at home.
The study results clearly have implications for the United States, where more than half of new HIV infections each year are among gay and bisexual men, and where the pills are already commercially available with a prescription to treat HIV infection. To determine the appropriate role of this new approach in fighting HIV in the United States, we must move quickly to assess a number of important questions.

Working to help those with HIV

Gasol's personal crusade against AIDS
First, we need to learn how best to implement the pre-exposure prophylaxis approach in the real world. The study results were achieved in a controlled trial, in which men received regular prevention and adherence counseling -- including messages about condom use, HIV testing, testing and treatment for other sexually transmitted diseases and close safety monitoring.
The challenge before us is how do we make this work in diverse health care settings?
Second, we need to target this approach to those at highest risk for HIV who will benefit most. The pills will not be right for everyone. They reduce risk, but do not eliminate it, so men must still be willing to use condoms and other prevention approaches.
The pills must be taken consistently to work best -- a task that proved difficult even among study participants receiving extensive support. The pills could also be costly, so public and private partners will need to come together to determine how to get this treatment to people at high risk for HIV for whom it is recommended.
Third, the pills must be paired with other prevention services to reduce risk behavior, or they could end up hurting, not helping, the drive against HIV.
Some studies suggest that even a small increase in risk behavior due to a false sense of security about the pills' effectiveness could actually increase HIV infections, an outcome we cannot afford. In the study, risk behavior decreased, likely due to the regular counseling and condoms participants received.
Finally, we need to determine the best use of scarce HIV prevention and treatment resources in the United States and around the world. How effective and cost-effective is this approach compared with other HIV prevention methods?
How do we best use these drugs for prevention, while ensuring those who need the same drugs for treatment also get them when even now too many Americans remain on treatment waiting lists and millions in developing countries don't have access?
A once-daily pill may provide additional protection against HIV for some high-risk gay and bisexual men, but it should never be seen as the first line of defense.
A combination of approaches is needed: correct and consistent condom use, knowing for certain your HIV status and the status of your partners, reducing the number of sexual partners, being screened and treated for other sexually transmitted infections and getting support to reduce drug use and sexual risk behavior.
In the coming months, CDC will work with physicians, public health partners and communities affected by HIV to develop and issue more detailed guidelines that will help physicians effectively implement this new approach.
We'll also communicate the risks and benefits to gay men, assess cost-effectiveness and begin to address some of the tough questions about how best to implement it in the real world.
After three decades and 25 million deaths from AIDS, we must capitalize on every new tool we have in this fight. A pill that can help prevent HIV is a very exciting advance. But it is not a magic bullet. Finding the right role for this new weapon will take as much hard work, innovation and collaboration as it took to develop this scientific breakthrough.
If we can use it wisely, the real breakthrough will come when we see fewer and fewer people suffering from HIV here and around the world.
The opinions expressed in this commentary are solely those of Kevin Fenton.
FOLLOW THIS TOPIC