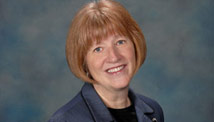 STORY HIGHLIGHTS
Women still earn less and receive fewer promotions than equally qualified men
We need look at pay gaps and leadership gaps that persist in the business world
A lack of sponsorship may help explain why women lag behind men in pay and promotions
Editor's Note: Nancy Carter is the vice president of research at Catalyst, a global nonprofit working to expand opportunities for women and business. She is also a visiting scholar at INSEAD business school.
(CNN) -- We've known for a long time that unequal wages deprive families of much needed income, and that sexist stereotypes stifle careers. I've pursued a career in fighting gender inequalities. But today I have four new burning reasons to care about the uneven playing field women face in business: Sophie, Emma, Josephine, and Madeline.
I want my four pre-school-aged granddaughters to have every opportunity to succeed as they grow older. Yet women still earn less and receive fewer promotions than equally qualified men. If the next generation of women entering the business world is going to get a fair shake, those of us currently in a position to help need to do some honest evaluation.
First, we need look at pay gaps and leadership gaps that persist in the business world. News stories about the triumph of women at the top unfortunately fail to reflect some harsh realities.
Catalyst has found that women earn $4,600 less than men in their first post-MBA job -- after accounting for level, experience, industry and region -- and this pay gap grows over time. On average, women working full time earn only 77 cents for every dollar men earn. These cents add up -- the typical woman loses $431,000 over 40 years.
And despite accounting for nearly half of the workforce in the United States, women are only 40 percent of low- to mid-level officers and managers, 26 percent of senior officers and managers, and 13.5 percent of Fortune 500 executive officers. Out of the 500 CEOs that head those companies, only 12 are women.
What's worse, the rate of progress for women in business has remained flat for decades. If the annual increase in female leadership represented a patient's pulse -- they'd be dead.
Women should seek out mentors and sponsors who will teach them the 'unwritten rules' that can supercharge a career.
--Nancy Carter
So what's holding women back?
It's not aspiration or parenthood status. When Catalyst asked executives about their leadership aspirations, we discovered the majority of executive women sought the corner office at a rate equal to that of their male peers, regardless of whether they had children. These findings didn't only apply to the top of the house. We found that among high-potential employees, 86 percent of women aspired to the C-Suite as did 95 percent of men.
Women and men want the same thing, but sexist stereotypes and double-standards stymie women's success. Interviews with more than 1,200 senior managers and corporate leaders from Europe and the United States revealed that organizations often promote men based on their potential for leadership while insisting that women show proof of performance before being considered for a promotion. Many deem women unfit to lead when they act in ways inconsistent with gender stereotypes. Catalyst calls this the Goldilocks syndrome: "too tough, too soft, but never just right."
Navigating these pitfalls is crucial to success. When I started out, I thought if I just put my head down and worked hard, I'd advance. I didn't recognize the need to sell myself and get noticed for my accomplishments. I didn't realize advancement decisions may hinge on who I know as much as what I know.
Mentors and sponsors are two keys to getting ahead. Mentorship is a relationship between two people for the purposes of development and career advice. A sponsor, however, is a person usually at a high level in an organization who has strong influence. They are a champion at the table when decisions for promotion are made. It's someone who takes pride in you and pulls the right strings without feeling competitive.
Catalyst found that more women than men have mentors, but men's are more senior. A lack of sponsorship may help explain why women lag behind men in pay and promotions. Some company rules are explicit in handbooks, policies, and procedures, but there are others employees must figure out on their own. Women should seek out mentors and sponsors who will teach them the "unwritten rules" that can supercharge a career.
Beyond the personal level, barriers can be shattered if organizations take a serious look at their work environments and implement strategies that target biases. Breaking down gender inequities isn't just a "nice thing to do," but a smart thing, too. Catalyst studies have found that companies with more women in senior leadership yield, on average, higher financial returns. Companies that fail to utilize women suffer because they're only working with half the available talent pool. That's like running a marathon with one sneaker -- you might hobble along, but you won't win the race.
The millions of girls and young women marching towards adulthood deserve to live in a world where their true potential can be realized. Giving it more time is not the answer -- decades have passed and the barriers women face remain entrenched. Businesses' bottom lines continue to take a hit. It's up to each of us -- women, men and the businesses in which we work -- to do our part to stamp out inequity.

The opinions expressed in this commentary are solely those of Nancy Carter.
FOLLOW THIS TOPIC