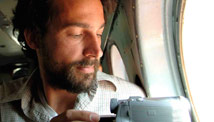 STORY HIGHLIGHTS
Travel editor Robert Reid says some are likely leery of cruises after Carnival Splendor debacle
He says "real" travelers eschew cruises but people flocked to them after 9/11 especially
If you're nervous about cruises, there are train trips and barge tours that give cruise experience
Reid: Cruises provide unusual access to open sea, and odds of Splendor-type disaster slim
Editor's note: Robert Reid is the U.S. travel editor for Lonely Planet and host of the 76-Second Travel Show.
New York (CNN) -- Now that the 4,500 people stranded last week on the Carnival Splendor are safe and sound in San Diego, California, some vital questions need to be answered. Were the passengers cared for properly? Will any use the free cruise vouchers Carnival offered? And, most importantly, did they or did they not eat any of that Spam?
Another big one is whether anyone should bother taking a cruise in the first place. Already, cruises tend to be smeared by the "real" travel community as floating malls, Vegas on water, with structured camplike activities, dodgy food and, as writer David Foster Wallace called it, "1,500 professional smiles" from people "who clearly dislike you."
But by all indications, people do have fun on cruises, and they are a committed lot. Particularly Americans. Of the 13.4 million worldwide travelers who set off on a "Love Boat" experience last year, says the Cruise Lines International Association, 70 percent are Americans. And the number rises every year.
The Titanic aside, cruise ships have an impressive safety record -- especially when one considers that annual cruise bookings have risen by more than 1 million since 9/11. The fire that stalled the Carnival fun can pretty much be chalked up to a freak occurrence, not likely to be repeated if you're planning a trip by big boat.
The people who do this usually defend their vacation choice with a handful of reasons. "You only have to unpack and pack once" goes one argument. "They're hassle free." "You don't have to worry about planning anything." "They're relaxing." And the biggest, "The value. They're cheap and you know what your total cost will be."

Cruise ship returns to port

Cruise passenger: Great to see land!
(Of course, a cruise's final bill is much more than advertised. Onboard expenses are where cruises make their profit. Liquor is rarely included, same with offshore excursions, souvenirs, the casino and tips for the woefully underpaid staff, which can quickly reach $125 total. If you find a Mayan Riviera cruise in Mexico for $300, expect to pay $200, at least, in extras, not including transport to get to the pier.)
To be sure, there are sound reasons to get on board, and the most travel-oriented one is probably the best: People like that they get to see different places: "You fall asleep in Jamaica and wake up at Grand Cayman" (the catch being you only have a few hours and, usually, can only see what a tour offers).
But there are other kinds of travel that achieve this effect, and for those put off on cruises for the moment, they are worth considering.
One alternative that floats is spending a week aboard a barge. Burgundy in France has a network of canals and rivers that total nearly 800 miles. (Renting a barge can run about 300 to 400 euros a day). In the U.S., you can rent family-size barges to ride along the 365-mile Erie Canal system between Albany and Buffalo, New York, and stop into canal-side historic towns at your own leisure (from $350 a day for a week from rental companies such as CanalCruises.com). It's your boat for the trip -- plus you get the added thrill of driving it yourself.
Another cruise-alternative is the train. But you needn't hop on and off across Europe with a Eurail pass or the U.S. with an Amtrak pass; some trains offer built-in vacation packages. Though not as roomy as a boat, trains can be as social as cruises.
Whether you go on escorted trips -- like Amtrak's six-night, all-catered Glacier Park Discovery between Chicago, Illinois, and Seattle, Washington (from $3,250), or the luxury version of the Trans-Siberian, the Golden Eagle's 15-day trip from Moscow to Vladivostok, Russia, ($8,000) -- or go alone, there are many mix-and-mingle opportunities in observatory decks or while sharing a table in the dining car. And the views often beat a cross-country trip by car -- with no billboards cluttering the passing landscape.
Canada's VIA Rail has North America's prettiest excursions, with multiday trips crossing the Rockies between Vancouver, British Columbia, and Jasper, Alberta. Costlier is the classic art-deco Venice Simplon-Orient-Express; an overnighter from London, England, to Venice, Italy, is more than $3,000. But it sure is nice.
If you still have a yen for the big boat, it's understandable. Cruises do have their own distinctions. Like the sea itself. Taking my first cruise shortly after 9/11, I realized it was the only time I'd been at sea. I skipped the "fire gaucho" shows and limited my visits to the unlimited ice cream bar to the bare minimum, but the sea I liked and stared out endlessly -- a rolling gray mass that looked like the surface of another planet.
And even for travel purists, it's hard to deny that people do seem to have a great time on these things. Like the commercials attest, people do look and act younger once they get out there. Maybe it's because it feels like an "adult camp" -- a throwback-type of travel, on water not airways, where there's no need for clocks, just a focus on magic shows, the dessert bar and dance floor.
No, taking a cruise isn't ever going to let you get an authentic experience of a place, as compared to finding a posada or bed and breakfast in Puerto Vallarta, Mexico, or Cartagena, Colombia, for a week would.
But then again neither does a weeklong stay at an all-inclusive resort in Montego Bay, Jamaica, where you can find all the "professional smiles" you can handle.
In the end, I guess there are two types of travelers: those who like cruises, and those who hate them. If you like them, go. That random incident aboard the Splendor shouldn't change a thing.
The opinions expressed in this commentary are solely those of Robert Reid.
FOLLOW THIS TOPIC