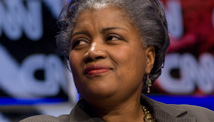 STORY HIGHLIGHTS
Donna Brazile: Political giant Nancy Pelosi is the best choice for House minority leader
Pelosi has the strength to stand up to all-male, rigidly partisan GOP leaders, she says
Brazile writes: Pelosi is warm, engaging and constituents love her for serving them well
Pelosi has taken media bullets, she says, and GOP attacks without flinching
Editor's note: Donna Brazile, a Democratic strategist and CNN political contributor, is vice chairwoman for voter registration and participation at the Democratic National Committee, a nationally syndicated columnist and an adjunct professor at Georgetown University. She was manager for the Gore-Lieberman presidential campaign in 2000 and wrote "Cooking With Grease: Stirring the Pots In American Politics."
(CNN) -- This week, visitors entering Washington's Union Station are greeted by a work of art -- a two-story, red open-toed lady's dress shoe. It reminds me of Cinderella's lost glass slipper. I thought to myself, if someone is looking for the woman big enough to fill this, they need look no further than Nancy Pelosi.
The nation is fortunate, not to mention the Democratic Party and the president, that Ms. Pelosi will be re-elected Democratic leader for the next Congress, because we are surely entering one of the nation's most difficult eras.
Voters rejected many incumbents across the country earlier this month, and the Democrats remaining still need a few political giants in the Congress. Thank God, they have one in House Speaker Nancy Pelosi.
There aren't any congresswomen in American history I can compare to Nancy Pelosi, because none was in a position to equal her accomplishments. Pelosi, as we all know, is the first ever woman ever elected to be Speaker of the House. The esteemed newspaper The Christian Science Monitor wrote of her this last July: "Make no mistake: Nancy Pelosi is the most powerful woman in American politics and the most powerful House speaker since Sam Rayburn a half century ago."
Nancy Pelosi is loved for paying attention to her constituents and working on their behalf.
--Donna Brazile
Sam Rayburn, whose statue stands in the courtyard entrance of the House office building that bears his name, served in Congress from 1913 to 1961. He became speaker only months before our entry into World War II. Rayburn was the right-hand man for both FDR and Harry Truman in the Congress, outshining even his protégé, Lyndon Baines Johnson, whose own legislative skills became legend.
Rayburn worked across the aisle, a necessity for an effective legislative leadership. "Pelosi makes no pretext about working with Republicans, and they respond in kind," says the Monitor.
That's an asset -- her partisanship. Despite giving abundant lip service to seeking bipartisan accord, Rep. John Boehner, the all-but-certain in-coming Republican speaker, is rigidly partisan. Boehner would have steamrollered any speaker with weaker convictions than Pelosi in this last Congress.
In person, Pelosi is warm and engaging. I've just returned from a California trip that included a visit to Pelosi's congressional district. I talked with scores of voters and let me tell you, Nancy Pelosi is loved for paying attention to her constituents and working on their behalf.
The difference between her constituents, who love her, and many in the public who loathe her, is that her voters actually know Pelosi, the person. Pelosi's rating has never been higher with her fellow Democrats, despite the "shellacking" the party took in this last election. She has been on the firing line, taking all the media bullets, and grenades and flame-throwers the Republicans could throw at her.
Within 15 minutes of the passage of the historic health care bill, the Republicans launched a coordinated attack that no previous speaker, and few politicians, has faced. Republican National Chairman Michael Steele unveiled a website engulfed in flames with the words, "Fire Pelosi," and suggested sending her "an e-mail bomb."
The Republicans launched a coordinated attack that no previous speaker, and few politicians, has faced.
--Donna Brazile

Will Rep. Shuler challenge Pelosi?
Pelosi is still standing. Moreover, the House Democrats are ready to re-elect her, despite some hesitation from the so-called Blue Dog or moderate to conservative Democrats. As Pelosi has stated many times during the 111th session of Congress, it was not about her, it was about her members. And she never deviated from that script.
For Pelosi, it's time she channels her inner Rayburn, who rejected the term "minority leader." He lost the speakership, twice. Rayburn told the press to call him the "Democratic leader." To continue, Ms. Pelosi is about to again become what she was before the 2010 mid-term election, the House "Democratic leader."
This year was supposed to be the "Year of the Woman in Politics." Except for the leadership Pelosi exercised, it was not so. This election resulted in fewer women in Congress.
That's surprising, given more women ran for office in the Republican primaries than ever before. According to the Center for American Women and Politics, the Republican Party's core voters rejected them in droves during the primary season.
This woman, now one of fewer women in the Congress, has what it takes to stand up to an all-male Republican leadership that is intent on compromising on nothing. It's been said that people loved President Franklin Delano Roosevelt for the enemies he made. The same can be said about Pelosi.
The Republican leadership in both the House and Senate is taking the nation down a dangerous road. Their strategy holds that the president must not just compromise; he must capitulate. They will not compromise on principles, they say, and it turns out everything is "on principle."
Sounds reasonable, until one realizes that the Republican position excludes any viewpoint but its own. Put to practice as a function of government, and the strategy "our way, or we will not let you govern," will seriously erode the Separation of Powers principle of the U.S. Constitution.
Believe me, the Republican leadership we will soon witness is not what the voters ordered up in November. It is going to take one very tough Democratic leader to go toe-to-toe with them in the Congress. History has called on Pelosi to do it.
FOLLOW THIS TOPIC