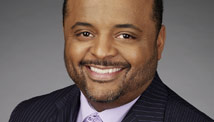 STORY HIGHLIGHTS
The trouncing Democrats took in the midterm elections exposed political problems for Obama
Roland Martin writes that he needs to make amends with his base
The administration needs to heal some wounds with the DNC and donors, Martin says
Martin: Without an energized youth and minority vote, Obama can't win in 2012
Editor's note: Roland Martin is a syndicated columnist and author of "The First: President Barack Obama's Road to the White House." He is a commentator for TV One Cable network and host of a Sunday morning news show.
(CNN) -- The day after Republicans trounced Democrats in congressional, gubernatorial and statehouse races, one of my CNN colleagues asked The Best Political Team on Television what's the first thing President Obama should focus on.
Others said he should show contrition; immediately move to the center in order to attract independent voters; drastically scale back his "liberal" agenda; and make massive changes to his staff and bring in some new blood.
For me, the answer was simple: He must go to his base and make some serious amends for ignoring many of them over the last two years, as well as heal some seriously wounded souls.
My colleague Alex Castellanos, a Republican strategist, immediately began to shake his head, saying that wasn't the most important thing. I stand by what I said that night: It doesn't matter if you make an all-out attempt to go after independent voters. If Obama has a shaky base leading into 2012, he doesn't stand a chance of winning a second term.
Prior to the election, and in the last two weeks, I've traveled to Los Angeles, California; Norfolk, Virginia; Fort Valley, Georgia; Cleveland, Ohio; Jackson, Mississippi; as well as chatted with religious leaders from Chicago to New Jersey to Texas; as well as Democratic (and Republican) donors and activists. And it is safe to say that there is considerable frustration, anger and resentment with the White House and the Democratic National Committee's failure at Retail Politics 101.
Early in Obama's first few months in office, major donors to the Democratic Party grumbled that the usual perks weren't coming their way, and they were not happy. The response from White House officials was pretty much, "So what?" Sure, the average person is trying to make ends meet and really doesn't care what a fat-cat donor has to say, but when you look up and are desperate for them to fund get-out-the-vote initiatives and bolster candidates in need, then you care how they feel.
Obama may frown upon such things as having to take White House Christmas party photos with donors, but it comes with the territory, and when donors close their checkbooks due to an inattentive White House, it has repercussions beyond the president's own campaign.
One of the surprising aspects of the 2008 campaign was Obama's religious outreach. It was a robust effort that was shocking to Republicans and Democrats alike, who were not accustomed to seeing such an aggressive effort.
But in the wake of the midterm election, religious leaders have been particularly upset with the president's faith-based initiative. It has clearly not been as public as under former President George W. Bush, and some say that played a role in Democrats' losing significant portions of the Catholic vote this year. The White House responds with a litany of things they've done in the area, but are those visible and known to those pastors who talk to thousands of congregants each week?
Religious leaders often tried to get the White House to link the economic agenda and health care to a moral calling. They felt that by engaging church leaders they would have been able to stem a lot of the misinformation that was running rampant. But when angry town hall meetings took place, they were largely led by congressional members, rather than in places where a more civil discourse could be expected. Some believe religion and politics shouldn't mix, but they go hand in hand.
Any advertiser will tell you that they covet the 18-49 demographic because they are highly impressionable and will change their minds when it comes to what products to buy. Older purchasers are set in their ways and are much harder to reach. The same goes for politics.
The hype surrounding Obama's candidacy was palpable among young voters. The energy and excitement was stunning, and it even led folks like Missouri Sen. Claire McCaskill to admit that it was her children who leaned heavily on her to back Obama's presidential bid. Yet the enthusiasm generated has been replaced by pessimism. These voters are not going to simply come out and vote every time on general principle. They must be cultivated over a longer period of time; and engaged.
Yet the White House has missed many opportunities to do so.
For instance, last year, when college students used social media to organize simultaneous protests in 31 states against tuition increases, I called the White House to see if the president was going to make some kind of comment about the protests to send a signal to them that he supported their efforts. That would seem right up the alley of a community organizer. But the response was no. I asked why and the response was that the emphasis at the time was on health care.
You would think that aligning with students to protest a dramatic increase in college tuition would have been a perfect way to get them to back his financial aid changes. But that didn't happen. The issue isn't that the bill was eventually passed. The critical need was to reach out to young voters and tell them, "You were with me. I'm with you." The White House missed a perfect moment. And holding a rally on a college campus two weeks from Election Day is too little, too late.
Lastly, Democrats collectively lost the white vote in the midterm election, but drew a majority of minority voters. An Obama victory in 2012 will require a massive turnout among black and Hispanic voters, and that will require more than a media outreach plan two months before Election Day.
In the first 21 months of his presidency, Obama appeared on "The Tom Joyner Morning Show" one time. Heard on more than 100 stations and by 8 million listeners, Joyner is the most influential voice in urban radio. I'm a senior analyst on Tom's show, and blasted the White House for the failure to make the president available to Joyner's show, as well as other minority media outlets. In the last three months of the campaign, Obama was on Joyner's show three times, as well as on other nationally syndicated shows; and he talked to minority columnists; bloggers; and networks like Telemundo and Univision.
This massive outreach can't be a one-time thing. It has to take place throughout 2011 and 2012 if the president expects to rebuild the coalition that put him in office in 2008. He spent a lot of time talking to NBC, CBS, ABC, CNN, MSNBC and Fox, but his team better be smart enough to put him on TV One, BET, Telemundo, Univision, and other outlets.
There is no way a Republican president would ignore the power and reach of Limbaugh, Hannity, Beck. In fact, the Republicans would hold conservative radio day at the White House, inviting those hosts to do their shows from the White House. Are Dems not smart enough to do the same for progressives and urban radio?
Will the liberal/progressive base desert Obama? No. But he needs them to be highly energized and not passively backing him. It's not the percentage of young voters, women and minorities; it's a huge turnout among each demographic.
Right now, Obama has ticked off both his friends and his foes. We all know that his foes will never support him, but if he has a lackluster response from his friends, he will have a lot more time to spend with them at home in Chicago, rather than at the White House, in 2013.
The opinions expressed in this commentary are solely those of Roland Martin.
FOLLOW THIS TOPIC