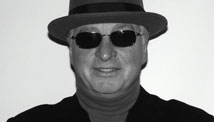 STORY HIGHLIGHTS
Stephen Davis says Florida Gov. Crist may pardon Jim Morrison on 1970 indecency rap
He says late Doors singer accused of exposing himself at concert, but no photos emerged
Miami trial was a farce, he says, spurred by conservative activists, political climate
Davis: Morrison fled to Paris to avoid jail; pardon would repair miscarriage of justice
Editor's note: Stephen Davis is the author of the biography "Jim Morrison: Life, Death, Legend" (2004). His new book is "LZ-'75: The Lost Chronicles of Led Zeppelin's 1975 American Tour" (both from Gotham).
(CNN) -- Jim Morrison has been dead for 40 years, but he's still causing trouble.
There's speculation in the media that outgoing Florida Gov. Charlie Crist is going to issue a posthumous pardon to Morrison, the mercurial and charismatic lead singer of The Doors, and arguably one of the greatest American rock stars.
He was convicted of sex crimes in a Miami court in 1970 and sentenced to prison. He jumped bail instead and died a few months later in Paris, France, an exiled outcast from his beloved America.
Does Morrison deserve to be pardoned at this point? Yes.
Here's the history: In 1969 The Doors, were in a creative decline but still a hot concert draw. Morrison arrived at an over-sold Miami show being held in an old seaplane hanger; he was hours late and very drunk. The concert was a fiasco, with Morrison cursing the emotional teenage audience and threatening to drop his trousers.
In Los Angeles, California, a few days earlier, he'd attended performances by the legendary avant-garde troupe the Living Theater, which had featured naked actors on stage; so now Jim Morrison was importing a bit of the international avant-garde to a Nixon-era archconservative Florida.
In the end, the stage in Miami collapsed and Morrison was hustled out the back door, his trousers still on. He wasn't arrested by any of the police who had witnessed the concert. But the Miami papers claimed that Morrison had exposed himself and produced teenage witnesses who swore it happened.
It didn't matter that the show was covered by TV news crews, several professional photographers and thousands of screaming kids with Kodak Instamatics flashing like lightning, and that there were no actual images of Jim Morrison exposing himself.
Miami went into a self-righteous frenzy. Local conservative celebrities Jackie Gleason and Anita Bryant attended an anti-Doors, pro-decency rally in the Orange Bowl, featuring high school marching bands.
An indictment for public obscenity was prepared against Morrison. Republican Gov. Claude Kirk signed the indictment and an extradition request to California. America's greatest rock star would spend what turned out to be some of the last months of his young life defending himself in a Miami court.
The obscenity trial of Jim Morrison began in August 1970. The judge was Murray Goodman, a Republican political appointee who was up for re-election that fall. The trial was a farce. Defense motions were routinely denied, defense witnesses suppressed without explanation. Prosecution witnesses claimed to have seen Morrison exposing himself, but there was no pictues as evidence.
After closing arguments, and the judge's highly unorthodox directive to find the defendant guilty, the jury returned its verdicts on September 20, 1970. Jim Morrison was found guilty on misdemeanor charges of indecent exposure and "open profanity." He was acquitted of a felony charge of lewd and lascivious behavior. He was fined $500 and sentenced to six months of hard labor for public exposure, and 60 days of hard labor on the profanity conviction.
Released on $50,000 bail pending appeal, Morrison returned to California and pondered his options.
Who might have wanted this 27-year-old rock star in prison? The FBI had been keeping a dossier on Morrison since 1968, when he made derogatory comments about Richard Nixon onstage.
Morrison's redacted FBI file suggests that FBI Director J. Edgar Hoover may have taken a personal interest in Morrison. It is well known that the Nixon regime was acutely paranoid and actively sought to neutralize or eliminate its "enemies." Did Morrison's provocative behavior in Miami give someone in authority the leverage to try to silence Jim Morrison and put him away?
A few months went by, and Morrison's legal appeals seemed to have stalled. He feared he might have to serve time in Raiford, a hellhole of a Florida maximum security prison. The singer decided to leave the country before his appeals were exhausted and his passport confiscated.
France, which has no extradition treaty with the United States for so-called sex crimes (ask Roman Polanski), seemed a logical place of refuge. Early in 1971, Jim Morrison was to be found living incognito as a lodger in a sublet Paris flat under the name James Douglas. A few months later he was dead at 27 of a heart attack that has been attributed to a drug overdose. Today his grave is one of the most visited tourist sites in Paris.
Gov. Charlie Crist was 14 when Morrison was tried in Miami. Maybe he was as appalled as many in Florida were at this gross miscarriage of justice. Whether he pardons Jim Morrison is meaningless, and I don't think Morrison would care if he still lived.
Still, the pardon would be a positive gesture, and a final repudiation of the ugly mess in Miami 40 years ago.
The opinions expressed in this commentary are solely those of Stephen Davis.
FOLLOW THIS TOPIC