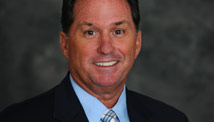 STORY HIGHLIGHTS
Jayson Ahern: Air cargo attack failed, but incident shows importance of air security
U.S. needs multifaceted strategy that doesn't hamper the global flow of goods, he writes
Ahern: DHS must get electronic data on all international shipments before plane takes off
We must use advanced technology, enlist international cooperation, he writes
Editor's note: Jayson P. Ahern served 33 years in the U.S. Customs Service and U.S. Customs and Border Protection, where he retired as acting commissioner. He is a principal with the Chertoff Group, a security and risk management advisory firm.
(CNN) -- Recently, the United States was tipped off by Saudi Arabian authorities that packages laden with explosives were en route to the United States.
With little time to react, the United States, as well as allied countries around the world, led a vigorous search through the multifaceted international cargo shipping system, ultimately discovering the packages, within hours of detonation, in time to prevent a devastating attack.
This terrorist attack could have killed many people and severely disrupted the transportation network that our global economy depends on every minute. And of course, it would have extremely traumatized many people if terrorists had been successful.
After a terror threat such as this, it is human nature to search for an immediate solution that will prevent it from ever taking place again. But no single solution can eliminate this risk completely. Even if there were one, it would simply create a single point of failure for terrorists to target or move around. How then do we move forward?
There are several areas to focus on that could provide a layered, risk-based approach designed to secure the aviation sector without harming our economic vitality and the efficient flow of goods around the world.

New details of Euro terror plot revealed

Is Yemen crying 'al Qaeda'?

Yemeni official: We have US drones
First, the Department of Homeland Security should require advanced electronic data on all international air cargo shipments entering the United States, to be submitted before the flight leaves the point of origin. Today, DHS receives cargo information only four hours, or less for shorter flights, before the plane's arrival in the United States.
The DHS could use its authority under the Trade Act of 2002 to require the electronic data pre-departure. This information could be run through the Automated Targeting System, as we do with all incoming cargo before it departs for the United States by sea. This important tool applies sophisticated analysis to all shipments based on up-to-date intelligence, identified anomalies, and other critical information. Having this information earlier would enable authorities to determine which packages require more attention and would help detect harmful materials before they reach the United States.
Second, we must continue to keep up with and use advanced scanning and screening technology. Although no single method can identify all threats, our technological capabilities continue to improve. Deploying technology across the aviation system, combined with a trained and capable security workforce, provides an additional layer of security to better detect weapons and explosives that might be hidden in these international shipments.
Using additional technologies to counter this ongoing threat doesn't mean we should eliminate or reduce security measures already in place. It is a testament to the success of increased security measures involving commercial flying that terrorists find them difficult to penetrate. They seek other areas they think might be vulnerable.
Third, the international community should follow our lead and apply similar layers of defense to strengthen the global aviation system and prevent terrorists from preying on its weakest link.
Following the bombing attempt on an international flight bound for Detroit, Michigan, in December 2009, DHS Secretary Janet Napolitano rightly called on the International Civil Aviation Organization and other partners around the globe to implement global aviation security standards.
Her work continues that of past DHS leaders to ensure authorities have the necessary tools to best prevent terrorist attacks in America. These global standards are important and need to be applied at each step of the aviation supply chain, not simply the last point of departure. Without doing so leaves us all vulnerable.
Of course, with any enforcement strategy, the one element that cannot be underestimated is the need to maintain a highly focused and detailed intelligence network to ensure we are always aware of the most current threats. To do so effectively, the intelligence community needs adequate resources and the administration and Congress need to support its efforts to penetrate terror organizations and their communications.
Implementing this strategy will require strong participation and support from the private sector. Cross-border programs, including "Trusted Shipper" and the Customs Trade Partnership Against Terrorism have proven to be successful programs in which everyone plays a role in keeping international shipments secure.
Although it's important to constantly evaluate our decisions and safety, we should implement strategies that work, without destroying the free movement and trade that promotes prosperity around the world.
The opinions expressed in this commentary are solely those of Jayson P. Ahern.
FOLLOW THIS TOPIC