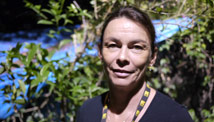 STORY HIGHLIGHTS
Melody Munz says more storms, rain bring foul, unsanitary conditions to Haiti
This and a lack of public health infrastructure leaves open door for cholera outbreak, she says
International Rescue Committee steps up sanitation measures to contain outbreak, she says
Munz: Public health crisis preceded quake, and prevention efforts must be increased
Editor's note: Melody Munz oversees environmental health programs for the International Rescue Committee in Haiti.
Port-au-Prince, Haiti (CNN) -- The storms have been relentless here, and another powerful one is expected to bear down Friday.
The entrance to Cité de la Joie in Port-au-Prince looks like the mouth of a murky and muddy river.
This joyless shantytown is built on a landfill on the edge of a drainage canal that's filled with sewage, discarded bottles, plastic bags, Styrofoam food containers, fruit peels and other refuse. Every time it rains, the canal overflows, creating a foul mucky mess that seeps under plastic sheeting and into the fraying tents and makeshift shelters of some 2,000 earthquake survivors who live there. It covers their belongings, their food, their cooking pots, their clothes, their children and their hair.
Here, rain is rarely associated with growth or renewal or any sort of washing away. It is more often destructive -- damaging tents, ripping through plastic sheeting, washing away meager belongings.
It causes sheer misery for too many people without a proper roof over their head. And in crowded settlements and destitute neighborhoods with open sewers, trash-filled drains and piles of rotting waste, it can be a carrier of lethal bacteria.

Challenges of helping Haiti

Aid sits as cholera spreads in Haiti
Cholera may be a new and frightening disease for Haitians, but the conditions under which it thrives and spreads have existed here for decades. Most at risk is the destitute and forsaken countryside, where public health infrastructure is virtually nonexistent.
The Haitian government, with support from international institutions, must focus resources on developing this public health infrastructure to ensure that all Haitians have access to clean, potable water and basic health and sanitation services, especially in Haiti's chronically neglected rural areas, where residents rely on a polluted river for drinking water.
The rallying cry, "Build back a better Haiti," is meaningless unless it prioritizes the health of the population.
Even before January's earthquake, the lack of sanitation and safe drinking water left Haitians across the country wide open for such a cholera outbreak. According to the Human Development Index, fewer than 20 percent of Haitian households in rural areas and less than 30 percent of residents in urban areas have access to latrines.
As a result, a large portion of the population resorts to open defecation while others create makeshift toilets by putting flimsy plastic bags over buckets. Since there is little if any garbage collection, these bags get tossed anywhere and everywhere.
Congestion only makes matters worse. Haiti's capital is overflowing with more than 2 million residents, but it was designed to accommodate a 10th of that.
The decline of the agricultural sector, combined with a government-led push to centralize services in Port-au-Prince, has pulled too many people into a dangerously tight urban squeeze. And nearly 10 months after the quake destroyed large swaths of the city, more than 1 million of these people remain displaced -- living in crowded, filthy, flooded and disease-prone places.
The cholera epidemic that we in the humanitarian aid community had all feared finally arrived with a vengeance in late October in Haiti's rural Artibonite region, where there is a dearth of clean water, sanitation and health care. Haitian health officials and aid groups scrambled to respond as thousands became infected and hundreds rapidly succumbed to the disease.
Cholera spreads like wildfire when people ingest food or water contaminated with feces that contains the bacteria. The disease that causes severe diarrhea and vomiting can lead to dehydration and death within hours.
While efforts intensified to contain the outbreak in Artibonite, aid groups, together with the Haitian government, launched a massive effort to prevent what would be a far worse disaster -- the spread of cholera to the squalid and sprawling camps of Port-au-Prince.
My organization, the International Rescue Committee, was able to respond quickly since we already had an extensive water and sanitation program in place. Our teams of mostly Haitian staff and camp volunteers had built latrines, showers and washing stations for nearly 100,000 quake survivors, and our network of 156 hygiene promoters who live in the camps were regularly delivering health messages.
Preparing for the worst case scenario, we swiftly ramped up cholera prevention efforts in the 30 camps where we operate -- chlorinating water at its sources, sanitizing latrines and building oral rehydration kiosks.
We've also stepped up our hygiene promotion -- urging vigilance when it comes to washing hands with soap, eating only cooked foods and drinking only treated water. Kits are being readied for distribution that contain water purification tablets, plastic containers, soap and hand-washing basins, and our clinics and mobile medical units are on standby.
Haitian and U.N. officials say the rate of infections and deaths appear to be slowing, yet suspected cases continue to be identified in new areas. Sad to say, it's unlikely that we've seen the end of the epidemic, and we may not have seen the worst.
Containment and prevention activities must not only continue, it's critical that they be scaled up as the Haitian people brace for more storms, rain, mud and muck.
Whether or not the epidemic has peaked, what's clear is that Haiti is suffering a dire public health crisis that long precedes the January 12 earthquake. The cholera outbreak put a spotlight on systemic problems that need to be tackled if sustainable and meaningful recovery can ever take hold.
The opinions expressed in this commentary are solely those of Melody Munz.
FOLLOW THIS TOPIC