Quick shot: Some Dems oppose Pelosi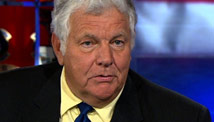 STORY HIGHLIGHTS
William Bennett: Some Democrats are against Nancy Pelosi as House speaker
Bennett says it's a sign of disunity as midterm elections approach
Bennett says some among Democrats reject liberal policies of the House speaker
Editor's note: There are four days to go before voters cast ballots in the hotly contested midterm elections. In this special feature, CNN's political contributors share their quick thoughts on what's making news.
(CNN) -- One of the more interesting stories of this election is that several congressional Democrats are actively campaigning against Nancy Pelosi as House speaker.
This is quite amazing. Let's go back to 1994 -- does anyone remember a single Democrat saying they opposed Tom Foley as speaker? Now Foley was voted out in his home state -- which was itself pretty rare, but one does not recall Foley as an intra-Democratic problem.
When one sees a political ad with President Obama this year, it is more likely to be a Republican ad than a Democratic one. When one sees a political ad with Pelosi, it is more likely to be a Republican ad than a Democratic one. That's what we were seeing up until about a month ago; now we are seeing Democratic ads with Pelosi in them -- opposing her. Quite a dynamic.
We used to say in politics, you want the other team divided, not your own: I can't think of a better example than this just now. Hardened liberal Democrats in the 1990s were angry with President Clinton for dragging the party kicking and screaming to the center (balanced budget, welfare reform, the Defense of Marriage Act, capital-gains tax cuts), but he showed them how to win and was the first Democratic president to earn two terms since Franklin D. Roosevelt.
Now we're in a spot where that hardened liberalism has been unleashed in power and in office from the White House to the U.S. Senate to the House of Representatives, something Americans haven't seen in a long time, and several members of their own party see how bad it is for them -- several, not a lot. That's why this election will be a wave. The common sense antibodies of the American people are kicking back in.
FOLLOW THIS TOPIC