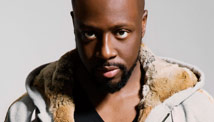 STORY HIGHLIGHTS
Wyclef Jean notes it's election time in both his countries, Haiti and the U.S.
Jean says it's bittersweet to write election songs instead of running for president of Haiti
Young people must vote in U.S. elections, which are also crucial to Haiti, he writes
Obama needs time to fix problems, just as healing takes time in Haiti, Jean says
Editor's note: Wyclef Jean is a Grammy-winning musician and record producer. He started the Yéle Haiti foundation in 2005 to build global awareness of Haiti while helping to transform the country. Jean put himself forward as a candidate for president of Haiti, but dropped his bid when Haiti ruled he did not meet the criteria for residency.
(CNN) -- I was born in Haiti, but I am a citizen of the world. When I was with the Fugees, we played a concert to benefit Tibet to help Tibetans fight, and we stepped up to give voice to those being slaughtered in Rwanda. When the Twin Towers went down on 9/11, I played in the benefit show. It feels natural to me to take a stand on issues that are important to all citizens of this great world.
The issue that is pressing strongly on my mind now is elections.
I learned the hardest way the importance of voting and giving the people choices so they can do the right thing and pick a candidate who speaks to and defends their issues and perspectives. Next month, it's election time in both my countries, Haiti and the United States, and it feels bittersweet to be telling my stories in song, rather than being in the trenches and on the ballot.
An election in America. Why is it important to anyone outside this country? Here's just one example: The United States has a budget for Haiti, so U.S. elections are crucial for all those still suffering in my home country. It's never been more important than right now, with a cholera epidemic beginning to hit Haiti, where conditions have not improved since the January earthquake struck.

Video: Wyclef: Haiti still hurting

Video: Wyclef: Decision 'total shock'
At the end of the day, it is important that we 2 million Haitians who also have become U.S. citizens get to the polls. Because of a Haitian legislative act, dual-citizenship holders can't vote in Haiti. This is one of the bills I want to fight to give us diaspora rights and more inspiration to work for change in our home country.
Americans have much to be thankful for, and yes, even at times of divisiveness between Democrat and Republican, liberal and conservative, us and them, it is worth remembering this country's many blessings. Especially at such a time when it can feel like evil and "actin' stupid" is politics as usual.
We may disagree in our interpretations of the Constitution and in our choice of political affiliation, but we must acknowledge the deep, solid bedrock upon which this nation is founded. It was that sense of togetherness in spite of our differences that I had in mind -- as well as the tale of terror I lived this summer as a short-lived candidate -- when I wrote the song "Election Day." I wrote the line, "As long as we got music, we gonna dance all day," because music belongs to everyone. And music is how I tell stories and teach lessons.
In my song, I sing the line, "Election time is coming." On November 2, Americans will be presented with a choice. The unusually high number of close congressional races means that countless citizens across the country will have the chance to be heard. It has also meant a high volume of bad-mouthing that threatens to drown out the music.
In his two years in office, with people forgetting that he succeeded a failed administration, President Obama has overseen the start of a healing process that includes health care reform and the economic stimulus package. That package prevented the United States from sinking into a full-fledged depression.
The full effects of this process will take years to make themselves known. I never believed Obama could make a change in two years or four years; I've always thought he needed eight years to even make a dent in fixing this nation's problems. I never thought we'd be in it for the short haul. As one who has witnessed both the devastation in Haiti and the resilience of its people, I can confidently say that this is the nature of healing. It is the message I send out to millions of my brothers and sisters in Haiti.
In my run for the presidency of Haiti, I witnessed the unbelievable enthusiasm of young people. So I want to ask Americans of all ages and backgrounds to recognize this opportunity. All that is necessary is your participation. On November 2, let your hope for the future of this battered but resilient country carry you to the polls, to participate in one of America's great traditions -- voting, which is your privilege and your duty.
At the end of the day, this generation, and we the people, feel like something has to be done. This starts with stepping up the vote. Unless you go to vote, all our hopes and dreams for what we can do as a nation are just like a song of protest, gone with the wind. Then a politician you don't want to win ends up stepping into office -- and with him or her, our hopes and dreams are further from being realized.
My song "Election Time" ends with a message: At the end of a day, common love is found in human beings, and we have to remember this. Have respect for one another.
Truly and for real, we need to take the world to another place -- and that journey starts with a vote. Your vote.
The opinions in this commentary are solely those of Wyclef Jean.
FOLLOW THIS TOPIC