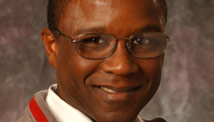 STORY HIGHLIGHTS
Gains among African Americans in the 1990s have almost been erased by the current Great Recession.

Job erosion was greatest among those aged 20 to 34.

African Americans bore the brunt of the recession, and they will bear the brunt of a slow economic recovery.

William M. Rodgers III is professor of public policy and chief economist at the Heldrich Center for Workforce Development at Rutgers University.
CNN's Soledad O'Brien looks at how some are fighting debt from the pulpit in "Almighty Debt: A Black in America Special," premiering at 9 p.m. ET on October 21.
NEW YORK (CNNMoney.com) -- The economic boom of the 1990s led to an historic expansion on Main Street, especially for African Americans. But in the decade that followed, a major unraveling began that pushed many blacks back onto the side streets of America.
From March 1991 to March 2001, more than 22 million jobs were added to the economy. The overall unemployment rate fell from 7.4 to 3.9 percent and stayed low for more than two years. African-American families in particular enjoyed huge income increases and a significant drop in poverty.
While the 1990s boom didn't come close to ending persistent racial inequality, it made some pretty significant dents.
But the 2001 recession, the weak expansion that followed and the Great Recession that still hangs over the economy today have erased many of those gains.
CNNMoney: Why you can't find a job
The boom years: During the 1990s economic expansion, African-American family income increased by 29 percent, poverty among African-American families fell by 10.4 percentage points and the share of African Americans in the workforce increased dramatically.
The population of men in the workforce increased 2.2 points, with the largest gains among 20 to 34 year olds. And the improvement was largest among young men with no more than a high school degree.
Where they lived was a factor, too. African-American men with the least skills and education benefited the most if they lived in cities with low overall unemployment, such as Indianapolis, Milwaukee, and Minneapolis and Raleigh, North Carolina.
The bust years: When the economy stalled in 2001, African American communities were hit hard, and never fully recovered during the rebound in the middle of the decade. Then came the Great Recession, which wiped out many of the gains made in employment and income, particularly among black men.
Employment among African-American males has eroded beyond the starting point during the 1990s boom. From 2001 to 2007, the share of African American men that had a job dropped by 1.4 percentage points.
The erosion was greatest among those aged 20 to 34 -- only 60.1 percent of black men in that age group were employed in 2009, compared to 71.6 percent in 2001.
And those who were employed were making less money. Roughly one-quarter of the income gains that the median African American family made have eroded. While the erosion is smaller than that of white, Asian and Latino families, African American income overall is still only half that of white and Asian families.
CNNMoney: Boost your chances of finding a job
Even in the more "recession-proof" cities that suffered few job losses during the downturns, African American employment gains were almost entirely wiped out, because modest drops in the unemployment rate disproportionately affected black workers.
In the 39 areas where the overall unemployment rate remained below 5 percent throughout the decade, unemployment among adult African American males fell from 10.8 percent to 4.6 percent during the 1990s boom, but rose to 5.8 percent during the 2001 to 2007 recovery, and then jumped to 15 percent during the recession.
Prospects for the future: At this stage of the recovery, the concern is that that the weak jobs recovery and continued fiscal and political constraints will unleash a new surge in income inequality.
Tepid economic growth is too small for robust job creation, and state and local governments and nonprofits are belt-tightening -- factors that tend to disproportionately affect minorities.
Systemic risk will continue to adversely impact low- and moderate- income families for a number of reasons. Safety nets are not as strong as they were several decades ago, efforts to provide consumer information and worker protections are being met with hostility, and people and communities are more interconnected, so smaller, regional economic shocks have stronger ripple effects.
Just as African Americans bore the brunt of the recession, they will bear the brunt of a slow economic recovery.
Reducing the barriers that African Americans face will require the Obama Administration's general policy responses, plus some targeted responses. Otherwise, many African Americans now living on America's side streets will face major challenges finding their way back onto Main Street.