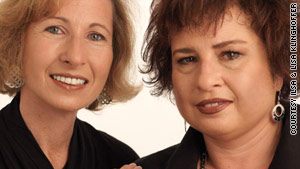 Ilsa, left, and Lisa Klinghoffer, whose father was killed 25 years ago.
STORY HIGHLIGHTS
Cruise ship hijackers killed authors' wheelchair-using father, threw him overboard
Leon Klinghoffer's murder shocked the world, changed his daughters' lives
Ilsa and Lisa Klinghoffer dedicated themselves to preventing and fighting terrorism
They argue that the inconvenience of extra security measures is a small price to pay
Editor's note: Ilsa and Lisa Klinghoffer founded the Leon and Marilyn Klinghoffer Memorial Foundation with their mother, Marilyn, in late 1985. Formally affiliated with the Anti-Defamation League in 1986, the foundation is dedicated to combating terrorism through educational, political and legal means.
(CNN) -- Do you remember the name Leon Klinghoffer? Twenty-five years ago, on October 8, 1985, he was murdered by Palestine Liberation Organization terrorists while on an Italian cruise ship in the Mediterranean.
He was our father, a wonderful, loving father and a good man. He had suffered two strokes and used a wheelchair. Because he was both difficult to handle and an American Jew, he was shot in the head by the terrorists who hijacked the ship. They tossed him overboard like so much garbage. Not far away, on an upper deck, our mother, who was dying from cancer, was being held in the blazing sun with the other American hostages as our father was murdered.
Israel would not give in to the demands of the terrorists -- to release Palestinians held in Israeli prisons -- and no country would allow the ship to dock. After a few days, the terrorists negotiated a deal allowing them to leave the ship to fly to a friendly country. No one knew, however, that our father had been murdered.
When then-President Ronald Reagan was told, he ordered American pilots to intercept the plane and bring it down in Italy. The terrorists were tried and convicted in Italy.
Before that day, we were just an ordinary family, living in quiet anonymity. But the events of that October day and the aftermath in the weeks that followed irrevocably changed our lives. We were thrust into the limelight, mercilessly hounded by the media seeking a sound bite or a headline. In an instant, we were "experts" on terrorism, sought for our opinions or support even though our expertise consisted solely of having a father who was a victim.
Inevitably, the clamor died down. As the years passed, the media approached us only when a terrorist incident happened or when Congress passed some sort of anti-terrorism legislation.
We were thrust into the limelight, mercilessly hounded by the media seeking a sound bite or a headline.
--Ilsa and Lisa Klinghoffer
The searing image of our father in his wheelchair aboard the Achille Lauro just days before the hijacking faded into memory, and the world moved on. Other issues became more important. But as we all know, terrorism did not vanish. We watched the 9/11 attack on the World Trade Center and the murder of nearly 3,000 people, from our home just a few blocks away.
For us, however, nothing had changed. We had lost our father in the most brutal, inhumane and public way possible, and not a day went by that his murder didn't impact our lives.
We missed him and our mother, whose death four months later was hastened by the tragedy, every single day. Their absence was especially painful during holidays, birthdays, anniversaries and other events that mark the passage of time. We both had sons who would grow up with the legacy of their grandfather, but no memories of him other than those that came through the prism of our own recollections about a loving and good man who was taken from us too soon.
We could have returned to lives of quiet anonymity and, in so many ways, that would have been easier. But instead, we committed ourselves to the fight against terrorism, using the vehicle of the Leon and Marilyn Klinghoffer Foundation of the Anti-Defamation League to educate the public about terrorism, to advocate for congressional action and to help train law enforcement agencies in the latest terrorism prevention techniques.
Many Americans complain about security policies put in place after the Achille Lauro hijacking and other acts of terrorism. We, too, have felt the impact, from removing our shoes in long lines at airport security to showing identification to enter high-rise Manhattan buildings. An inconvenience, yes, but the extra vigilance is a small price to pay.
Although we have pursued the goals of the Klinghoffer Foundation at great personal expense, we have done so in the belief it is our obligation to pursue any avenue available to ensure that no more families experience the unimaginable pain of having their entire world shattered by the brutality of terrorism.
It is our mission, it is our legacy and it is our continuing challenge.
The opinions expressed in this commentary are solely those of Ilsa and Lisa Klinghoffer.
FOLLOW THIS TOPIC