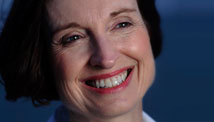 STORY HIGHLIGHTS
Laura Stepp: Summit failed to address lack of health care at community colleges
Unintended pregnancies more frequent at two-year colleges than four-year, she says
Birth rate rising among college-age women, she writes, most drop out if pregnant
She says health care clinics help prevent pregnancies and assure students a better future
Editor's note: Laura Sessions Stepp is a Pulitzer Prize-winning journalist, formerly with The Washington Post, who specializes in the coverage of young people. She has written two books: "Unhooked: How Young Women Pursue Sex, Delay Love and Lose at Both," and "Our Last Best Shot: Guiding Our Children through Early Adolescence." She has twice been a visiting scholar at the Board on Children, Youth and Families, a program of the National Research Council and Institute of Medicine. She consults for The National Campaign to Prevent Teen and Unplanned Pregnancy, where she is a senior media fellow.
(CNN) -- Months before its summit on community colleges Tuesday, the White House asked Americans to post on its website ideas for community college reform, and vote for their favorite idea.
More than 600 votes were cast before the summit opened. Viewers' favorite proposal came from a former teen mom and community college student in Arizona, and it was not about lowering tuition or expanding the number of parking spaces.
"Educate students on healthy relationships and family planning," Heather Thomas wrote, "in order to help community college students finish their education and then plan for a family when the time is right."
Did summit speakers respond?
Not formally, apparently. Encouraging more partnerships between colleges and businesses -- whatever that means -- was on the agenda, but not how you keep sexually active students in school long enough to show up the first day of work with a diploma and without a baby.

Video: Highlighting community colleges
Half of college-bound students go to community colleges, and fewer than one out of every four students who begin community college finish with a degree -- although some additional students transfer to four-year schools. As public officials talk about graduating an additional 5 million community college students, they neglect to champion one of the most significant things they could do: support efforts to reduce the number of unplanned pregnancies.
Recent figures suggest why they should do this: Although the birth rate for most teenagers has declined, it has risen among 18- and 19-year-olds, the age at which many women start college. Those enrolled in community college are more likely to report an unintended pregnancy than women at four-year schools. And almost two of every three women who have a baby after enrolling in community college don't finish college.
What a waste of potential talent. And how bitter the irony, for these proportions are increasing just as community colleges are offering better courses and degrees: majors in aerospace engineering and mathematics, for example.
Those enrolled in community college are more likely to report an unintended pregnancy than women at four-year schools.
--Laura Sessions Stepp
A growing number of campuses are even building residential housing. What more than half do not have, however, is what four-year colleges and universities have offered for years: comprehensive health services, including daily clinics and nurses who provide up-to-date health information, do physical examinations and prescribe or dispense contraception.
Some two-year schools, such as many in California, offer similar help, but many do not.
In South Carolina, for example, only 6 percent of two-year schools have on-site health centers. This compares with 85 percent of four-year schools in that state.
Only 28 percent of two-year schools make condoms available. At four-year schools, 40 percent do. None of the two-year schools provides emergency contraception.
Lawmakers who fund higher education, like other elites, have always made students at four-year schools and universities their budget priority. It's not a stretch to say they do so, in part, because those schools are where their children and their children's friends go.
Now along comes President Obama who says improving the community college completion rate is a priority. This is a sound goal: According to various sociological studies, where one goes to college doesn't matter in terms of lifetime earnings, but completing college does -- a lot.
Heather Thomas has it right. Children should come after college. Some community colleges, as underfunded as they are, are coming up with innovative ways of helping students understand that. Assisting them is the right -- and smart -- thing to do.
The opinions expressed in this commentary are solely those of Laura Sessions Stepp.
FOLLOW THIS TOPIC