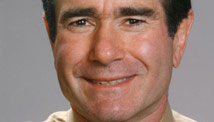 STORY HIGHLIGHTS
New York Republicans had hopes this year would be like 1994, a big victory for them
Lawrence Levy says GOP candidate for governor may be too extreme to win
Party leadership is weaker than in 1994 and demographics works against the GOP, he says
Editor's note: Lawrence C. Levy is executive dean of the National Center for Suburban Studies at Hofstra University and a former columnist and editorial writer for Newsday.
(CNN) -- Remember 1994!
As a clarion call, that doesn't quite measure up to "Remember the Maine!" But with perhaps as much wistfulness as wishfulness, many New York state Republicans recall the year a little-known GOP state senator, George Pataki, toppled a Democratic icon, Gov. Mario Cuomo, and carried a number of other party candidates to victory. That was the last year the GOP won big in this near-bluest of blue states, as the party did around the country in capturing control of Congress and key state offices.
Sixteen years later, some New York Republicans are trying to turn 1994 into a rallying cry to overcome another Cuomo and the Democratic establishment.
The smart ones know better. Despite a political landscape that seems ripe for Republican candidates throughout the state, New York may prove to be far tougher terrain for a GOP resurgence. And the problems facing the state party -- especially in the marquee race for governor -- could be a microcosm for those that could stifle what otherwise would look to be a banner year for the GOP.
Sure, conservative businessman Carl Paladino created a tempest in a Tea Party by blowing away moderate former Rep. Rick Lazio in the September gubernatorial primary. Although most polls show Paladino trailing by double digits, one survey showed him nearly closing what had been a gap with another Democrat named Cuomo, Mario's son Andrew. And yes, if not "as mad as hell," as Paladino and some polls suggest, New York voters are showing signs of not wanting to "take it anymore."

Video: Carl Paladino scuffles with reporter

Video: Paladino, reporter exchange words

Video: New York's ugly governor's race
Like voters around the country, those who are likeliest to vote in November are not particularly happy with the economy, their government and its leaders, here and in Washington, including President Barack Obama.
That feels a lot like 1994 -- when President Bill Clinton and Gov. Mario Cuomo and a weak economy drew voters' ire. Except that it's not.
First, take the problem of potentially unsuitable candidates. Pataki ran on conservative issues like cutting taxes and restoring the death penalty, but he also was pro-choice, highlighted a strong record on the environment and support of immigrant rights. Not Paladino. Like many Tea Party fueled insurgents, Carl Paladino is stridently and uncompromisingly conservative, and he beat a more moderate challenger who was the choice of the party organization.
Paladino shocked even many supporters last week when he threatened to "take out" New York Post editor Fred Dicker in an angry confrontation over the newspaper's coverage of his daughter, who was born out of wedlock. Republicans also distanced themselves from Paladino's claim to have "boxes" of information on Andrew Cuomo's personal life. And in weeks prior, Paladino promised to "take a baseball bat to Albany" and had to apologize for distributing pornographic and racist e-mails to friends before he was a candidate.
But it's not just his crude demeanor that frightens many leaders in his own party; it's his ideology. Democrats outnumber Republicans by millions of voters. And GOP leaders fear that he will turn off far more moderates -- especially women and other suburban swing voters who often decide many statewide races -- than the disaffected Tea Party activists he has turned on. If that happens, Paladino not only would lose by a wide margin but he also could drag down other Republicans seeking congressional and state legislative seats.
Second, there's the paucity of party leadership. In 1994, Pataki had the benefit of a strong, largely unified state Republican Party, led by effective power brokers, such as then U.S. Sen. Alfonse D'Amato.
They enforced party discipline, preventing or minimizing the damage of potentially divisive primaries. But that sort of strong leadership is missing both in Washington and New York. Mirroring the factionalism in the national GOP, the state party has been feuding with its natural allies in the Conservative party, who in turn have had turf differences with the Tea Party rebels. They've spent as much time fighting among themselves as they have against Democrats.
Third, there are the demographic and political shifts. The Republican Party of the Pataki-D'Amato-Giuliani era wasn't nearly as far behind in party enrollment among voters as it is today. And its candidates could count on many suburban and upstate counties with strong Republican bases. That was 1994. Now many of these communities have Democratic enrollment edges.
The state, as well as the country, has seen huge increases in immigrant groups that consider the GOP a hostile party. Add to that the perception among moderate suburbanites that the party has drifted too far to the right and a statewide victory for any Republican is far more difficult. The same can be said of candidates, in New York and elsewhere, running in swing congressional districts.
After the first of the year, GOP leaders believed that as many as eight Democratic seats in the state were in play. A month before the election, a gain of four looks like it would be a good Election Day for Republicans. At that rate, it's harder to make the case that a national wave will seize the congressional majority from Democrats.
Candidates with limited appeal, leadership with little clout, factions with sharp ideological and personal differences, once-friendly communities now leery of their party -- that's not the GOP of 1994, however many resemblances between that year and this one. And for Carl Paladino and many other Republicans, that could make 2010 less worth remembering.
The opinions expressed in this commentary are solely those of Lawrence C. Levy.
FOLLOW THIS TOPIC