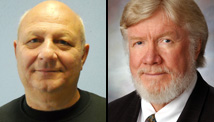 Frank Sacco, left, and Scott Twemlow
STORY HIGHLIGHTS
Authors: Parents need to keep in tune with children daily to pick up subtle clues of bullying
Bullied children show sudden shifts in behavior, Twemlow and Sacco write
Make sure their schools are peaceful and promote good social skills, they say
Parents working together in bullying episode need to act cooperatively, they say
Editor's note: Stuart W. Twemlow is a psychoanalyst and psychiatrist and has researched the causes of violence and ways to promote peace for 40 years, in consultation with schools, cities, corporations, the FBI and governments in Third World countries. He is director of the Peaceful Schools and Communities Research program at the Baylor College of Medicine. Since 1984, Frank Sacco has pioneered home-based mental health programs for families with multiple problems. He is a consultant to the FBI's Behavioral Sciences Unit. Sacco and Twemlow recently co-wrote "Why School Anti-Bullying Programs Don't Work."
(CNN) -- It's difficult for parents to know if their child is a bully or a bully's victim. Children will not tell you, so you need to be tuned in to your child every day.
You can pick up on subtle clues, but this takes time and a certain amount of luck. Bad things can happen to children even if the parents do everything right.
Parents can recognize victimization the easiest. Children who are victimized show sudden shifts in behavior, such as getting poor grades after receiving good grades in the past. They may exhibit "Mondayitis," seeming sad and making excuses not to go to school, or if they're young, they may cry.
Victims can lose interest in activities they previously enjoyed or can withdraw and become socially isolated, even though they once had friends and were socially active. One of the worst signals is when a child feels self-hatred and hopelessness, thinking he or she deserves the bullying. They can give up and begin smoking, drinking or doing drugs.
Boys seem to be more prone to victimization than girls. This might seem counterintuitive, but sons have to be watched as carefully as daughters.

Video: Are bullying laws strict enough?

Video: Why are gay teens bullied?

Video: Anti-bullying programs

Video: Ellen to bullied kids: There is hope
Before your children go to school, you need to evaluate it to discover if it is likely to be a peaceful school. Our work has shown that in peaceful schools, teachers are in charge of their classes, halls and open recreation -- not bullies. Friendship and cooperation are stressed, and so is the belief that winning or achieving are not the only things that matter.
Children want to go to peaceful schools and they feel safe there, and these schools offer anti-bullying programs or promote good social values.
On the other hand, nonpeaceful schools have a preponderance of cliques, poor overall academic performance, discouraged teachers who can't wait to get out every day and an administration that tends to tolerate bullying without quickly trying to intervene.
When a child is being bullied and a parent suspects it, we advocate zero tolerance for inaction. But the response has to be done in a proactive style, not a combative and reactive style.
Parents often have an immediate impulse to jump into the problem. The worst move you can make is to try to fight this battle for your child. This virtually always backfires. You need to work behind the scenes with other adults to put a stop to the dangerous game of bullying at school or on the internet. When parents involved with bullying get sucked into an adversarial process, they tend to stop cooperating and start defending their own children.
This tendency to be defensive increases when a parent adopts a punitive stance. For example, you should choose constructive language with adults at school -- not "Why are you letting my child be bullied?" but instead "My son recently doesn't want to go to school because he feels picked on. Have you noticed anything?" Of course, in high school, a kid would be very embarrassed by any intervention a parent might make. So it must be done without anger at the school and in a way that the child's anonymity is protected.
It's important that the adults involved offer children positive role models in how they negotiate bullying. Cooperation and communication among the adults is the ideal atmosphere to begin a productive resolution. Role play it with your kids. It's easy and fun.
In the end, the best solution is preventing bullying, rather than waiting until a problem erupts. Your first steps should be to ask the school what programs it has in place to prevent bullying at school and on the internet. If none exists, then you could join the Parent-Teacher Association and create pressure to develop a schoolwide prevention program.
It is important to remember that bullying is a process and not a person. In rare cases, children or adolescents suffer from chronic lack of control or aggression or are uncommonly young to be predators and don't seem to notice or regret hurting other people or animals. In these cases, the only answer is seeking psychiatric help.
You also need to understand that you are not as cybersavvy as your children. Digital kids think and act differently. Even five years ago, the hyperconnectivity of texting, Facebook and other social networking devices didn't exist. These transmit words and images that can be the lethal rockets of bullying.
The only real answer is time with your children. You are valuable just being there, even asleep on a chair if it suits. But when you talk with your children, tell them only how much they want to hear. It will all come out as they question you over time. And remember that your children may be much more perceptive of problems than you think they are.
The opinions expressed in this commentary are solely those of the authors.
FOLLOW THIS TOPIC