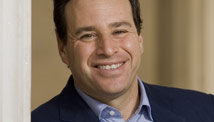 STORY HIGHLIGHTS
David Frum: U.S. strategy to wait for Venezuelans to dump Chavez has failed
Chavez squandered country's oil wealth, Frum says, nation is sinking into poverty
Frum: Chavez makes his own rules and punishes opponents, silences media
Venezuela, once promising democracy, is a corrupt, authoritarian regime, he writes
Editor's note: David Frum writes a weekly column for CNN.com. A special assistant to President George W. Bush from 2001-02, he is the author of six books, including "Comeback: Conservatism That Can Win Again," and is the editor of FrumForum.
(CNN) -- Give him enough rope and he'll hang himself: That old adage has described U.S. policy toward Venezuela's thuggish president, Hugo Chavez.
The United States has stood by as Chavez degraded democracy in Venezuela, abused human rights and supported terrorism against neighboring Colombia. The U.S. has hoped that Venezuelans themselves would act against the economically incompetent leader who has transformed his nation's oil wealth into worsening poverty for most Venezuelans.
Sunday's round of voting in Venezuela has exposed the limits of the U.S. strategy -- and reminded the world again of the brute realities of Chavez's rule.
The Sunday vote elects Venezuela's increasingly powerless legislative body, not the president.
Venezuela used to have a bicameral legislature. In 1999, Chavez won a constitutional amendment eliminating the upper house.
The unicameral legislature used to be elected by proportional representation. In 2009, Chavez changed that rule, gerrymandering the legislature to favor regions where he is more popular. Outside experts estimate that it's possible for the pro-Chavez party to win two-thirds of the seats with barely half the votes.
Gerrymandering is aggravated by corrupt vote-counting. The Venezuelan government is widely suspected to have a secret financial interest in the company that operates Venezuela's voting machines, Smartmatic. This financial connection is rumor only, it should be stressed. Still, the U.S. Congress took the rumors seriously enough to press Smartmatic to divest itself of its U.S. operations, which it did in 2007.
Rules are twisted to favor Chavez. In 2009, Chavez eliminated term limits on the president and members of Congress. Appointments to the courts go to Chavez cronies. The president can order all media to carry his speeches in full at any time of day, a power he abuses to interrupt potentially unwelcome news coverage.
The elections will go effectively unscrutinized. There will be no observers from the European Union, none from the United States, and none from the Organization of American States. International observers will be carefully limited to those from countries Chavez regards as friendly to his regime: Argentina, Bolivia and Paraguay.
Voters who make the wrong choice face economic retaliation. We can measure the severity of the retaliation thanks to the diligent work of four researchers, based at U.S. universities and the United Nations.
Between 2002 and 2004, opponents of Chavez organized a petition drive to force a recall vote. Some 4.7 million Venezuelans signed one or more of these petitions. Their names and addresses were distributed by the Chavez government throughout the government bureaucracy. Signers lost jobs, were subjected to tax audits and were refused government benefits.
A household survey by the U.S.-U.N. academic team measured the effect: an average 5 percent drop in income and a 1.3 percent drop in employment rates for petition signers. These declines happened when oil prices were rising, normally an indicator of prosperity in Venezuela. The main driver of the drop: Petition signers were pushed out of state-sector jobs to off-the-books jobs with lower pay and benefits.
The media are increasingly controlled and manipulated by the Chavez government. In 2009, the government shut down one independent broadcaster, RCTV. Now the country's last remaining independent television station, Globovision, has come under ferocious attack by the Chavez regime.
A mob of Chavez supporters attacked Globovision's headquarters in August 2009. None of the assailants was charged with an offense. In July 2010, the government seized properties belonging to one of Globovision's co-owning families. Another owner, Guillermo Zuloaga, fled the country to escape arrest.
Chavez uses government revenues as his own personal re-election fund. Despite fabulous oil wealth, Venezuela is slipping ever deeper into poverty because of Chavez's almost superhuman economic incompetence. Inflation is accelerating and basic goods are vanishing from stores.
The government has responded by creating so-called socialist markets and cafes, where necessities can be bought at subsidized prices -- but after a long queue and with local Chavez henchmen's approval. In the weeks before the voting, the supply of subsidized food suddenly became much more abundant. Government social welfare agencies have accelerated their giveaways of houses and appliances to woo supporters. The shortages will presumably reappear after the election -- to be blamed then on the opposition, the Zionists and the Americans.
Despite all these manipulations and abuses, the opposition will likely gain something close to half the seats in the Venezuelan legislature. But how much will any result matter? Chavez is discarding the forms of law to hold power. Chavez has politicized the police and army. He amends the constitution by referendum, each referendum run by the same crooked rules that distort elections. He confiscates property and jails dissidents, arbitrary actions approved after the fact by pliant judges who owe their jobs to him -- and know they will lose those jobs if they defy him.
Venezuela -- once a rare democratic exception in an undemocratic continent -- has become the opposite kind of exception. It's an old-fashioned, corrupt, populist, authoritarian regime in a continent moving toward democracy, prosperity, and modernity.
The opinions expressed in this commentary are solely those of David Frum.
FOLLOW THIS TOPIC