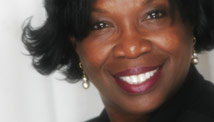 STORY HIGHLIGHTS
Diane Jordan-Grizzard says Liberia's history of repression led to violence
She says a settler elite dominated the nation until violent 1984 coup
Eventually Charles Taylor, now on trial for war crimes, took control
She says a movement for peace among women led to democracy, better leadership
Editor's note: Diane Jordan-Grizzard is author of "Free Soil," a novel set in Liberia, and chief operating officer at Beech Acres Parenting Center in Cincinnati, Ohio.
Cincinnati,Ohio (CNN) -- I moved to Liberia in 1979 believing I could make a difference in the world. I opened a business and served as a midwife. I fell in love with Liberian culture and I enjoyed palm wine and palm butter.
Yet I was naïve to the complicated history of Liberia and the impact it would have on the people I knew, the future of Liberia, and me.
Over time, though, I came to realize how Liberia's small settler population had established absolute dominion over the rest of the nation, to the country's detriment. Opportunities to garner human potential and include indigenous populations in the political and economic fabric went missing for more than a century. Now the nation's former president, Charles Taylor, is on trial at The Hague, and Liberia's ironies have been revealed.
The year after I arrived, Liberia experienced a coup d'état as members of President William Tolbert's military stormed the executive mansion and assassinated him. Master Sgt. Samuel Doe, an indigenous man, led the overthrow and became chairman of the People's Redemption Council and head of state.

Video: BET founder makes case for Liberia
In my travels around the curfew hours, I watched people cheer, "Tolbert is dead!" and "Now 'a man of the soil' will lead Liberia." Ten days later, Doe ordered the execution of Tolbert's administration. Tied to stakes, 13 husbands and fathers were shot as hundreds triumphantly looked on.
With the aim of understanding how a nation could devolve, I discovered that Liberia was established in America. The American Colonization Society (ACS) was formed and funded in 1816 by abolitionists, slave owners, and clergy to offer free people of color the opportunity to go to Africa. President James Monroe, with $100,000 from Congress, supported emigration. The capital, Monrovia, was named after him.
The ACS oversaw settlement of the free men and women who, pessimistic about a future in America, inhabited Liberia between 1820 and 1847. Even with some intermarriage, the settlers created systems that suppressed the indigenous and kept themselves at the top.
In 1847, 38 years before the scramble for Europe to colonize Africa, Liberia declared its independence from the ACS and became the first independent African republic. The national flag -- with red and white stripes and white star set in a blue box, and seal -- an immigrant ship, settler plow and inscription "The Love of Liberty Brought Us Here" reflect the "Americo-Liberian" lineage of the nation.
On August 22, 1984, I sat in my office listening to Doe on the radio as he ordered armed forces to quell unrest at the University of Liberia. Students were protesting the arrest of faculty members and Doe's slow return of the government to civilian rule.
From my window, I saw a woman running down Tubman Boulevard dragging behind her a younger woman whose head and shoulders poured blood. Soon after, a sea of people flooded the streets shouting, "Soldiers shot into the crowd. Students killed and injured while fleeing."
In the following months, it seemed as if a new political party formed each day, and then its leader was arrested and threatened with execution by Doe.
My Liberian neighbors argued that the coup was a necessary intervention to end settler domination, that the indigenous were tired of the slow pace to inclusion. It was easy to see how dissatisfaction with gradual change could produce dissent. However, without collective engagement in a common solution, infighting and jockeying for power continued. I left in 1984.
Destabilization characterized Doe's presidency, which paved the way for Charles Taylor's rebel forces. Taylor, of mixed indigenous and "Americo-Liberian" heritage and educated in Massachusetts, became president. After 14 years of civil war, he was exiled in 2003.
In 2009, Taylor's American-born son, Chucky Emmanuel Taylor, was sentenced to 97 years for torture and killings during that civil war, in which over 200,000 Liberians died.
Now, on trial in The Hague, Taylor is accused of war crimes, conscripting child soldiers, murdering and mutilating civilians and using diamonds to fund the conflict. Naomi Campbell testified in The Hague that the "dirty-looking stones" she received from Taylor's representative were given to a trustee of the Nelson Mandela Children's Fund 13 years ago. The trustee resigned over his decision to remain silent about the uncut diamonds.
During the civil war, one ordinary woman's protest connected to the longing for peace in women of all religions and heritages. Together, their demand for peace ended the civil war and set the stage for Ellen Johnson Sirleaf to become Liberia's and Africa's first democratically elected female head of state. With peacekeeping forces, stability has come to this besieged nation. On July 26, 2010, Liberia celebrated 163 years of independence.
These courageous women are examples of Liberia's longstanding potential and demonstrate the power we have together to effect great change in the world.
The opinions expressed in this commentary are solely those of Diane Jordan-Grizzard.
FOLLOW THIS TOPIC