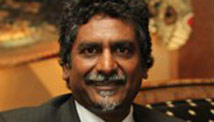 The Global Alliance for Improved Nutrition (GAIN) is a foundation that helps public-private partnerships and gives financial and technical support to deliver nutritious food to people with malnutrition.
(CNN) -- -- It has been United Nations General Assembly week in New York. Dignitaries, leaders and advocates weave through barriers, security lines and check points from one grand forum to another to hear carefully crafted speeches on the world's progress towards achieving the Millennium Development Goals (MDGs).
The excitement wears thin by day three and the real skeptic in me says: "I have heard this all before and we are still not connecting the dots".
We know that a child dies every six seconds of causes linked to under-nutrition. We know that a simple cocktail of micronutrients such as folic acid, iron, Vitamin A and zinc could prevent many of these deaths.
We know that nutrition is a cross cutting foundation to achieving many of the MDG's.
So why are we failing? And why should the billions at the bottom of the pyramid hope that this U.N. week will mean anything different in their lives than those of the past?
We are failing those who do not have enough food to eat, who are not being educated, and who are dying every day because of preventable disease. We have the science, technology and evidence to solve these challenges.
The "what" to do is painfully clear, but it is the "how" to do it that we miss year after year after year. We are missing success because we do not recognize where change happens. We are missing success because while we are talking about development at the highest level, with the noblest intentions on the most grandiose stage, we are leaving critical voices out of the discussion.
The most glaring voices absent are those of local women. Women are the key to unlocking the African continent from poverty.
This week there has been a lot of talk about the challenge of food security and the role of nutrition. New scientific evidence highlights a critical 1,000-day window (from conception to 24 months of age) that exists, revealing that if we miss the opportunity to meet the growing child's nutritional needs during that time, there is no going back. The child will suffer irreversible physical and mental damage.
U.N. MDG Summit leaders, let me connect the dots for you. Women stand at the center of the solution. Women not only purchase the food for their families, they produce more than 70 percent of the food grown in Africa. From soil to mouth, they have an enormous impact on the entire value chain, yet own less than 1 percent of the land and have access to less than 10 percent of agricultural services.
Moving beyond rhetoric to action requires first and foremost giving women rights to own land and access to capital to improve agricultural productivity.
Second, the marketplace needs to provide women with access to foods that are affordable and nutritious. This includes fortified staple foods and weaning foods for children more than six months of age. To accomplish this, we need to develop incentives that will attract the private sector to develop new products targeted to the four billion people who live on less than $10 a day.
The private sector is the key to sustainability and holds the ability to do what rhetoric cannot -- reduce Africa's dependence on food aid and subsidies.
While global forums like the one the U.N. hosted this week are necessary to remind the world that there are billions of people without voice and choice, we have to move beyond the global summit stage and equip communities at a local level with the tools needed to take their lives into their own hands.
Next year, instead of elaborate security screening designed to limit access to the discussion, let there be a focus on providing a seat at the table for those who will drive change on the ground.
Let access be granted for local women, and let us finally connect the dots from aspiration to implementation around the world's goals to end poverty and disease.