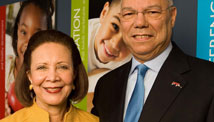 STORY HIGHLIGHTS
Colin and Alma Powell: In the U.S., 3 out of every 10 young adults drop out of school
Powells helped found America's Promise Alliance to help young people be productive, healthy
They say dropouts 3 times as likely to be poor, 8 times more likely to wind up in prison
Powells honor 100 communities that help kids graduate, prepare for workforce
Editor's note: Former U.S. Secretary of State Colin Powell and his wife, Alma, are founding chairman and chairwoman of America's Promise Alliance, the nation's largest partnership network devoted to improving the lives of the nation's young people.
(CNN) -- Over the past 2½ years, we've been talking to the nation about America's dropout crisis -- how three out of every 10 young adults drop out of school, including nearly half of minority students.
We helped found America's Promise Alliance with the challenging and rewarding mission to create a nation rich in resources for young people to lead productive, healthy lives.
Why must we act now? Young people who drop out of high school are three times as likely to live in poverty and eight times more likely to wind up in prison. They are twice as likely to become the parent of a high school dropout and to be unemployed. According to the Alliance for Excellent Education, if dropouts from the class of 2009 had graduated, the country would have benefited from an additional $335 billion in income over the course of their lifetimes.
It is vitally important to create schools, towns, cities and counties where students have adults in their lives who provide support every step of the way, and communities are bolstered by the efforts of many.
It is also important to celebrate the spirit of community and service that is alive and well in this country, to recognize people dedicated to helping kids succeed and to applaud communities providing resources to youth in need. Nowhere is this spirit of community and service more apparent than in the places that make up our list of 100 Best Communities for Young People, America's best places for young people to grow up and live.
100 Best Communities ... serve as role models of what can be done to keep youth in school, thriving and hopeful.
--Colin and Alma Powell
Kalamazoo, Michigan, is one place rich in resources for young people. Perhaps the best example of this is its guarantee of free college tuition for every graduate of its public schools.
The city has witnessed an unprecedented level of collaboration in developing Kalamazoo into a world-class education community, led by the Kalamazoo Youth Development Network, which has brought together dozens of youth-serving agencies to share resources, foster youth leadership, and promote best practices in youth programming.
In June, President Obama gave the commencement address at Kalamazoo Central High School. It was the first time a sitting president has spoken at a high school graduation. The Kalamazoo community was chosen in recognition of what the White House called "a true community commitment to encourage every student to graduate from high school, college- and career-ready."
Our 100 Best Communities demonstrate bold and effective steps being taken to help young people graduate and prepare for the workforce. Despite an economic recession, natural disasters and other challenges, members of our 2010 "class" remain constant in their drive to improve the well-being of local youth through programs that keep them healthy, well-rounded and in school.
The 100 Best and their spirit of community collaboration is a cornerstone of our Grad Nation campaign to mobilize Americans to end the dropout crisis and prepare young people for college and the 21st century workforce. We're shining a spotlight on the places across the country where great work is being done, so others can learn from them.
Among this year's class of 100 Best is Alachua County, Florida, which despite a sagging economy is brimming with collaborative efforts to boost graduation rates. Civic and business organizations, health agencies, law enforcement and local government work together to usher in new ways to cooperate for kids.
Groups such as the Alachua County Children's Alliance meet regularly to discuss and support improvements most likely to keep a child in school, such as access to nutritious food, health care, youth leadership opportunities and a challenging curriculum.
The county boasts the state's only Neighborhood Resource Center, housed with a storefront public library, and the Alachua County Commission created a Healthy Communities Committee and campaign to fight childhood obesity.
When students drop out, they not only hurt themselves, but the communities in which they live. It is our hope that communities, towns, cities and individuals will follow in the footsteps of our 100 Best Communities, which serve as role models of what can be done to keep youth in school, thriving and hopeful.
Another role model is first-time 100 Best winner Cincinnati, Ohio. The city's Strive Partnership, a coalition of more than 300 organizations from all sectors working together in three area urban school districts, is focused entirely on improving students' lives and helping them graduate with skills for a 21st century career.
Their work is rooted in research where they've developed a "Roadmap for Student Success," a set of 54 outcomes that influence a student's potential for success. The partnership tracks these outcomes for children to measure progress and determine areas for improvement. The best part? Cincinnati is sharing this model with other cities to help them better support their young people.
What can you, as a caring adult, do to help ensure we are a nation of young men and women ready to succeed? Volunteer at school and in your community. Get kids involved in solving local problems. Be a mentor and offer job training. Read and learn about how our 100 Best Communities are succeeding, and roll up your sleeves.
If we don't act now, next June, one-third of all high school seniors will be absent from their graduation ceremony, a particularly poignant statistic as communities embark upon the new school year. Working together and as individuals, we can help ensure a promising future for our kids and our nation.
To learn more about the 100 Best competition or see the full list of winning communities, click here.
The opinions expressed in this commentary are solely those of Colin and Alma Powell.
FOLLOW THIS TOPIC