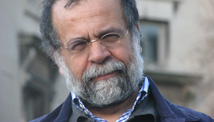 STORY HIGHLIGHTS
Imam Feisal Abdul Rauf says Islamic center will be built
Hamid Dabashi says center is a historic sign of freedom in America
Dabashi says Muslims will overcome bigotry, as have Catholics and Jews
Dabashi: Cordoba House "is about the constitutional protection of our civil liberties"
Editor's note: Hamid Dabashi is the author of "Iran: A People Interrupted." He is the Hagop Kevorkian professor of Iranian studies and comparative literature at Columbia University in New York. Dabashi's book "Shi'ism: A Religion of Protest" is being published by Harvard University Press in February.
New York (CNN) -- "We are proceeding with the community center, Cordoba House. More important, we are doing so with the support of the downtown community, government at all levels and leaders from across the religious spectrum, who will be our partners. I am convinced that it is the right thing to do for many reasons."
The confident and reassuring words of Feisal Abdul Rauf, the chairman of the Cordoba Initiative and the imam of the Farah mosque in Lower Manhattan in his New York Times op-ed piece Tuesday, just four days shy of the ninth anniversary of the horrors of 9/11, speak of a vision always dreamt of -- and occasionally delivered -- in this country.
I remember when Pope John Paul II visited Philadelphia in 1979 and the entire city was spruced up to welcome him happily and openheartedly. There were many older Catholics in the crowd on Benjamin Franklin Parkway, joyously waiting to get a glimpse of the pope. They were talking about the burning of Catholic churches in the Philadelphia riots of 1844, and of an anti-Catholic and anti-immigrant movement known as Knownothingism. Catholics had come a long way in this country, they observed.
I also remember a few years later when a dear friend of mine became the first female rabbi of a synagogue in south Philly and invited me to attend the first Simchat Torah over which she was presiding.
The first thing she showed me when we entered that synagogue was a bullet hole on a wall that was marked inside a glass frame, reminiscent of the hostility that the synagogue had endured when it was first established in that neighborhood.
I am the kind of Muslim who has never entered a mosque in the 35 years that I have lived in the United States.
I have had numerous occasions to be inside churches and synagogues. I have reasons to be critical of Rauf, who is on record for having sided with the officials of the Islamic republic in the course of the current civil rights movement in Iran.

Video: Imam defends Islamic center

Video: Timeline of the mosque controversy

Video: Imam security issue

Video: Both sides rally in Islamic debate
But what is happening today in Lower Manhattan is far beyond the limits of any lapsed Muslim or even an occasionally injudicious imam. It is of a historic proportion akin to what generations of Jews and Catholics have endured -- and triumphed over -- in this country -- and to the spirit of generations of Protestants who fled to this country from Europe for fear of religious persecution.
It speaks to what is best and most noble in this country and yet always covered under the thin veneer of bigotry and racism that today we see in the form of "Islamophobia" and we have seen as anti-Semitism and anti-Catholic sentiments in the past.
The Cordoba House is not about religious freedom. It is about freedom. It is about the constitutional protection of our civil liberties. We, the aging members of a new wave of immigrants, are here to remind the children of the previous generations of immigrants, of the beautiful resonances of these aging truths.
Not just the friends and families of those innocent lives that perished during the horrors of 9/11, but this nation at large needs healing from one of the most traumatic events of its recent history. But this very nation also needs to come to terms with the unimaginable pain and suffering it has unjustly caused in Iraq and in Afghanistan. That mutual healing must start somewhere. Why not here?
The Cordoba House is being opposed by what is worst about this land, and it will be built by the power of what is best.
The opinions expressed in this commentary are solely those of Hamid Dabashi.
FOLLOW THIS TOPIC