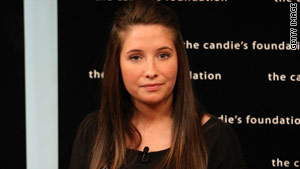 Bristol Palin is remaining in the public eye, joining the contestants on "Dancing with the Stars."
STORY HIGHLIGHTS
Bill Albert: Criticism of Bristol Palin, famous teen mom, has been drearily predictable
But Albert applauds her courage in talking openly about teen pregnancy
He says teen pregnancy rate down due to strategy of abstinence and contraception education
Many teen moms just like Bristol; she can help encourage teens to delay parenthood, he says
Editor's note: Bill Albert is chief program officer of The National Campaign to Prevent Teen and Unplanned Pregnancy, a private, nonprofit initiative that focuses on preventing both teen pregnancy and unplanned pregnancy among single, young adults. Albert is responsible for overall program planning and development, and for tracking program progress.
(CNN) -- Bristol Palin remains the nation's most famous teen mother. From her GOP convention outing in 2008 to the formal announcement that she will be a glittery hoofer on the popular TV show "Dancing with the Stars," Bristol remains a pop culture tour de force.
Not surprisingly, Bristol's 15 minutes (plus two years and counting) of fame has engendered some passionate discussion, much of it drearily predictable.
Some have criticized Bristol for focusing too much on abstinence. Others have slammed her for being a single mother. Still others have suggested that Bristol is making teen pregnancy and parenthood seem more like a glamorous train ride to stardom than the profound challenge it is for so many young women and their children.
I take a more sanguine view. I applaud Bristol's courage to talk openly about her experiences, embrace her public pronouncements about the difficulties of being a young mother, and commend her for weathering a veritable firestorm of snark for her very public role in encouraging other teens to avoid pregnancy and parenthood.
In fact, I wish Bristol would say even more. In her role as the nation's most famous teen mom and as a self-described advocate for preventing teen pregnancy -- she is reportedly pulling in $14,000 for a September speech on behalf of Lifehouse, a home for single mothers in Louisville, Kentucky -- here are a few modest thoughts I wish Bristol would add to her stump speech:
-- Abstinence and contraception are complementary, not contradictory, strategies. The United States has made extraordinary progress in preventing too-early pregnancy and parenthood. The teen pregnancy and birth rates are down by about a third since the early 1990s. The rates are down in all 50 states and among all racial and ethnic groups. The remarkable improvement of a pressing social issue many once considered intractable has been driven by the magic formula of -- wait for it -- less sex and more contraception. Not either/or. Both.
-- Lasting progress in preventing teen pregnancy requires a combination of responsible individual behavior and responsible public and private policies. Again, not either/or. Both.
We need to remind teens that parenthood is the most important thing that many of us ever do and that pregnancy and the lifelong responsibilities of being a parent are not to be stumbled into (about 8 in 10 teen pregnancies are unplanned). Thinking "It won't happen to me," simply isn't responsible.
Bristol is a focus group of one. Still, her experience is more common than many might believe.
--Bill Albert

Video: Cast unveiled for 'Dancing'

Video: Palin calls off engagement
Nor is investing public dollars in ideology. We need to insist that public dollars be invested in sex education programs and other interventions with evidence of success. Happily, federal money is now available for states and communities to invest in an ever-growing list of proven programs.
-- The sideshow that is Levi Johnston has masked an important but hard truth: Sorry teen moms, most "baby daddies" don't stick around, married or not. Fewer than 8 percent of teen mothers marry the baby's father. Those few who do marry are often in relationships that are notoriously unstable. Teen marriages are twice as likely to fail as those in which the woman is at least 25.
-- It doesn't seem as if Bristol talks all that much in public about her parents, but perhaps she should. The truth is parents can do much more to help teen pregnancy. Two decades of good social science research and public opinion surveys make clear that when it comes to their children's decisions about relationships, sex and contraception, parents have not ceded their influence to peers and popular culture. Teens themselves say it is parents -- not the media, not their peers, not even their partners -- who most influence their decisions about sex.
-- To be sure, Bristol is a focus group of one. Still, her experience is more common than many might believe. Contrary to the perception of most Americans, the majority of teen parents are from households that are not in poverty and that are not headed by single parents. Although family income and family structure remain important risk factors associated with teen childbearing, only 28 percent of teens who have given birth to or fathered a child lived in families with incomes below the federal poverty line and just 30 percent lived with a single parent.
Here is where things stand on the teen pregnancy front: One of the nation's great success stories of the past two decades has been the remarkable declines in teen pregnancy and childbearing.
That success story, however, is in danger of unraveling. Recent data show that the declines in teen sex and improvements in contraceptive use have leveled off and that the teen pregnancy and birth rates have increased in recent years, the first such increase since the 1990s.
All of this suggests that new approaches, innovative solutions, and an all-hands-on-deck approach is warranted. Bristol may not always be a pitch-perfect spokesperson for preventing teen pregnancy, but it seems reasonable to welcome her as one of the many voices needed now to continue to encourage young people to delay pregnancy and parenthood.
A point of clarification: Some news reports have suggested that Bristol is a paid spokesperson for The National Campaign to Prevent Teen and Unplanned Pregnancy. She is not nor has she ever been.
The opinions expressed in this commentary are solely those of Bill Albert.
FOLLOW THIS TOPIC