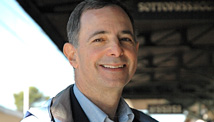 STORY HIGHLIGHTS
Paul Moses notes pope had a history of inter-religious efforts
Pope John Paul had an instinct for creating memorable tableaux of peace, he says
He says Pope probably wouldn't have opposed Islamic center
It could be used for Muslims, Christians to meet in peace, Moses says
Editor's note: Paul Moses is the author of "The Saint and the Sultan: The Crusades, Islam and Francis of Assisi's Mission of Peace." He is a professor of journalism at Brooklyn College and the CUNY Graduate School of Journalism.
(CNN) -- The late Pope John Paul II has been described as the inspiration for a possible compromise to the dispute over the proposed Islamic center and mosque in the World Trade Center vicinity -- that it be withdrawn and built elsewhere, much as the late pontiff had canceled plans for a convent near the Auschwitz concentration camp.
But if anyone would have appreciated the enormous symbolic value of having moderate Muslims create a space close to ground zero -- as opposed to any other possible location in New York -- with the aim of promoting inter-religious understanding, it was Pope John Paul II.
An actor and playwright in his youth, John Paul had an instinct for creating memorable tableaux of peace, whether in his visits to Jerusalem's Western Wall and to the Umayyad Mosque in Damascus or in the grand inter-religious gatherings he created in Assisi in 1986 and 2002.
He showed this instinct again when he visited Casablanca Stadium in Morocco in 1985 and told thousands of Muslim youths, "We believe in the same God, the one God, the living God."

Video: Battle over Islamic center evolves

Video: Rally to support mosque
The pope was deliberate about planning such high-impact events. Before going to the Holy Land in 2000, he wrote that "attention is being given to finding ways of arranging historic meetings in places of exceptional symbolic importance."
John Paul II was quite steadfast in his various attempts to engineer dramatic images of inter-religious harmony. He overcame substantial opposition within the Vatican at times, for example, when he presided at the World Day of Prayer for Peace in Assisi in 1986. He could even be rather obstinate.
For his pilgrimage to the Holy Land in 2000, he insisted that there be an inter-religious ceremony in which he and Muslim and Jewish leaders would pray for the peace of Jerusalem. Local church leaders warned that it would not be so easy to arrange, but the pope was not to be deterred.
A lovely ceremony, marked by songs from children of the three faiths and the planting of three olive trees for peace, was planned. But the event went awry after the chief rabbi spoke of Jerusalem as the "united eternal capital" of Israel and the imam walked out after an angry response.
It didn't work out, but John Paul II had been willing to risk that to achieve what he hoped would be a powerful symbol of hope.
It could be that we New Yorkers are not ready for such a symbol near ground zero; the emotions are too raw. Perhaps New York's Catholic archbishop, Timothy Dolan, sensed this when he offered to mediate the mosque dispute and mentioned John Paul's compromise on the Auschwitz convent as a possible guide.
But I believe that if he were alive, Pope John Paul II would be very reluctant to give up the hope that Muslims and Christians could pray together a few blocks from the World Trade Center site and join in renouncing religiously based violence.
The pope's fervent hope that Christians and Muslims could set aside their past and get along followed the example St. Francis of Assisi set when he encountered Egypt's Sultan Malik al-Kamil during the Fifth Crusade in 1219.
Having failed to dissuade the Crusaders from going to battle, Francis crossed enemy lines at great risk and met with the sultan in his camp on the bank of the Nile. Francis did not succeed in converting the sultan, as he had hoped, but came away impressed by his enemy's courtesy and civility -- so much so that when he went home, he re-wrote his order's rule to urge that his friars simply live in peace among Muslims and "be subject" to them, a revolutionary idea.
Through his dramatic example, Francis recovered the Christian principle of love for the enemy and showed it was possible to approach Muslims in peace and without coercion. The sultan, for his part, reflected a tradition, dating to Prophet Mohammed in the earliest days of Islam, of respect for holy Christian monks.
If ground zero's periphery -- of all places - can be home to a space where Muslims and Christians meet in peace and with respect for one another's holiness, it would be a worldwide symbol of hope.
If we are ready for that.
The opinions expressed in this commentary are solely those of Paul Moses.
FOLLOW THIS TOPIC