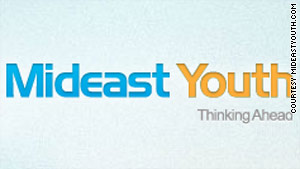 "Due to the controversial nature of my work I am unable to publish my photo on the internet," says Al Shafei.
STORY HIGHLIGHTS
Esra'a Al Shafei is the founder of MideastYouth.com
Information is controlled and censored by leaders in the region, she says
Young people are using the technology to take control of their futures
The Internet brings Muslims together, "encouraging them to act in unity for tolerance"
Editor's note: Esra'a Al Shafei is the founder of MideastYouth.com and is currently a TED Global Fellow. Most recently, her project won a ThinkSocial Award for serving as a "powerful model for how social media can be used to address global problems." She writes for CNN as part of the "Muslim in 2010" special coverage.
(CNN) -- Throughout my short life, as I've witnessed the inhumane treatment of others, a sense of outrage and injustice has grown in my heart.
Increasingly frustrated by the prejudicial stereotypes in media portrayals of the Middle East's Muslim youth "problem," I turned to my keyboard to respond.
I wanted to show not only the diversity of ethnicities, religions, and cultures that exist in the region, but also the diversity of opinion, fervor, ideals, hopes, and politics. I wanted us to take control of our own image, and to portray Muslim youth in all of our depth, feelings, and complexity prominently in the global discourse.
Over time, I was joined by a growing number of varied voices, proclaiming in unison: 'We are Muslims for civil rights!'
The fervor of these cries became the foundation of MideastYouth.com, a network founded independently by students with the mission to inspire and provide young people with freedom of expression and the opportunity to practice it.
I used Mideast Youth as a platform to make such voices heard in the global community, for people to realize that we are capable of thoughtful and reasoned discussions of our differences.
We want to take our humanity and our futures in our own hands, and we use the internet and other forms of technology to fight for the right to do so.
--Esra'a Al Shafei
We want to take our humanity and our futures in our own hands, and we use the internet and other forms of technology to fight for the right to do so.
Our innovation must be seen within the context of our culture. Many have risked their freedom, their security, and their lives by grasping the limitless power of technology in a region where information is controlled and censored by various leaders to manipulate public sentiment by illustrating the "otherness" of our neighbors and our "enemies."
Hateful and intolerant stereotypes are routinely used by our leaders to paint other sects, tribes, and nations within the region, so that we are united in our hatred -- and then the government-controlled media is used to perpetuate this divisiveness.
This is what inspired many of us to form a powerful indigenously self-created digital community, where we launched campaigns by Muslims for ethnic and religious minorities in the region.
We are activists and campaigners of all sects and ethnicities for youth and minorities who lack any voice or representation in the civil discourse.
Regional censorship has made it difficult to discuss such topics openly. It is in light of this damning lack of freedom of expression and information that the internet provides the only creative space for youth.
It allows them to freely express themselves, and exchange information, experiences, views, and opinions, actively involving various minorities who have been persecuted, censored and violently discriminated against for decades.
As Muslims, we are creating an alternative narrative and a perspective of each other and our world, made possible through our advocacy campaigns.
One such example of religious persecution is the one faced by adherents of the Baha'i faith.
Appalled by their treatment in Muslim countries, I founded The Muslim Network for Baha'i Rights. This wasn't just a campaign in support of Baha'i human rights. As the name implies, this is an activist network that recruits Muslims specifically to fight for the human rights of the Baha'i minority in our societies, ensuring they have equal rights with the rest of us, regardless of their beliefs.
Illuminating the lesser-known issues in Muslim countries, such as the persecution of Baha'is and other religious minorities, extends the message and serves to encourage Muslims to stand up for the rights of those being abused and discriminated against, often in the name of our religion.
We want to send a message that the faith we believe in doesn't condone discrimination of others simply for having different religious beliefs.
When access to knowledge is lacking, people are vulnerable to manipulation.
--Esra'a Al Shafei
Ethnic, secular and tribal identities remain very strong in the region and continue to dominate political divisions. The oppression of free speech and strict government control of media are used to perpetuate this divisive imagery.
When access to knowledge is lacking, people are vulnerable to manipulation.
Our political and religious leaders are sustained in this manner, and abroad, with many Muslim voices echoing the same stereotypical and fundamentalist angles that further misrepresentations and encourage hate-filled speech.
But this has changed, and we continue to change it by recruiting the voices of those who are desperate to be heard and understood, in turn visibly contributing to the discourse around religious minorities in our countries.
Despite the social, political, and physical barriers, we are using the demonstrative power of the internet, which brings millions of Muslims together in every arena, and encouraging them to act in unity for tolerance.
Just as we believe that we must fight for our right to freedom of speech, we also believe that we must fight for the right to human dignity.
We fight in the only way that we believe in: through a fierce dialog among ourselves, a form of regional diplomacy that uses the tools available to us to break down historical barriers.
The diversity of our membership, in a region where everyone has a religious, ethnic and political ideology which dominates a powerful identity, makes us completely unique.
There is a new generation of Muslims striving to make a difference, and we have no shortage of tools and new media services aiding us in this process. Every day my faith inspires me to continue the struggle for peaceful coexistence in my region.
The opinions expressed in this commentary are solely those of Esra'a Al Shafei.
Young Muslims use the internet to strive for peace
FOLLOW THIS TOPIC