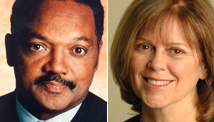 STORY HIGHLIGHTS
Jesse Jackson, Kathleen Rogers: High-skilled jobs vanish, billions in petrodollars lost
Authors: Energy policy a huge opportunity for stable jobs that can't be shipped overseas
European Union, China way ahead in potential multitrillion-dollar green industry, they warn
Rainbow PUSH Coalition, United Auto Workers, Earth Day Network plan jobs march
Editor's note: The Rev. Jesse Jackson is the founder of the Rainbow PUSH Coalition. Kathleen Rogers, president of Earth Day Network, has worked more than 20 years as an environmental attorney and advocate.
(CNN) -- After decades of watching good jobs disappear, we need solutions that will provide continuous economic growth. The U.S. unemployment rate is hovering around 9.5 percent; for African Americans, around 17 percent.
There have been some rumblings from Washington, but no one in D.C. is feeling the same urgency as the American public. When they don't make progress, we need to demand it. That is why, on August 28, the Rainbow PUSH Coalition, United Auto Workers, Earth Day Network and other partners will lead a jobs march in Detroit, Michigan, to press for new employment legislation.
This march will commemorate the "Freedom Walk" that the Rev. Dr. Martin Luther King Jr. led in Detroit in 1963. Just like in 1963, we need fundamental action and can't settle for Band-Aid solutions. We need justice, peace and jobs.
Rather than stimulating the economy again, we need to address the deeper issues -- disappearing high-skilled labor and billions in petrodollars lost every year. A key component of stable job growth is our nation's energy policy. If our country gets serious about energy savings and independence from oil, we could rebuild domestically and power the U.S. economy with American jobs.
We need an economy that creates employment that can't be shipped overseas.
--Jesse Jackson, Kathleen Rogers
We need an economy that creates employment that can't be shipped overseas. You certainly can't retrofit a house in the Midwest from China or India. Home-grown American labor will be installing windmills and solar panels. Of course, none of this will happen unless Congress starts encouraging clean energy that doesn't, for instance, jeopardize our coastline or our drinking water.
A green economy is not an abstract concept. It is already starting in places where leaders understand that the right solutions lead to job growth and give America an edge in a forthcoming multitrillion dollar global market. Some reports estimate that a clean energy industry can provide 3.2 million jobs. As just one example, since initiating its clean energy plan, Assembly Bill 32, California has added 500,000 green jobs.
Even now, the only sector of the economy that has seen job growth during the recession is the green job sector. As the green economy continues to expand around the world, countries that don't make those "green" choices will be left out. Time is of the essence.
The European Union and China are investing considerably more than the U.S. In 2009 alone, research and development in the EU increased by 300 percent. China overtook the U.S. this past year by investing an estimated $34 billion into clean energies. As a result, China can potentially surpass the U.S. in both solar and wind technology.
To curb this investment disparity, we need the federal government's support and necessary infrastructure. With the implosion of climate change legislation that we've seen on Capitol Hill, it is now more important than ever to focus on the opportunity of the green economy. If the Senate acts on effective clean energy legislation, we can create millions of green jobs that will allow us to keep more money in our pockets and not put our livelihoods at risk.
Right now, America lacks a clear direction for energy policy. Our current path favors big oil and coal interests, which don't offer the potential job growth of a clean energy economy. Offshore drilling and mountain top removal provide a few thousand jobs nationwide, but, as the BP oil spill recently demonstrated, can jeopardize millions of other jobs in other industries such as fishing and tourism. The status quo, quite simply, is not working: We need the Senate to pass a strong climate bill that will boost investment in these sectors and provide broad job opportunities in renewable energy.
Ending the subsidies that make dirty fuels artificially cheap can spark a shift in infrastructure development, create more jobs and allow America to become more self-sufficient.
The choice is clear. We can sit idly as China and Germany invest in clean energy -- a soon-to-be $8 trillion world market -- or we can step up, get Americans back in the work force and export the best clean energy vehicles and technology.
We will be in the streets later this month to demand action. We can't sell out ourselves, our jobs or our children.
The opinions expressed in this commentary are solely those of the Rev. Jesse Jackson and Kathleen Rogers.
FOLLOW THIS TOPIC