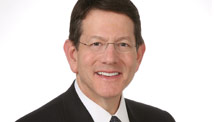 STORY HIGHLIGHTS
Christopher Wolf: Overturning of California's same-sex marriage ban affirms human rights
Judge ruled California's Prop 8 was a vehicle for discrimination, Wolf says
Wolf married partner of 13 years in D.C., which allows same sex marriage
Wolf says further recognition makes enjoyment of his rights more fulfilling
Editor's note: Christopher Wolf is a privacy lawyer in Washington.
Washington (CNN) -- Two federal judges have made an important difference in my life recently. I am a lawyer, and judges' rulings frequently have a professional effect. But this time, it's personal.
This spring, a federal judge from the U.S. District Court for the District of Columbia officiated at my marriage to my partner of 13 years, Jim, under the laws of the District of Columbia, where we live. On Wednesday, Judge Vaughn Walker ruled that the Proposition 8 ballot initiative in California denying same-sex marriage violated fundamental legal rights guaranteed by law.
His ruling has given my marriage even greater meaning. The restoration of rights to others and the further recognition of the right to marry makes the enjoyment of our rights even more fulfilling.
Judge Walker wrote in a 136-page decision that Prop 8 violated both the due process and equal protection clauses of the United States Constitution, concluding:
"Proposition 8 fails to advance any rational basis in singling out gay men and lesbians for denial of a marriage license. Indeed, the evidence shows Proposition 8 does nothing more than enshrine in the California Constitution the notion that opposite sex couples are superior to same-sex couples."
That, of course, is not the last word on the subject, as appeals to the 9th Circuit Court of Appeals and to the United States Supreme Court are expected. But, the thorough analysis following a lengthy trial and the thorough recognition of the right to same-sex marriage as a matter of constitutional law creates a high barrier for opponents to surmount.
Late last year, our elected officials in D.C. passed a bill permitting equal marriage rights, which the mayor signed and which Congress, vested with the power to reject D.C. laws, wisely left alone.
And last month, our highest court rejected attempts to put a D.C. version of Proposition 8 on the ballot this fall, agreeing that our local Board of Elections and Ethics had the right to deny an initiative measure.
Jim and I decided to make a lifetime commitment to each other, under law, our newly granted right.
--Christopher Wolf

Video: 'Every American should be proud'

Video: Prop 8 ruling: 'It's huge!'

Video: Same-sex marriage ban overturned
Opponents of the law, led by area pastors, were confident that they could have stirred the passions of voters to vote against gay marriage, given the chance. The Prop 8 playbook, recently detailed in a report on the California initiative, relied on misleading scare tactics suggesting that children would be recruited by gays in school if the marriage law stood. Presumably, that playbook would have been used here in an ugly hate campaign.
The District of Columbia Court of Appeals ruled that a ballot initiative to deny equal marriage rights conflicts with the District's 1973 Human Rights Law, which declares that "[e]very individual shall have an equal opportunity to participate ... in all aspects of life."
The court found that the initiative measure "would authorize or have the effect of authorizing discrimination on a basis prohibited by the Human Rights Act." Likewise, Judge Walker in California found that the ballot initiative there was nothing more than a vehicle for discrimination.
At our March wedding, the presiding judge observed that our marriage was a "historic event."
"It is, of course, historic in the lives of Jim and Chris, who will be transformed from domestic partners into a true lawfully married couple," he said. "But it also is a historic event because just weeks ago, it would not have been legally possible.
"Thanks to our local government and to the good judgment of Congress, equal marriage rights are now the law here in D.C. Chris and Jim have fought for the right to marry for many years -- not just for themselves but for all loving, committed couples like them. So, how wonderful it is that they are among the first to benefit from the change in the law."
Later in the ceremony, he observed that Jim and I, "have supported each other through illnesses and loss, and as changes have come their way. And as anyone who knows them will attest, they are both fiercely loyal -- to their families, their friends, their commitments, and most of all to each other. They truly epitomize what marriage is all about."
Quoting from the Massachusetts case that paved the way for Judge Walker's ruling, he said: "Civil marriage is at once a deeply personal commitment to another human being and a highly public celebration of the ideals of mutuality, companionship, intimacy, fidelity, and family. Marriage fulfills yearnings for security, safe haven, and connection that express our common humanity. Civil marriage is an esteemed institution and the decision whether and whom to marry is among life's momentous acts of self-definition."
Our marriage represented the ultimate coming together of two people in love, friendship, and companionship. Jim and I decided to make a lifetime commitment to each other, under law -- our newly granted right. As we approach our five-month anniversary (and the 13th anniversary of our meeting), what better way to celebrate than to receive the news that other committed couples are again vested with their civil rights in California.
The opinions expressed in this commentary are solely those of Christopher Wolf.
FOLLOW THIS TOPIC