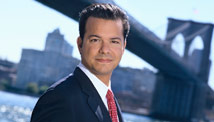 STORY HIGHLIGHTS
John Avlon: Congressional scandals brewing as campaign season approaches
Scandals threaten Democrats; ethics in government was top issue in 2006, Avlon says
That year, Republican corruption scandals helped sweep GOP out of power, he writes
Avlon says corruption found in both parties, neither can point fingers at the other
Editor's note: John P. Avlon is a CNN contributor and senior political columnist for The Daily Beast. He is the author of "Wingnuts: How the Lunatic Fringe Is Hijacking America."
(CNN) -- Congressional corruption scandals are dominating headlines just as campaign season is heating up -- and Democrats might get beaten back by the same tide that swept them into office in 2006.
The past two weeks have seen a 13-count case against 40-year incumbent Charles Rangel of New York and the announcement of an ethics trial against California's Maxine Waters.
All this comes as a jury decides the fate of the buffoonish former Illinois Gov. Rod Blagojevich, accused of conspiring to sell President Obama's Senate seat. Their three states represent a significant part of the Democrats' political base.
It's an ugly picture of cronyism and corruption that seems to be replayed every few years. As libertarian humorist PJ O'Rourke famously warned: "When buying and selling are controlled by legislation, the first things to be bought and sold are legislators."

Video: Ethics charges plague Democrats

Video: Waters tweets 'no case' on charges

Video: Rangel: 'Rough period for me'
But while Republicans might be chortling at evidence of what some have called "gangster government," or more subtly -- and with a hat tip to David Mamet -- "the Chicago Way," they've had more than their share of scandals in recent years.
The reality is that with big money seeking to influence government decisions, corruption has infected the bloodstream of our politics and neither party is immune.
And voters are paying attention. In the rearview mirror of history, the 2006 midterm elections are often remembered as a referendum on Iraq, if you're liberal, or spending, if you're conservative.
But a look at the exit poll taken by CNN and other news organizations that day tells a very different story -- "corruption and ethics in government" was identified as the top issue motivating voters that year, outpacing terrorism, the economy and Iraq. The Jack Abramoff scandals -- newly recounted in the documentary "Casino Jack" -- led to the imprisonment of GOP Rep. Bob Ney, the conviction of a number of Bush administration officials, congressional staffers and lobbyists and the resignation of House Majority Leader Tom DeLay.
But that wasn't all -- legendary Vietnam combat pilot and California Republican Rep. Duke Cunningham was found to have taken $2.4 million in bribes from defense contractors, and voters remembered the autumn scandal when the Florida Rep. Mark Foley, a Republican, was found to have been text-messaging suggestively with an underage male page. Corruption knows no partisan bounds but it does lead to election repudiation.
Think back to the midterm election thumping of 1994, when Republicans regained the House, and you'll remember the jail-able travails of then-House Ways and Means Chairman Dan Rostenkowski and the abuse of the congressional post office and House franking privileges. Grab a history book and you'll see that when the GOP previously took control of Congress back in 1946, it was largely because of disgust with post-war Democratic Party corruption in the Truman era.
When Nancy Pelosi and the Democrats gained a majority in the House in 2006, she famously promised "the most honest, most open and most ethical Congress in history." It hasn't worked out that way, and Democrats may discover that hypocrisy is the unforgivable sin in politics.
Months after Pelosi's pledge, longtime Louisiana Democratic Rep. William Jefferson was indicted on corruption charges after $90,000 in cash was found hidden in his freezer.
The late Defense Appropriations Committee Chairman John Murtha, a Democrat, was investigated for steering contracts in return for a cumulative $1.8 million in campaign donations.
Rangel, until recently the powerful chairman of the House Ways and Means Committee, was in charge of tax policy, but he came under investigation for charges ranging from failing to disclose income in excess of $800,000 and illegally using four rent-controlled apartments in his home district of Harlem. Waters, who has served in Congress since 1991, is accused of pursuing a multimillion-dollar bailout of a local bank in which her husband had a considerable investment.
And congressmen of both parties are coming under fire for holding financial industry fundraisers right before the financial regulatory bill came to a vote.
The watchdog organization Citizens for Responsibility and Ethics in Washington keeps track of congressional investigations, and says there have been 26 known investigations of incumbent House members during the 111th Congress -- 12 Democrats and 14 Republicans. In the Senate, Republican John Ensign has been under investigation, and two Democrats have come under scrutiny.
"Neither party has a lock on ethics. Republicans have to be careful about attacking Democrats because they have their own ethics problems," said Melanie Sloan, executive director of Citizens for Responsibility and Ethics. "Rangel and Waters have nothing on the Abramoff crew -- and if you want to talk about abuse of power, no one was worse than former Republican Majority Leader Tom Delay...
"But between the two parties, the Democrats have more problems now because you have to have power to abuse it and the Republicans don't have much. Should control of Congress change, in another two years I am sure we will be talking about Republican misconduct."
Neither Democrats nor Republicans have a monopoly on vice -- or virtue. The two parties are essentially opportunistic organizations, run by fallible human beings and organized to pursue power under the guise of principle.
We have confronted self-dealing politicians throughout our history, with more effectiveness than many countries. The rational citizen's responsibility is to take seriously honest allegations of corruption wherever they might lead, regardless of which party is implicated.
It's a bit of common-sense wisdom that seems rare in our hyper-partisan era. As President Grover Cleveland, a Democrat, used to say, "a Democratic thief is as bad as a Republican thief."
The opinions expressed in this commentary are solely those of John P. Avlon.
FOLLOW THIS TOPIC