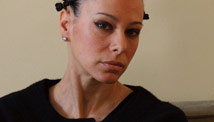 STORY HIGHLIGHTS
Malika Saada Saar: 100,000 to 300,000 children, most 11 to 14, sold for sex in U.S. a year
Best-known site to buy children is Craigslist, she says, in its "adult services section"
Criminals make huge profits pimping children, with little risk of prosecution, Saar writes
Saar: Craigslist should stop adult services section until solid safeguards are in place
Editor's note: Malika Saada Saar is the founder and executive director of the Rebecca Project for Human Rights. The Rebecca Project is a nonprofit organization that advocates for justice, dignity and policy reform for vulnerable women and girls in the United States and in Africa.
(CNN) -- Last month, two girls trafficked for sex through the website Craigslist wrote an open letter to its founder, Craig Newmark, pleading with him to get rid of the adult services section, where sex ads are placed.
"I was first forced into prostitution when I was 11 years old by a 28-year-old man," "M.C." wrote. "I am not an exception. The man who trafficked me sold many girls my age, his house was called 'Daddy Day Care.'
"All day, me and other girls sat with our laptops, posting pictures and answering ads on Craigslist. He made $1,500 a night selling my body, dragging me to Los Angeles, Houston, Little Rock -- and one trip to Las Vegas in the trunk of a car. I am 17 now, and my childhood memories aren't of my family, going to middle school, or dancing at the prom. They are making my own arrangements on Craigslist to be sold for sex, and answering as many ads as possible for fear of beatings and ice water baths."
No one from Craigslist responded to M.C.
According to the most recent Department of Justice statistics, an estimated 100,000 to 300,000 children are sold for sex every year in the United States. Most are from 11 and 14 years old. Try for a moment to imagine your fifth-grade child, niece or sister, sold for sex.
Craigslist has made selling children a virtual stop-and-shop for predators.
--Malika Saada Saar
If you live in a city, imagine that happening within one square mile of where you are right now. New York, Ohio, Georgia, Oregon and California have among the highest rates of trafficked teens. And it turns out that the best-known online trading post is not some sleazy child porn website, but the ubiquitous Craigslist, where you shop for cars, clothes and musical instruments.
Law enforcement officials and anti-trafficking organizations have repeatedly asked Craigslist to rein in its sex ads in an effort to stop the selling of children for sex.
Craig Newmark and Craigslist CEO Jim Buckmaster have made some efforts to screen the site for children sold for sex and cooperate with law enforcement investigations. But for the most part, they have ignored such pleas, maybe because they just made an estimated $36 million in profits from these sex ads in the last year alone.
Read Craigslist's answer to these accusations
While Craigslist has made selling children a virtual stop-and-shop for predators, it alone doesn't by any means account for the explosion of child trafficking. Prostituting children has become a growth business for all sorts of criminal elements because it is hugely profitable and virtually unprosecuted.
The U.S. government annually spends 300 times more money to fight drug trafficking than it does to fight human trafficking, and the criminal penalties for trafficking cocaine, for example, are 20 times greater than the criminal penalties levied against those who buy and sell girls.
Although the government estimates hundreds of thousands of children have been sold for sex, only a few hundred of the pimps who victimize them have been prosecuted. Almost none of the "Johns" are prosecuted.
Arresting these perpetrators of child rape is rare, and prosecution is even rarer.
--Malika Saada Saar

Video: Craigslist and the sex trade

Video: 'Men paid to rape me'
Let's be clear. The men who purchase girls for sex are no different from men who snatch children off the street for sex. Both are rapists. Period.
Whatever the circumstances, no child wants to sell her body to a stranger. In fact, no child is permitted to sell her body -- the law says they can't consent.
Yet arresting these perpetrators of child rape is rare, and prosecution is even rarer, according to the international anti-trafficking organization Shared Hope. Actress Demi Moore, who has vigorously joined the campaign against trafficking girls, calls it America's "dirty little secret." And it's true that while we applaud efforts to end trafficking in Cambodia or India, the similar plight of disadvantaged girls in this country is routinely ignored.
Changing this shameful situation requires three things:
First, the commitment of state and local governments to prosecute the men who buy and sell underage girls for sex to the full extent of the law. Those laws exist, yet they are rarely enforced.
Second, residential treatment must be available for girls rescued from trafficking, where they can feel safe and begin to heal. This will require recognizing that the sexual exploitation of underage girls is a human rights issue, as we have already done when it involves young girls in the developing world.
Third, Craigslist should set the industry example and shut down the adult services section until it can create a comprehensive surveillance and monitoring system that ensures children are not being bought and sold for sex.
You can do that, Craig. It might not stop child trafficking, but it will save many children like M.C.
The opinions expressed in this commentary are solely those of Malika Saada Saar.

FOLLOW THIS TOPIC