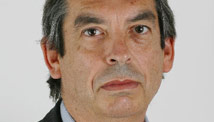 STORY HIGHLIGHTS
There is nothing Diego likes more than to rally his believers round a claim of martyrdom

Argentina's thrashing by Germany exposed his shortcomings as a coach

This is unlikely to be the final chapter of the flawed genius's extraordinary life
Editor's Note: Jimmy Burns is the author of the biography "The Hand of God: The Life of Diego Maradona."
(CNN) -- Much of Diego Maradona's life has seemed to play out at a different level to ordinary mortals, so it was no surprise that the announcement of his departure as Argentina coach was spiced with high drama.
Maradona raised the temperature by countering a bland statement from the Argentine football authorities that his contract had not been renewed (because of his refusal to countenance a change to some of his technical team,) with a visceral attack on his alleged enemies.
He accused national team director Carlos Bilardo of betrayal, and Julio Grondona, president of the Argentine Football Association, of being part of a conspiracy to unjustly oust him.
Maradona: I was lied to and betrayed
There is nothing Diego likes more than to be placed in a situation where he can rally his believers round a claim of martyrdom by sinister powers. He did so when he was busted for drugs back in the early 1990s, and he did it again when he tested positive in the football World Cup in the U.S. in 1994.
He arrived at the World Cup in South Africa, already hitting back at all those journalists who had noted his apparent incompetence as a coach and predicting failure from the outset. Such antagonism fuels his popularity among the downtrodden and dispossessed. But I am not alone in believing his protests are actually an attempt to cover up his own professional and personal failings.
Maradona, in the end, badly let down his team of superstars
--Jimmy Burns

Video: Maradona sacked as coach
If this were happening in another country, then the reason for Maradona's sacking should be plain. He may once have been a great player, and he brought us some entertainment in an otherwise rather dull World Cup in South Africa (La Roja's justified victory excluded,) but Argentina's thrashing by Germany exposed his shortcomings as a coach, and the lack of professionalism of some of his hand-picked advisers, which had been a subject of public debate for well over a year.
In the end, the myth of Diego's divinity -- the "hand of God" -- was brought crashing down by a German team that played better because they were coached better. The Argentinean team realized belatedly that Maradona's genius lay in personal instinct rather than in any system, and there was a limit to what that could achieve.
You may bring a smile to global TV audiences by kissing your players and dancing like a pogo stick each time your side scores a goal, but you need technique and strategy, not just inspiration, to win a championship, and Maradona, in the end, badly let down his team of superstars.
But then this is Argentina -- a country where politics and football make a potent mix. Maradona not only has a popular following among his country's more fanatical football fans, but continues to be looked at as a political vehicle by sectors of the populist government of Cristina Fernandes. Which is why I doubt this is the final chapter of the flawed genius's extraordinary life.
On the psychological front, there are testing times ahead for Maradona, and thus for the Argentine nation. His self-proclaimed dream was to coach his national team to World Cup victory. He failed in South Africa, but afterwards said he would do it, next time, when the tournament is played in neighboring Brazil.
Without the motivation that the coach's job provided, some of his fans fear he may return to the bad old days of depression, self abuse and intensifying paranoia.
The myth of Maradona's invincibility has been severely dented and may prove irrevocable. But he has been down before, and fought back. There will be more dramas ahead -- of that I am sure.
FOLLOW THIS TOPIC