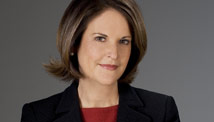 STORY HIGHLIGHTS
Polls show a strong tilt away from Democrats in midterm election races
Gloria Borger says Democrats have conflicting agendas in Washington
Congressional Dems want a more partisan White House focusing on winning midterms, she says
The White House is looking ahead to Obama's campaign in 2012, wants to be less partisan
Editor's note: Gloria Borger is a senior political analyst for CNN, appearing regularly on CNN's "The Situation Room," "AC360°" and "State of the Union," as well as participating in special events coverage.
Washington (CNN) -- It's not easy being a Democrat these days.
All that hope and optimism just 17 months ago, and now Democrats are scrambling to try and keep their congressional majorities.
Republicans, who have become professional critics, are finding that saying no is a winning strategy, at least in the short term. When voters are asked which party's candidate they would prefer to vote for, they now say the GOP by 5 points. In 2008, it was the Democrats who were the favorites by a whopping 10 points.
Those were the good ol' days for the Democrats.
Now they're trying to figure out where to point fingers. After all, nervous politicians afraid of losing their jobs are a fractious bunch. When the president has high approval ratings and the voters think things are headed in the right direction, they're fine. But when things head south, the second-guessing begins.

Video: Will Democrats lose majority?
And it begins at home. At the White House, that is.
Let's face it: The White House and congressional Democrats live on different life cycles. The Democrats are worried about 2010; the president, about 2012. In politics, that's a lifetime of difference.
The Democrats want the president to be their hatchet man. They want him to lead the pack, drawing the contrast with Republicans, complain that all they do is oppose needed changes and would lead the country backwards. They want this to be a "choice" election and not a referendum on President Obama.
The White House agrees on that point. And to be fair, as senior White House advisers point out, the president has been doing more of the "this-is-what-would-happen-if-the-GOP-ruled-the-world" stuff. He has taken the GOP on about its near-unanimous opposition to financial reform.
He has chastised them for holding up the extension of unemployment insurance; reprimanded them for wanting to cut taxes for the wealthy without paying for it. And, of course, he has made Rep. Joe Barton of Texas -- the man who apologized to BP -- a poster child for the GOP's cozy relationship with big business.
But there's a limit. The White House remains convinced people have only so much tolerance for partisan attacks from the president. They look at the polls showing people want their president to be a uniter, not a divider. And, by the way, that's how he won the presidency. So, they want him to be above it, to a certain degree. It's a tough balancing act.
"The Democrats are nervous, because they have reason to be nervous," says Democratic pollster Mark Mellman. "The look at the president as somebody who can help them. And there's a difference of opinion about how the president can be the most helpful: some say he should be excoriating Republicans. Others think he ought to be doing what he can to increase his numbers."
There you have it in a nutshell.
Given this backdrop, it's not surprising the Democrats went ballistic when White House Press Secretary Robert Gibbs dared speak the truth recently when he allowed that there are enough House seats in play to imagine the GOP winning control.
Senior adviser David Axelrod met with senior Capitol Hill pooh-bahs to make amends, and, according to one top House Democratic adviser, "things are better. We understand each other."
The problem is policy, not personalities. On Tuesday, for instance, the president won a congressional vote to keep funding the wars in Afghanistan and Iraq but lost 102 Democrats increasingly anxious about the wars. It was a clear sign that Obama's left flank is growing restive.
And then there's the president's moderate and conservative Democratic flank.
They continue to balk at the president's ambitious agenda, complain he should not have spent nine months on health care and have no interest in voting to raise taxes -- even on the wealthy -- before the next election.
"This White House came in to transform the country," says one moderate House Democrat. "The pretensions were huge and still remain."
The president had to give up on a major energy bill this session, and he's not going to get immigration reform, either. But he will have to deal with the expiration of George W. Bush's tax cuts and he wants to keep the tax cuts for the middle class but not for the rich.
Again, Democrats are fretting.
"If Democrats are talking about taxes, we lose," says this moderate House member. "People don't differentiate and say, 'Gee, they're raising taxes on the rich.' They just think we are raising taxes, period."
Indeed, one GOP pollster agrees. "Why they would want to come into our wheelhouse is anybody's guess," he says. "I have no chills up my spine whatsoever about this debate."
On this, all sides can agree: It's not a great time for the Democrats to be heading into an election. But there's no avoiding it. And the Democratic optimism of the winter of 2009 seems like a mirage fading into the summer heat.
The opinions expressed in this commentary are solely those of Gloria Borger.
FOLLOW THIS TOPIC