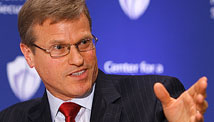 STORY HIGHLIGHTS
Patrick Cronin says the release of 92,000 documents mostly confirms what experts knew
He says material will make the U.S. quest for stability more difficult
The files highlight key issue of Pakistan's ties to militant groups, Cronin says
Records are ground-level, don't show higher-level U.S.-Pakistan political contacts, he says
Editor's note: Patrick Cronin is a senior adviser and senior director of the Asia-Pacific Security Program at the Center for a New American Security. He has had a 25-year career inside government and academic research centers, spanning defense affairs, foreign policy and development assistance, including a post as assistant administrator at the U.S. Agency for International Development.
Washington (CNN) -- The mother lode of ground-level raw intelligence from the Afghan war disseminated by WikiLeaks may ultimately bring about some good. In the short term, however, it will almost surely further undermine the U.S.-led search for stability.
Sifting through some of the 92,000 records is likely to strike an informed reader that there is nothing here that fundamentally alters his judgment about the war so much as it provides a level of granularity often missing from daily news reports.
Indeed, almost every issue has been previously reported in major news outlets, albeit with perhaps less authority than is permitted by these electronic records.
News reports have been quick to pounce on the apparent double game played by the shadowy S Wing of Pakistan's Directorate for Inter-Services Intelligence, which controls clandestine operatives outside of Pakistan.

Video: The WikiLeaks fallout

Video: The new 'Pentagon Papers'

Video: Veterans unhappy with WikiLeaks

Video: Former ISI chief on WikiLeaks
Anyone interested in reading about the kind of active measures that a national clandestine service undertakes inside a fragile state harboring various terrorist groups will be intrigued by these records.
Former intelligence chief Gen. Hamid Gul was notorious for such skullduggery, and these records merely shed some light on those well-known concerns. Hence, the apparent fact that he attended a meeting in South Waziristan with members of al Qaeda and the Afghan Taliban as recently as early 2009 underscores the challenge that the Obama administration has faced in forging greater trust and cooperation with Pakistan.
Similarly, one can only imagine the difficult task facing CIA Deputy Director Stephen R. Kappes when, after a terrorist attack on the Indian Embassy in Kabul, he flew to Islamabad to confront Pakistani intelligence officials with evidence that it had helped to plan the attack.
Still, it is worth recalling previous reports, including a March 2009 report in The New York Times that disclosed official speculation about how the ISI's S Wing was assisting the Taliban commanded by Mullah Mohammed Omar and the militant networks led by Gulbuddin Hekmatyar Jalaluddin Haqqani.
It probably is no accident, as they say, that this news report was occurring simultaneously with the then-new administration's immediate internal strategy review of Afghanistan and Pakistan.
Moreover, as former director of national intelligence Adm. Dennis Blair testified, Pakistani officials draw distinctions among different militant groups. But while the new records may shed little additional information, they definitely exacerbate tensions between the United States and Pakistan.
In the final analysis, the records do not show, and nor could just ground-level records ever reveal, the higher-level political context, evolving relationships and possibly growing cooperation between the governments despite some countervailing covert measures.
A second supposed revelation concerns the apparent validation of the long-standing concern that portable, infrared-homing Stinger missiles left behind from the effort to help the Mujahedeen oust Soviet forces have come back to haunt U.S. and allied military operations.
To be sure, it is striking to read the specific incident report from three years ago in which eyewitnesses report an American CH-47 helicopter downed by a portable surface-to-air missile. Reports vary, but many of the hundreds of Stinger missiles that the Central Intelligence Agency supplied during Operation Cyclone in the 1980s were never retrieved.
Thus, the threat was always known to the armed forces. So all we really find out from the new, leaked record is that a NATO spokesman was being misleading when he told the media that small arms could have brought down the helicopter.
A third area where the records provide gruesome detail to what was generally known concerns some of the specifics of the counterterrorism campaign, such as the collateral damage from both drone attacks and secret commando units like Task Force 373 operating out of bases in Kabul, Kandahar and Khost.
The records highlight how NATO forces have conducted "black" operations to decapitate top insurgent and terrorist commanders. Unfortunately, as the records suggest, civilians (including sometimes children) have often come between the intended high-value targets and the lethal firepower employed by the Special Operations Forces involved.
The leaked secret war logs revealing these black special operations raise myriad questions, including over the legality of some of the tactics. They do not, however, tell us something that was not basically suspected already.
For instance, last year The Washington Post quoted a report by retired Army Gen. Barry McCaffrey that revealed U.S. black Special Operations Forces in Iraq had conducted as many as 300 "takedown" operations; it was not much of a leap to understand that such operations were being replicated in Afghanistan.
This is not to minimize the leaked war logs, but simply to place them into context, and the context is that informed readers either suspected or knew the outlines of these reports already.
Other "news" emerging from the three media outlets that have had time to study them center on the difficulty of building Afghan national security forces, countering Afghan corruption and implementing successful reconstruction and development programs. However, anyone who has been reading the news these past six years will find nothing truly new or out of the ordinary in these records.
But the very fact that so much information is being made available at a critical juncture in the war effort will undoubtedly impinge upon the politics of this decade-long war. Indeed, a clear political exit strategy that can stabilize the region at far less cost to lives and finances is still an elusive quest.
Leaders such as President Obama and Gen. David Petraeus now have an even tougher challenge in fashioning what it means to prevail in the current war; if they fail, they can now add the information revolution to the list of obstacles that they encountered in seeking to protect American interests and international security.
The opinions expressed in this commentary are solely those of Patrick Cronin.
FOLLOW THIS TOPIC