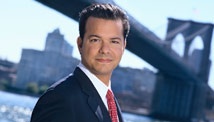 STORY HIGHLIGHTS
Midterm election shaping up as epic battle with big, national implications, says John Avlon
In six states, key races could change the shape of U.S. politics, he says
Avlon: Sens. John McCain and Michael Bennet are facing tough re-election challenges
Avlon says a Republican is leading the race in Delaware for Joe Biden's old Senate seat
Editor's note: John P. Avlon is a CNN contributor and senior political columnist for The Daily Beast. He is the author of "Wingnuts: How the Lunatic Fringe Is Hijacking America."
(CNN) -- For political junkies, the midterm election's marquee races are well known -- and I offered a list of those last week. But in a year when politics is hitting the boiling point, a top 10 list can't cover all the interesting races going on across the nation.
So this week, I've put together a look at other campaigns with national implications that might get overlooked by the casual political observer.
The bottom line is that 2010 is shaping up to be an epic midterm election, with great statewide campaigns scattered across the country, from U.S. Senate to governorships. This is an election with content and consequences to rival a presidential contest -- and here's a list of six states with down-card action that deserves more than local attention.
1) Arizona: It's a sign of the times -- the GOP's former presidential nominee, Sen. John McCain, is subject to a "Republican in Name Only" hunt led by J.D. Hayworth, the former congressman and talk-radio host, who's accusing the former POW of being insufficiently conservative. Among the ultra-conservative August primary voters, it is an attack that looked like it just might work -- Hayworth closed the gap to single digits in the spring.
But despite media criticism for McCain's apparent renunciation of his "maverick" moniker, the former Navy pilot has pulled ahead in recent months. He's not entirely free and clear yet -- it's worth remembering that McCain's friend and predecessor, Barry Goldwater, barely won his final re-election bid, but a McCain loss in August would be a black mark for Arizona and a loss for the nation.
2) Colorado: Another August primary will determine the fall lineup in this increasingly pivotal swing state as factions struggle for supremacy in their own party and then get ready for general-election battle in the fall. On the right, we are seeing an increasingly common refrain -- the Tea Party-backed candidate versus the establishment --- this time in the form of Weld County District Attorney Ken Buck versus former Lt. Gov. Jane Norton. Norton's none-too-liberal -- she defunded the state's Planned Parenthood -- but this election, only insurgents need apply.
On the Democratic side, Sen. Michael Bennet, appointed after Ken Salazar left the Senate to become interior secretary, is facing a tough primary challenge from former Colorado House Speaker Andrew Romanoff -- marking the first time a President Obama-endorsed incumbent is opposed by a Bill Clinton-backed challenger.
And don't forget the governor's race, where popular Denver Mayor John Hickenlooper is leading the pack. In all cases, the candidate who can connect with independent voters -- who outnumber Democrats or Republicans in Colorado -- will be in the best position to win in November's general election.
3) New Hampshire: Perhaps no state has seen a sharper redrawing of the political map since 2006 than New Hampshire. The "Live Free or Die" state's Legislature turned from Republican to Democratic control for the first time in decades that year, and the GOP's powerhouse political family, the Sununus, suffered the loss of a Senate seat held by son John.
Now with longtime GOP Sen. Judd Gregg retiring, former state Attorney General Kelly Ayotte -- a striking, young candidate -- is squaring off against U.S. Rep. Paul Hodes. If Ayotte prevails in the September primary, she seems to be in a strong position to hold on to the seat for Republicans while turning back the Democratic tide in New Hampshire -- and as a law-and-order soccer mom, she'll quickly emerge as a new GOP star on the scene. With New Hampshire's pivotal open presidential primary, Ayotte's support also would be key for 2012 GOP hopefuls.
4) Oregon: For a major coastal state, Oregon politics can sometimes get overlooked despite being the home of national political leaders such as former Sen. Mark Hatfield. This year's governor's race is worth another look. It brings together Yale-educated former NBA center Chris Dudley, running as a Republican, against former Democratic Gov. John Kitzhaber.
The notable presence of a hometown hoops star running as a Republican aside, the choice represents a prime example of a growing national trend -- first-time GOP candidates with the capacity to pay for their own campaigns squaring off against Democrats with long political resumes. The race is now neck and neck.
5) Massachusetts: Scott Brown's pivotal Senate special-election victory in January woke most Americans up to the fact that the Bay State is not a liberal bastion molded in the image of the Kennedy brothers. In fact, Gov. Deval Patrick is the first Democrat to hold the office since Michael Dukakis. A client of White House senior adviser David Axelrod, Patrick was in some ways the prototype of Obama's '08 campaign -- and like the president himself, perceptions of Patrick have moved from high expectations to a stubborn sense of disappointment.
Patrick is facing off against two opponents, his former Democratic state treasurer turned independent, Tim Cahill, and centrist Republican Charlie Baker, who has been surging in the polls. With Brown now rated the most popular politician in the state, and Massachusetts' statewide health care (passed under Gov. Mitt Romney) busting budgets, this is a gubernatorial race with national implications.
6) Delaware: Nobody seems to be noticing outside the mid-Atlantic, but a Republican is the odds-on favorite to win Vice President Joe Biden's Senate seat.
Mike Castle is a popular and effective former governor and currently the state's sole congressman. Most importantly for national analysis purposes, he is a proud centrist -- fiscally conservative, socially liberal and relentlessly centrist.
In a one-time swing state that has become solidly blue -- and where the Obama-Biden administration remains popular -- the fact that Castle is leading polls ought to send a message about the kind of Republican candidate who can compete and win outside red state bastions of conservatism.
The opinions expressed in this commentary are solely those of John P. Avlon.
FOLLOW THIS TOPIC